Nearly half a million people in England, Scotland and Wales missed out on starting their blood pressure-lowering drugs during the Covid-19 pandemic, research suggests.
Experts have warned that delays in getting medication to stave off deadly heart and circulatory diseases mean thousands of people are at risk of a heart attack or stroke.
They said the findings, published in the journal Nature Medicine, highlight the need to identify and treat people so they can avoid developing life-threatening conditions.
Lead author Professor Reecha Sofat, associate director at the British Heart Foundation's (BHF) Data Science Centre and Breckenridge chair of clinical pharmacology at the University of Liverpool, said: "Measures to prevent infection spread were necessary and undoubtedly saved lives.
"The NHS has already taken important and positive steps towards identifying people with high blood pressure as early as possible.
"However, we need this focus to be sustained in the long term to prevent any increase in heart attacks and strokes which will add to a healthcare system already under extreme pressure."
As part of the research supported by the BHF, the experts looked at 1.32 billion records of medication dispensed to 15.8 million people between April 1 2018 and July 31 2021.
They found that 491,306 fewer people than expected started taking blood pressure-lowering medication between March 2020 and July 2021, including 402,448 in England, 60,033 in Scotland and 28,825 in Wales.
The researchers estimate that if these individuals' high blood pressure remained untreated, it could lead to more than 13,500 additional cardiovascular events, including over 2,000 heart attacks and 3,000 strokes.
They believe that identifying those who missed out on medication within five years may reduce the total number of cardiovascular events to around 2,716 – including 727 heart attacks and 460 strokes.
Dr Sonya Babu-Narayan, associate medical director at the BHF and consultant cardiologist, said: "Yet again we're seeing clear evidence of the major disruption to healthcare people in the UK experienced during the Covid-19 pandemic.
"But it's not too late to limit the damage.
"These findings demonstrate how getting heart healthcare back on track can curb the additional strain that untreated risk factors such as high blood pressure would otherwise place on the NHS.
"We need to make it easier and more accessible for everyone to know their numbers – particularly their blood pressure and cholesterol."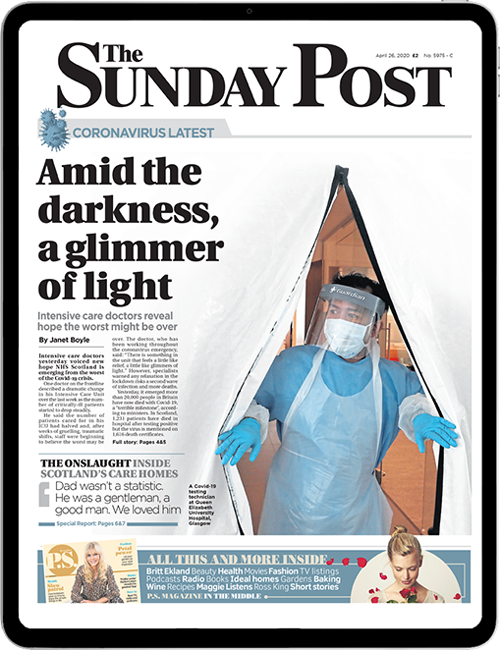 Enjoy the convenience of having The Sunday Post delivered as a digital ePaper straight to your smartphone, tablet or computer.
Subscribe for only £5.49 a month and enjoy all the benefits of the printed paper as a digital replica.
Subscribe