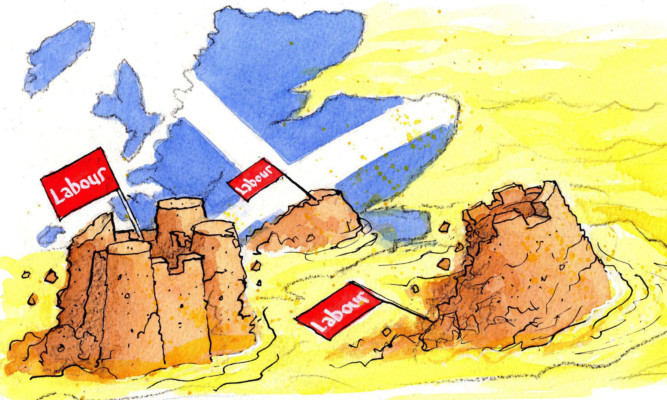 SUNDAY POST OPINION: This extraordinary election marks a significant turning point in our history.
A new order has been firmly established in British politics on a night where TWO clear winners emerged. David Cameron and the Conservatives secured an overall majority to govern the UK and the economy but Nicola Sturgeon has won the right to speak for Scotland.
And, much as the term a "surge of nationalism" was trotted out ad nauseam, this was not a vote for independence.
North of the Border voters overwhelmingly sent a message to Westminster, demanding change and voting for principles, fairness, justice and old-fashioned Scottish values. The SNP deserve to be heard and allowed to exert influence over policies affecting Scotland.
Nicola and it's on first-name terms that many people in Scotland refer to her, such is the affection she has engendered ran a brilliant campaign, making a name for herself on the UK stage and putting Scotland at the centre of Britain's political landscape.
The people have spoken, loud and clear. Westminster must listen and deliver.
That responsibility is laid at the feet of the Conservative Government and the Prime Minister will be held to account unless he acts on his promise to govern in the interests of every citizen in the UK.
Recognising the impact some of his party's inflexible austerity measures have had, and are still having, on people in Scotland would be a start.
The bedroom tax is one clear example of an unfair, unbalanced policy that wasn't thought through.
And Cameron could learn from his leader in Scotland, Ruth Davidson, who was widely feted for her role in the campaign, standing up well for her party's core values despite Cameron's tactic of exploiting the strength of the SNP in the hope it would persuade Labour sympathisers south of the Border to vote Tory.
She demonstrated clearly that she was not simply a puppet of the UK party and was as much fighting for her vision of Scotland as Nicola was for the SNP.
Both care passionately about Scotland and want to effect change. Each of them had realised that, for millions of voters north of the Border, the party politics of the UK was secondary.
And that was a message Labour quite simply failed to hear, and they deservedly performed disastrously as a result.
Their support in Scotland has been declining for more than a decade but they have been complacent believing Scotland was their territory by right. They had a sense of entitlement right up to the bitter end that was epitomised by Jim Murphy's press conference on Friday, in which he promised to "bounce back".
It is clear Jim hadn't scented the change blowing in the wind. He should recognise he is part of the problem rather than the solution and step aside.
The drubbing that Labour were forced to suffer was not because they aligned themselves with the Tories during the referendum campaign.
They represent an old guard that appears to care more for Westminster glory than a Scotland where huge sections of the population suffer acute deprivation and feel that no one is speaking up for them. The party has to change and stand for what it believes in for Scotland, without influence from party politics south of the Border. A path has been cleared for Labour's promising and talented young MSPs like Kezia Dugdale and Jenny Marra. The party must now look to them for inspiration when preparing for the Holyrood elections next year, not back to the dinosaurs who got them into this mess.
When the dust settles and the euphoria wears off, the nation's new MPs must also live up to these momentous events. Scottish politicians will be under the scrutiny of the world and their actions now will resonate for years to come. They are not in the Houses of Parliament to cause disruption or to be a protest movement. They oppose a Government with a working majority and their job will be to persuade, to debate and to effect change by the force and logic of their arguments.
They must conduct themselves in a manner that marks them out as statesmen and women worthy of a place in history, while at the same time excelling in the unglamorous task of representing their constituents.
Not every stymied argument is cause for a new referendum. Not every fiery exchange at Prime Minister's Questions will be a reason for shrill demands that Scotland must instantly secede from the Union.
While it may at times be difficult, the SNP must honour their promise that this election was not about independence but what's right for Scotland as part of the UK.
The next five years could go down in history as a time of great change and co-operation across these islands, but to achieve it politicians from both sides of the Border must act honourably and fairly.
The future of the union could depend on it.