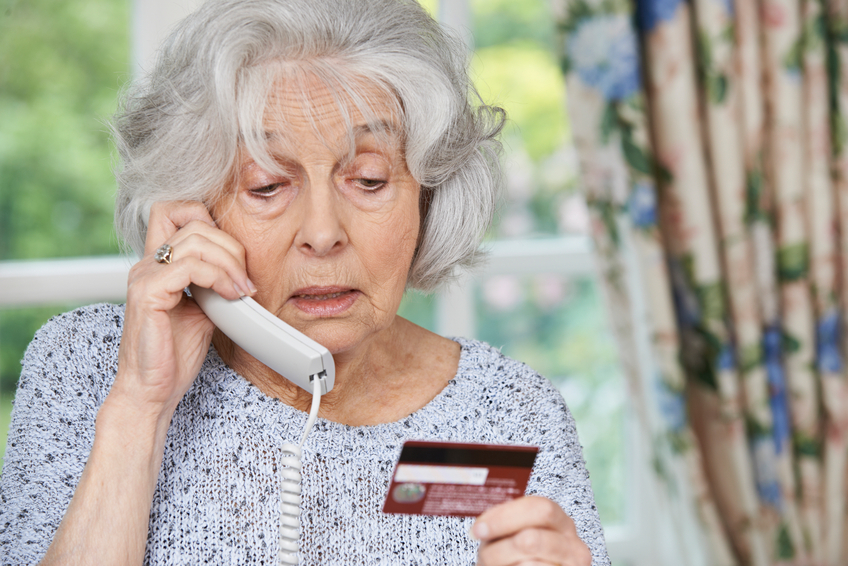 MILLIONS of fed-up families who switched from the "big six" energy firms to smaller suppliers for better customer service have found that small isn't necessarily beautiful.
A Sunday Post analysis of energy company complaint figures has revealed that many of the new breed of domestic gas and electricity providers received more complaints per customer than their much bigger competitors.
In total, four million households now get their energy from smaller firms, saving them about £200 a year.
Many switched after losing patience with the six biggest companies – British Gas, EDF Energy, E.ON, npower, SSE and ScottishPower – following years of price hikes, inaccurate bills and battles for refunds of credit owed.
But it's emerged that while they may be better off financially, there's no guarantee they'll not be left frustrated by the service they receive.
As our table shows, the new kids on the block have struggled to deal with the massive number of customers they have signed up.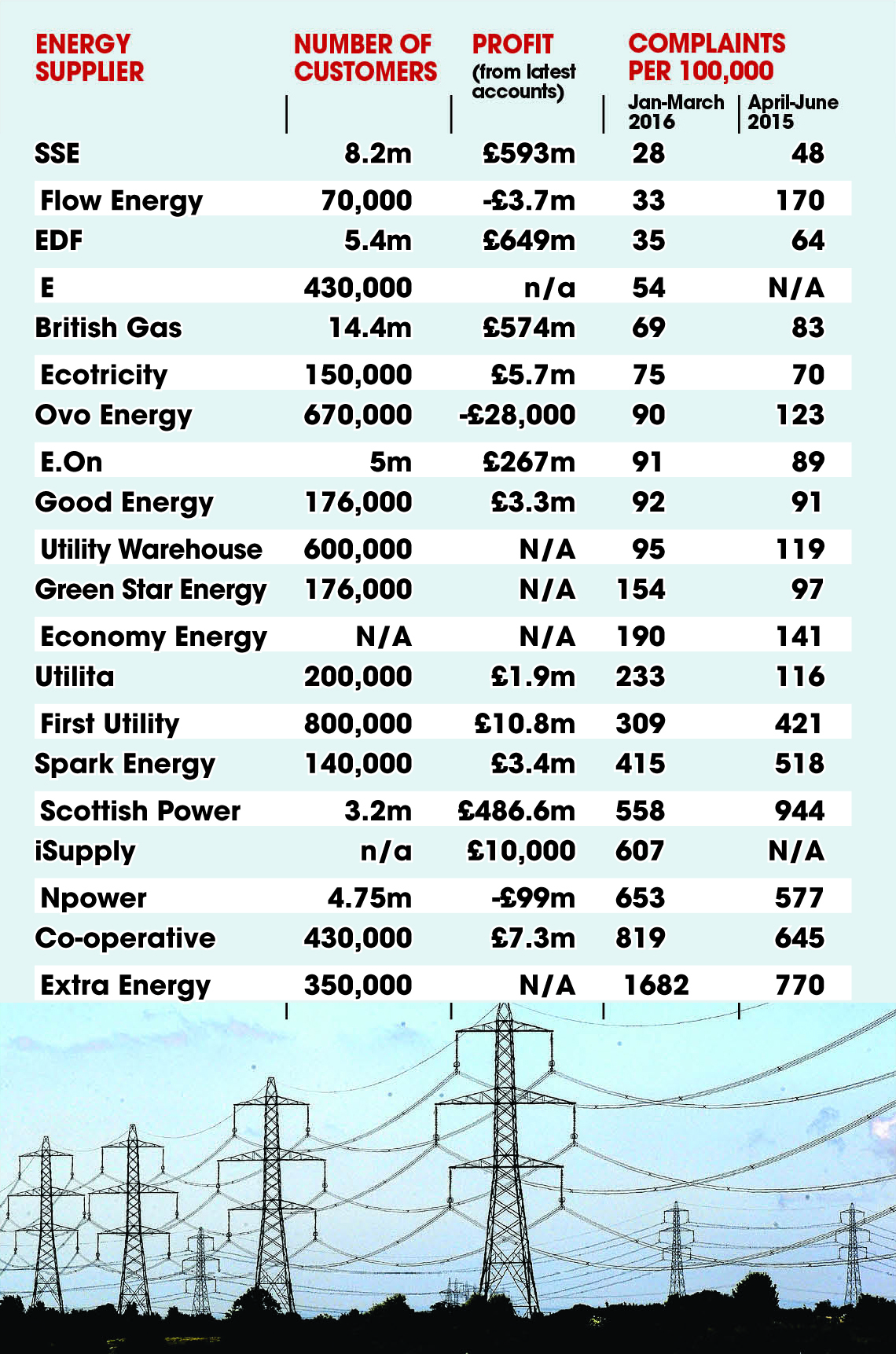 One of them, Extra Energy, has the worst record of the 20 largest energy firms in the UK, according to figures collated by Citizens Advice Scotland.
The firm, which was launched in 2014 and has more than 350,000 customers, attracted 1682 complaints per 100,000 customers between January and March.
That's nearly 60 times the level of best performer, SSE.
Experts have labelled the firm the no-frills airline of the energy sector, in that it appears to compromise customer service for lower prices.
Co-operative Energy also suffered from poor customer standards. It came second bottom of the table with 819 complaints per 100,000.
Next was established firm, npower, with 652 complaints.
However, three of the big six – SSE, EDF and British Gas – were among the top five best performers.
ScottishPower was the only other member of the traditional suppliers in the bottom half of the table.
It had the fifth worst record with 558 complaints, while E.ON came ninth top with 91.
Npower also posted the poorest financial figures, with losses totalling £99 million.
Mark Todd, director of comparison website Energyhelpline, said: "A lot of the new companies have suffered from too much, too soon.
"There's been a slashing of prices but not great customer service it appears.
"It's like when no-frills airlines came to challenge the established carriers like British Airways.
"The huge influx of customers to these new firms has brought a host of logistical problems like having to set up so many new accounts.
"Some have struggled to cope."
Around 15% of the UK energy market is now controlled by small independent firms, compared with just 1% five years ago.
The sector was opened up following claims customers were suffering due to a lack of competition.
On average around 125,000 households a month are now ditching established suppliers for smaller companies like Ovo, Ecotricity and Flow.
Finance experts at MoneySavingExpert.com said that while some of the new firms had faced "teething problems" the established big six were "rarely table-toppers".
Sally Francis, a senior writer at the organisation, added: "Npower, for example, has had major billing issues in the last couple of years resulting in many unhappy customers."
The umbrella group that represents energy providers said the complaint figures showed all energy suppliers needed to up their game.
A spokeswoman for Energy UK said: "Energy companies are working hard to improve how they deal with customers and are pleased some improvement can been seen in these figures.
"But they know there is still a way to go and will use complaint data to keep up the drive to improve service.
"As more and more suppliers enter the market good customer service is not just the right thing to do but a serious business imperative as well."
A spokeswoman for Extra Energy said the figures reflected "legacy issues" caused by customer numbers "expanding rapidly."
Ben Jones, of the company, added; "It is true to say that the first quarter of the year was a challenging period and some customers were affected.
"We failed to anticipate just how attractive our low prices would be to householders and unfortunately we didn't put customer service resource in place quickly enough.
"Thankfully these problems are largely a thing of the past."
---
READ MORE
Gap between Big Six energy tariffs and cheapest deals 'has increased'
Nearly four million UK customers have been overcharged by energy suppliers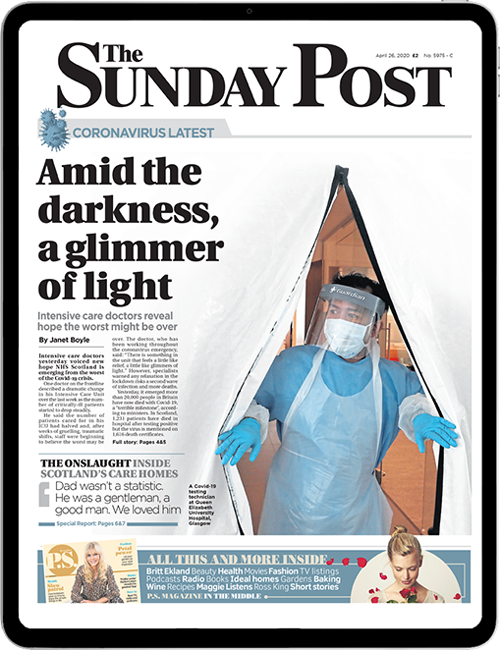 Enjoy the convenience of having The Sunday Post delivered as a digital ePaper straight to your smartphone, tablet or computer.
Subscribe for only £5.49 a month and enjoy all the benefits of the printed paper as a digital replica.
Subscribe