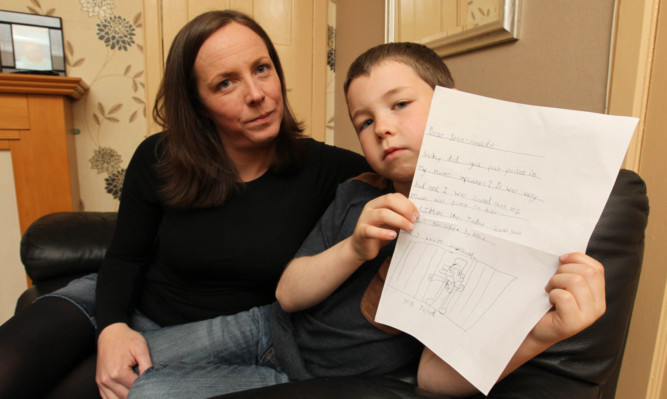 A seven-year-old boy has written a heart-breaking letter to the man responsible for the PIP implant scandal asking why he hurt his mum.
Robbie Devine penned the note telling PIP boss Jean-Claude Mas he was scared his mum Trisha would die.
Support worker Trisha, 34, from Bannockburn, is one of 47,000 women in Britain who were fitted with flawed implants sold by the French company.
The emotional letter was written after the month-long trial of Mas ended on Friday with a deferred verdict. French prosecutors have called for Mas to be given a four-year prison sentence and fined £85,000 on charges of aggravated fraud.
However, the trial in Marseilles will not deliver a verdict until December 10.
In his letter, Robbie wrote: "Dear Jean-Claude, why did you put poison in my mum's implants? It was very bad and I was scared my mum was going to die.
"And I hope the judge sends you to jail for life. By Robbie. Age seven from Scotland."
Robbie also accompanied his letter with a picture he drew of Mas behind bars.
Mum Trisha, who founded campaign group PIP Implants Scotland, plans to have the letter sent to Mas along with a translation.
She said: "I had to go to hospital to have the implants removed.
"They were put in before I had Robbie and I've not been in hospital since he was born so it was all a bit scary for him.
"He asked me if I was going to die. It was heart-breaking to hear my wee boy say that."
Mas, 73, was the founder of French firm Poly Implant Prothese.
He is one of five PIP executives on trial, charged with aggravated fraud for selling sub-standard breast implants using industrial silicon, used to stuff mattresses, as a way of saving costs.
The implants, which are twice as likely to rupture as other makes, were given to an estimated 400,000 women worldwide.
Mas has previously admitted lying about the gel he used, but denied that the substandard implants posed any health risks.
During the trial he dismissed women who say they've suffered as a result as "fragile people, or people who are doing this for money".
Despite this, Mas pleaded guilty to fraud after the court heard that implants made by PIP between 2001 and 2010 contained a gel not authorised for medical products.
However, he denied the more serious charge of aggravated fraud, claiming his products were safe even if they did not comply with European law.
Trisha said: "So many women, like me, have suffered for more than 18 months from the enormous stress, pain and worry this has caused us.
"To wait a further seven months before justice is served is simply appalling. This means more months of pain and anguish while Mas languishes at home as a free man."
Thompsons solicitors are acting for the majority of Scottish women pursuing civil action over the faulty implants.
This Wednesday, lawyer Sarah Smith will accompany several members to meet Scottish Health Secretary Alex Neil.
The group will ask Mr Neil to set up a public inquiry into the extent of the scandal in Scotland and will also call for the NHS to carry out removal and replacement of PIP implants and for a full analysis of all the implants that are removed.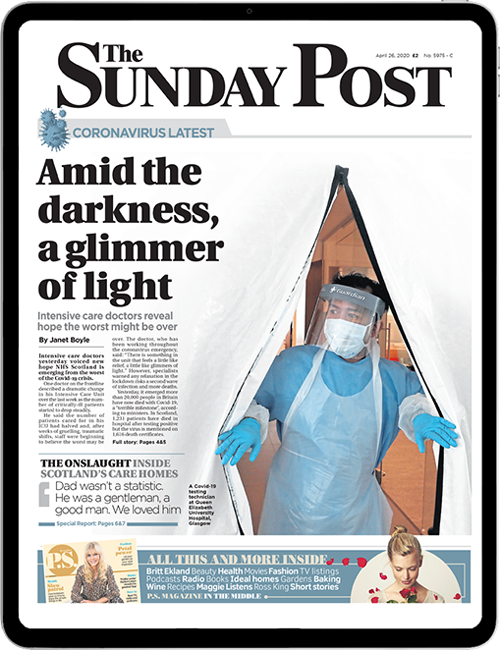 Enjoy the convenience of having The Sunday Post delivered as a digital ePaper straight to your smartphone, tablet or computer.
Subscribe for only £5.49 a month and enjoy all the benefits of the printed paper as a digital replica.
Subscribe