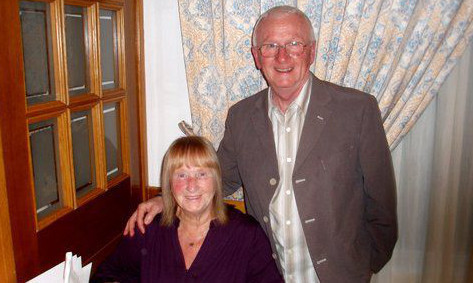 A dad is set to sue the NHS amid claims his partner died after twice being sent home from A&E over a weekend.
It comes as the leader of Scottish Labour demands a full-scale review of doctors and nurses' numbers in Scottish hospitals on Saturdays and Sundays.
Yesterday an influential Scottish doctors' group backed the call. Distraught George Andrews, 69, is furious with Glasgow Royal Infirmary doctors who he claims misdiagnosed partner Jean Graham as suffering from norovirus instead of a deadly blood clot on her bowel early this year.
On two consecutive weekend nights last January she was taken by ambulance to the hospital's Accident & Emergency department from their Dennistoun home. But on both occasions medics sent her home after assessing her as suffering from a bug.
A day later, the 77-year-old was dead.
Last night, heartbroken George blasted: "We put our trust in the NHS and they let us down. No-one should go through what happened to Jean."
NHS Greater Glasgow and Clyde have issued the dad-of-two with an apology. But now lawyers acting for the pensioner are seeking damages for medical negligence.
It was Saturday, January 5, when Jean, who had a heart condition, started feeling unwell. It was the first Christmas break the keen travellers had spent at home in 18 years.
George, a former engineer, said: "At 5pm she wasn't feeling good and an hour later she was being sick with severe diarrhoea. It got so bad that by 9pm we phoned an ambulance."
Jean was taken to Glasgow's Royal Infirmary where she waited for five hours before seeing a doctor, with George claiming she was kept on a trolley for all that time.
When medics did see her they diagnosed a bug and sent her home. But over the next 18 hours her condition deteriorated and, on Sunday afternoon, George phoned NHS 24 who sent a GP to their home.
That worried doctor ordered Jean back to hospital after spotting she was passing blood.
George said: "By 10pm that night we were still waiting with her on a trolley five hours later.
"A doctor eventually saw her and said that since she hadn't been sick or had diarrhoea in recent hours she should go home and take fluids. But she was not being sick as she had nothing left in her system.
"They should never have sent her home. We both felt utterly abandoned."
The next day Jean was becoming weaker and increasingly frightened. George carried her to the bathroom where she started screaming she had lost the use of her legs. The frantic couple then phoned another ambulance on Monday their third in three days.
George said: "This time they agreed it was serious and kept her in. But she was still not put in a ward and ended up in a trolley.
"The next morning she was scanned and diagnosed with a blood clot on her bowel. By that stage she was too weak to even sign the consent form. She never made it out of surgery and died on Tuesday morning.
"Now I want justice for Jean. A dog wouldn't have been treated so badly."
Margaret Watt of Scotland's Patient Association said: "This horrific case shows the dire consequences when our patients are ignored and A&E is stretched to its limit at weekends and Christmas time."
George's lawyer Cameron Fyfe said: "He's instructed me to consider a claim against the Health Board. There may have been negligence on the part of the hospital in discharging Jean on the Sunday when it seemed clear to George that she was seriously ill." A spokeswoman for NHS Greater Glasgow and Clyde said: "We'd like to once again express our sincere condolences to Mr Andrews for his loss. We met with Mr Andrews early this year to discuss his concerns about the care his partner received.
"We fully accept that there were lessons to be learned, in particular, the need to improve communication between clinicians in relation to the issue of the patient's previous presentations."
A study last year suggested Scots were 40% more likely to die if they were admitted to hospital at the weekend.
The report by London's Queen Mary University revealed patients with medical emergencies have far higher death rates if they are sent to hospital at the weekend rather than during the week. In England it was 20%.
Experts blamed a shortage of senior doctors and life-saving services at weekends.
Last Friday new figures showed Scottish hospital staffing levels plunged dramatically at the weekend. Scottish Labour leader Johann Lamont demanded a full-scale review of doctors and nurses' numbers after revealing staffing levels at three of Scotland's 14 health boards drop from 18,000 to just over 5,000 at weekends. Fife have only seven consultants on duty compared with 210 Monday to Friday. Forth Valley had 3,398 staff on weekdays and 1,256 at weekends, and Lothian's weekend workforce was 3,063 compared with 11,200 during the week.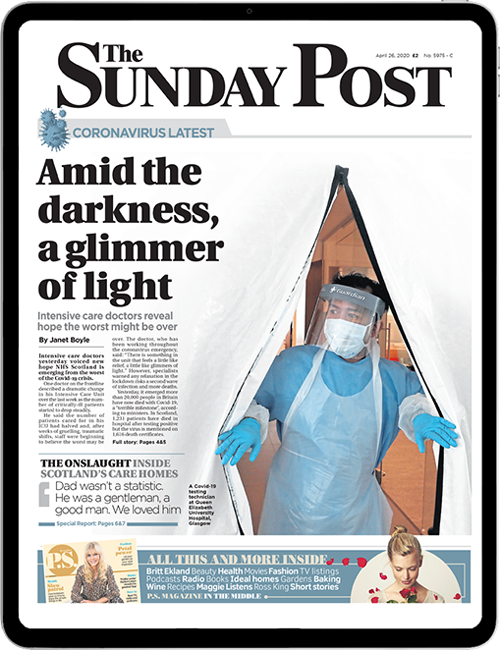 Enjoy the convenience of having The Sunday Post delivered as a digital ePaper straight to your smartphone, tablet or computer.
Subscribe for only £5.49 a month and enjoy all the benefits of the printed paper as a digital replica.
Subscribe