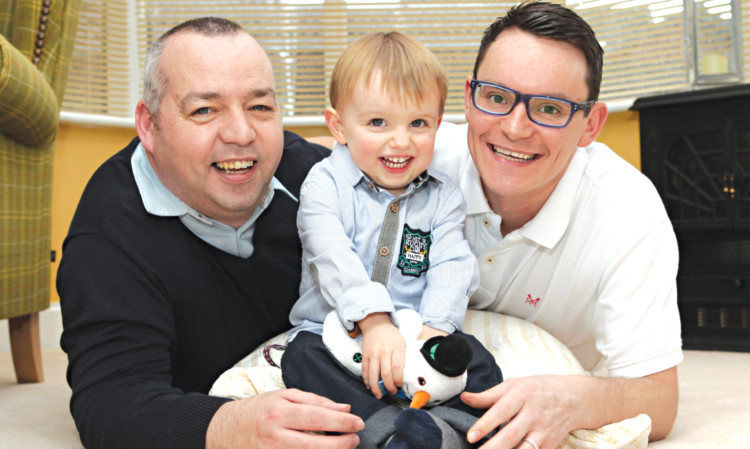 Number of LGBT couples looking to adopt has trebled in three years.
Official figures reveal the number of lesbian, gay, bisexual and transgender partners applying to councils to adopt children has almost trebled between 2010 and 2013. There has also been a steady rise in gay adoption applications being approved.
In some areas applications from same-sex couples represented half of the total number of adoption cases considered.
The revelations coincide with a major drive by councils to encourage gay adoption. Gay rights groups and adoption agencies last night described the revelations as "heartening".
But family campaigners and religious groups expressed concern. They warn the promotion of gay rights is taking priority over the needs of children.
Peter Kearney, of the Catholic Church in Scotland, said: "Rates of separation among same sex couples are measurably higher than for heterosexual couples. We are deliberately denying children the stability they deserve.
"Overwhelming empirical evidence exists attesting to the long term difficulties and negative outcomes experienced by children brought up by same sex parents."
The Adoption Act 1976 prohibited gay couples from jointly adopting a child. However, MSPs passed laws in 2006 overturning this. The new rules came into force in September 2009.
At least nine councils were contacted by LGBT couples looking to start their own families in 2013.
Adoption officials in Inverclyde received four applications, two of which came from same-sex couples. Meanwhile in East Lothian two of the five applications it received were from gay partners.
In Edinburgh applications from LGBT couples represented 18% of the 45 adoption requests it received while in Glasgow it was 10% of 130 applications. In total, over the past four years, councils in Scotland received at least 86 adoption applications from LGBT couples.
In 2010, there were 11 but the number rose to at least 30 in 2013. Over the same period councils approved at least 31 applications from gay couples. There were six in 2010, seven in 2011, nine in 2012 and nine in 2013.
However the returns could be higher as several authorities refused to provide the information.
Norman Wells, of the Family Education Trust, raised concerns about the rise. He said: "Nature tells us that children were intended to have both a mother and a father and men and women are not interchangeable.
"Yet when children are adopted by a same-sex couple, they are in most cases being confined to a state of permanent motherlessness or permanent fatherlessness.
"Research demonstrates that fathers and mothers provide a richness of care that can't be replicated in any other setting."
Colin Macfarlane, of gay rights group Stonewall Scotland, welcomed the development, however. "These figures are heartening as they show that lesbian, gay, bisexual and transgender people feel more confident about entering the adoption process," he said. William and Gary Goodfellow are just one same-sex couple in Scotland to have adopted this year. Gary, 32, and William, 44, applied in December 2010 and finally adopted son Harry last month.
Gary said: "Becoming a father is the best thing to have happened in my life. Our families and friends are very supportive. We haven't experienced any negativity. A gay couple can give a child just as much love as a straight couple."
Charity Scottish Adoption, which processed Gary and William's application, said it has targeted lesbian, gay, bisexual and transgender people as potential adopters and has seen applicant numbers increase "significantly".
At present, LGBT couples make up 38% of all those who have applied to the charity.
Chief executive Margaret Moyes said, "The number of children in need of adoption is increasing every year and there are not enough adoptive parents coming forward. We believe that LGBT people could help make up the shortfall."
There are around 340 children in Scotland on the adoption waiting list. However, experts say this doesn't reflect the true numbers of "looked-after" children who would welcome living full time with a family.
A Scottish Government spokesman said statistics do not support suggestions that same sex couples are more likely to break up than opposite sex couples.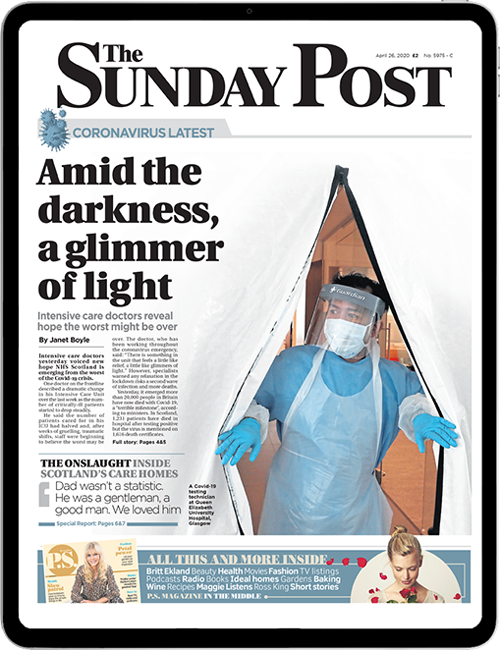 Enjoy the convenience of having The Sunday Post delivered as a digital ePaper straight to your smartphone, tablet or computer.
Subscribe for only £5.49 a month and enjoy all the benefits of the printed paper as a digital replica.
Subscribe