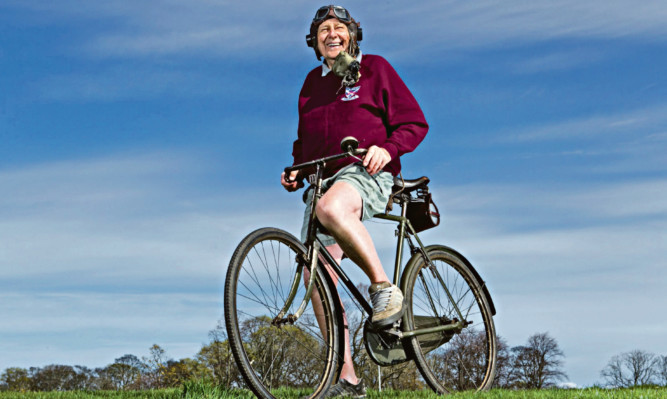 A cyclist aged 90 has told how he regularly takes 50-mile trips on a trusty bike which dates from the 1890s.
Douglas Seale's Victorian bone-shaker was made in 1896 and is in perfect working order.
The former Spitfire pilot prefers it to modern, fussy bikes and has become a regular sight clocking up miles on it near his Edinburgh home. He credits such jaunts on his trusty steed with keeping him super fit and has vowed to keep cycling way past his 100th birthday.
"I've clocked up 50 miles on days in good weather and it has added decades to my life," he said. "People smile and wave at me, but few would guess my age correctly."
Douglas the oldest surviving member of the Scottish branch of the Veteran Cycle Club bought his antique bicycle for around £825 at an auction in his native Australia seven years ago.
Made by JK Starley, the model is called The Rover, a forerunner of the world-famous car brand.
The great-granddad added: "In in my life I have been at the controls of many a machine but veteran bikes are by far the best. My love of cycling started when I got my first bicycle aged just six, and I haven't stopped since!
"Now I hope to see my 100th birthday from the back of my bike."
Douglas, who arrived in Britain as an Australian Air Force pilot in 1943, has fitted his 119-year-old bike with a special new comfy saddle, so he doesn't suffer any aches and pains on his long jaunts.
And, apart from a touch of oil on its chain and new tyres down the years, his bike is relatively unchanged from when it was first sold.
He insists he's not looking to emulate the heroics of Edinburgh's home-grown Olympic cycling hero Sir Chris Hoy, 39, and adds "strolling along at 10mph" is a more "comfortable" speed for him.
Apart from his 1896 Starley, his collection includes a 1904 model made by Rover and an old Phillips bike he bought new for £10 when he served here as a pilot during the Second World War.
"It was dangerous and the casualty rate was high," he added. "Put it like this, no one thought they would make 90!"
"I bought my favourite bike while serving with the RAF and it took me to and from the base. It's a 1938 Phillips model used back then by forces all over Europe."
His partner, Cath Gillies, 84, retired head pharmacist at the Royal Edinburgh Hospital, said: "He's in great shape."
The oldest member of the Scottish branch of the Veteran Cycle Club was Meridith Williamson. "Merry Bob" died aged 101 three years ago, but only gave up cycling at the age of 93.
"I'm hoping to beat that record," Douglas smiled.
Studies have shown that cycling or jogging through middle age "can delay ageing by 12 years".
Do you have a heart- warming story for The Sunday Post? Call our news desk on 0141 567 2812, email reporter Janet Boyle at jboyle@sundaypost.com or fill in our form below with the details.Fill out my online form.