Two-thirds of people receiving universal credit do not believe it pays enough to cover their basic needs – with almost nine out of 10 saying claiming the benefit has had an adverse effect on their mental health.
A total of 1,150 social housing tenants from areas across the west, south and east of Scotland were surveyed for the research as part of a new report.
The Existing Not Living report, which was commissioned by the Wheatley Group, found 65% of those claiming universal credit (UC) do not believe it gives them enough money to meet their basic needs.
Meanwhile, 62% said the benefit does not help them back into work, with 86% of social housing tenants – those living in either council houses or housing association properties – insisting UC has had an adverse impact on their mental health.
One tenant complained: "Trying to live on £243 per month, that's horrible.
"I'm expected to feed myself, pay my council tax, gas and electricity, pay debt and rent arrears.
"It's physically impossible to pay for all that and, of course, also your internet or some kind of mobile phone with internet, which you need to have if on universal credit."
Another said: "There were points when the system just completely defeated me.
"It's too hard and it's too humiliating for people. You have to completely justify everything that you've done."
Another tenant who took part in the research summed up their experience by saying: "It's just existing, and when I think about it, I don't know how much more I can go on like this."
The Wheatley Group, a housing and property management organisation, commissioned the report after last year launching a £6 million campaign to help tenants struggling to cope during the ongoing the cost-of-living crisis.
Hazel Young, director of housing and property management, said the study makes clear that thousands of "vulnerable people and families" have been left "not just worse off but confused and distressed".
The report called for changes to the benefits system, including restoring the £20-a-week UC uplift, scrapping the two child limit, ending sanctions and reducing the five-week wait for payments to be made.
Ms Young said the Wheatley Group had first raised concerns about the impact UC would have "on the most vulnerable in our communities" with the UK Government in 2013.
She added: "A decade on, this report makes clear it has left thousands of vulnerable people and families not just worse off but confused and distressed as they struggle to cope with the every-day demands of life.
"Supporting our tenants through these difficult times is a priority for us. Whether it is advice with accessing benefits, providing food vouchers or advice on how to keep their homes warm, we are doing all we can to support our tenants."
Carolyn Lochhead, director of external affairs at the Scottish Federation of Housing Associations, said: "Housing associations will always do all they can to support tenants who are struggling financially, but this research reiterates just how difficult that is when the UK social security system isn't meeting people's basic needs.
"Universal credit should, at the very least, be enough for people to live on – not drive them deeper into poverty.
"By giving tenants a voice to speak on these important issues, this research underlines the need for urgent change."
Callum Chomczuk, national director for the Chartered Institute of Housing Scotland, said: "Universal credit should be a lifeline for people when they fall on hard times but, as we know, it is not.
"This report adds to the evidence that universal credit is pushing more and more people into poverty and hardship and impacting their health and wellbeing."
A UK Government spokesperson said: "We recognise the pressures of the rising cost of living, which is why we have provided record levels of direct financial support for the most vulnerable – £1,200 last year and a further £1,350 in 2023-24 – while we're giving the Scottish Government an extra £82 million to help people in Scotland with essential costs.
"We are also making an unprecedented increase to the national living wage this week, the energy price guarantee is being extended and we are uprating benefits by 10.1%.
"In the long-term, we know work is the best route out of poverty which is why we recently announced additional work coach support to help more people find employment or increase their hours. "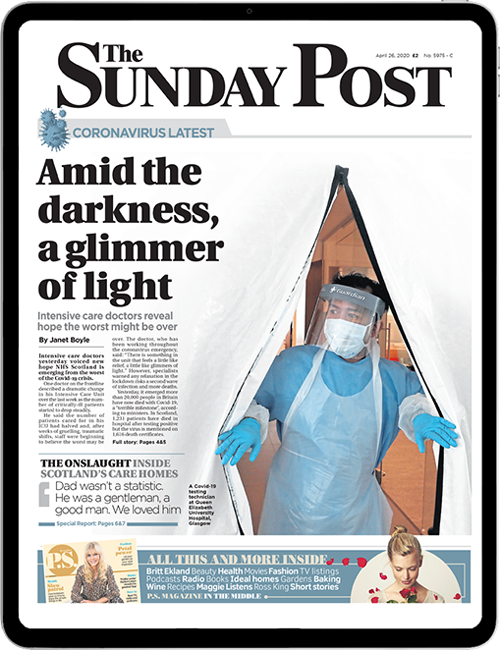 Enjoy the convenience of having The Sunday Post delivered as a digital ePaper straight to your smartphone, tablet or computer.
Subscribe for only £5.49 a month and enjoy all the benefits of the printed paper as a digital replica.
Subscribe