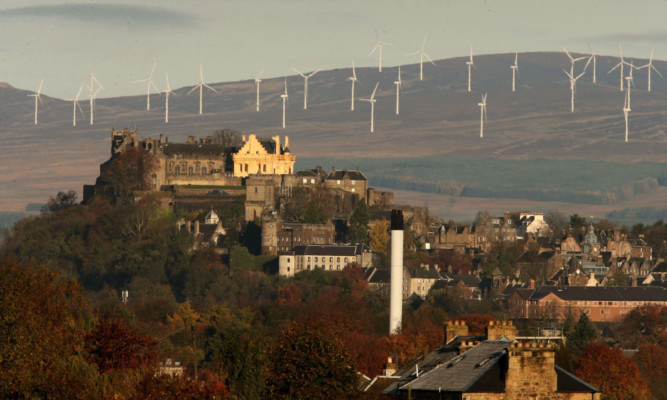 There are very few Government policies that are guaranteed to get everybody talking.
But if you raised the subject of wind turbines down the pub on a Saturday night, you can be sure everyone will have an opinion.
Some claim it is the only
sustainable means of generating power and will play a lasting role in ensuring the country's prosperity.
Others would fiercely argue they are a costly and inefficient blight on the landscape which cannot provide a reliable source of power.
They point to eye-watering costs like the £116 million of billpayers' money paid out since 2010 to turn them off when it is too windy which would be enough to give more than 90,000 homes a year's free heating.
Either way, wind energy is here to stay.
Scotland already hosts around half of all the wind turbines built in the UK and the SNP Government sees wind as being key to meeting its vow to produce all electricity from renewable sources by 2020.
The central plank of critics' opposition to wind farms centres on the fact they are heavily subsidised and cannot guarantee a steady supply, due to variable weather.
Campaigners argue the more Scotland favours wind energy over traditional power, like gas, coal or nuclear, the less reliable the country's supply will become.
And while there are concerns about a lack of electricity during calm weather, there is mounting anger over the spiralling cost to billpayers for compensating wind turbine owners when they turn them off because it's too windy.
During 2014, operators across the UK were paid a record £53 million in so-called constraint payments to leave their turbines idle and, during last month's storms, a further £10.7m was shelled out to stop the National Grid receiving more power than it can cope with.
Linda Holt, of campaign group Scotland Against Spin, said: "You need to have base load and dispatchable energy.
"Base load is the bedrock of what needs to be produced all the time and dispatchable is the way the grid or the power stations can be ramped up to meet demand like at half-time of a football match when everyone pops out to make a cup of tea.
"You have to be able to ramp it up to meet that spike. You need energy production that can be very responsive.
"The problem is that wind farms cannot produce that steady electricity because you cannot control the wind nor can they provide the dispatchable extra."
While the wind industry acknowledges its supply has limitations, it believes the huge environmental benefits outweigh its unpredictable performance.
During the first half of 2014, renewable energy produced more power in Scotland than coal, gas or nuclear for the first time, with onshore wind a key contributor.
Joss Blamire, a senior policy manager at Scottish Renewables which represents the industry, says climate change targets mean wind power is essential.
He said: "The primary aim of onshore wind is to provide electricity and also help the environment. That's why we have onshore wind turbines and in Scotland the technology is delivering on both those fronts.
"The output now on an annual basis is equivalent to around a third of our electricity needs and environmentally the renewables sector as a whole in Scotland is saving around 12 million tonnes of C02 a year and the vast majority of that is from onshore wind output.
"It is producing electricity and helping to cut harmful climate change emissions as well."
And while he acknowledges the often cited criticisms of wind power's unpredictably, he sees it as a temporary drawback while more investment is made to improve the grid for green energy.
He added: "It's fair to say wind farms produce variable power, there's no denying that, so it's again another argument for investing in our grid's infrastructure so that we can bring renewables from all parts of the UK to help them meet demand.
"Also inter-connectivity with the Scottish islands and mainland Europe as well if we can get that grid connection going we can take those renewables from anywhere and meet demand but also, when it is blowing strongly, we have the opportunity to export energy as well."
Rural alliance lets fly at lack of fair scrutiny
An unprecedented and scathing attack on the Scottish Government's windfarm policy has been put forward by a powerful rural alliance.
An open letter signed by a large number of concerned groups including the Association for the Protection of Rural Scotland, the Mountaineering Council of Scotland and the National Trust for Scotland calls into question ministerial judgement on large windfarm projects.
It says the Government, in backing large developments, has ignored its own advisers and failed to ensure plans have been laid open to "proper and democratic scrutiny".
The letter, which was made public last week, says: "It is vital that any decisions on the location of these developments rely on the fair and impartial assessment of all pertinent information and points of view.
"The people of Scotland depend on their Government to ensure this happens. Unfortunately, we do not believe that the Scottish Government is doing this in a consistent manner with windfarm developments."
It adds: "Having put in place a planning system which invites the expert views of statutory consultees, the Scottish Government too frequently ignores them if they prove inconvenient.
"At the very least, evidence of this calibre from SNH should trigger public inquiries."
"Rather than force objectors to challenge these decisions in the courts at great expense, the Scottish Government should first ensure they have been exposed to the proper and democratic scrutiny that their scale and potential impact warrants."
The Scottish Government has defended its policy aims to strike a balance between Scotland's "massive green energy potential and the need to protect some of the country's most scenic and wild areas".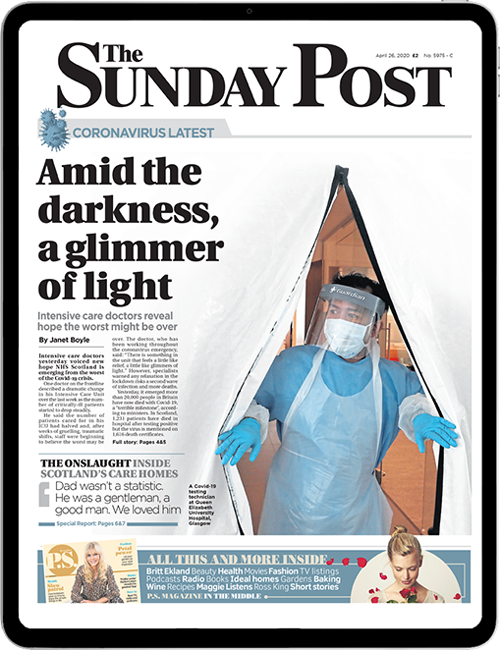 Enjoy the convenience of having The Sunday Post delivered as a digital ePaper straight to your smartphone, tablet or computer.
Subscribe for only £5.49 a month and enjoy all the benefits of the printed paper as a digital replica.
Subscribe