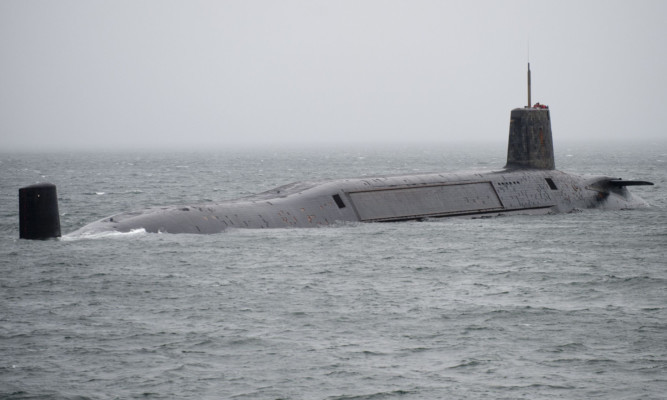 Is Trident Scotland's secret weapon?
Two experts debate the thorny issue of the Trident nuclear submarine.
No Expert Dr Liam Fox, Tory MP and former defence secretary
For more than half a century Scotland, as part of the United Kingdom, has played a major role in NATO, defending the freedom and values of our allies in Europe and North America.
Scotland will be a "non-nuclear" state if independence comes about. As a non-nuclear state, it can hardly be part of NATO, which is a nuclear Alliance.
At a time when global threats, including a resurgent Russia, are facing us, Scotland would have to go it alone. What that would mean for future generations can only be guessed at.
Of course, there would be more immediate consequences for the Scottish people the loss of thousands of jobs at Faslane, as well as those small firms who are part of the supply chain, the loss of skills and a bleak future for both employment and investment.
At best, "wishful thinking", sums up Alex Salmond's policies on Scottish independence. No policy of the nationalists, however, is as dangerous as their ill-thought-out approach to defence.
Yes Expert Keith Brown, Scottish Government minister for veterans and former Royal Marine
As the world's newest country, one of the first things an independent Scotland will have the chance to do is rid itself of nuclear weapons. I can think of few more powerful statements we can make to the world.
The lifetime cost of replacing Trident will run to some £100 billion an obscene waste of money, and one of the key reasons why Scotland will be better off with a Yes vote.
An independent Scotland working within NATO will be a positive contributor to international peace and security.
Our membership of the alliance will bring significant benefits for defence and security co-operation within our region and will demonstrate a clear commitment towards working in close, responsible and peaceful co-operation with Scotland's neighbours and allies.
The UK's wasting money on Trident has left Scotland with totally unsuitable conventional defence capabilities particularly maritime protection. With independence we can invest in defence and security forces which reflect our needs in the 21st Century.