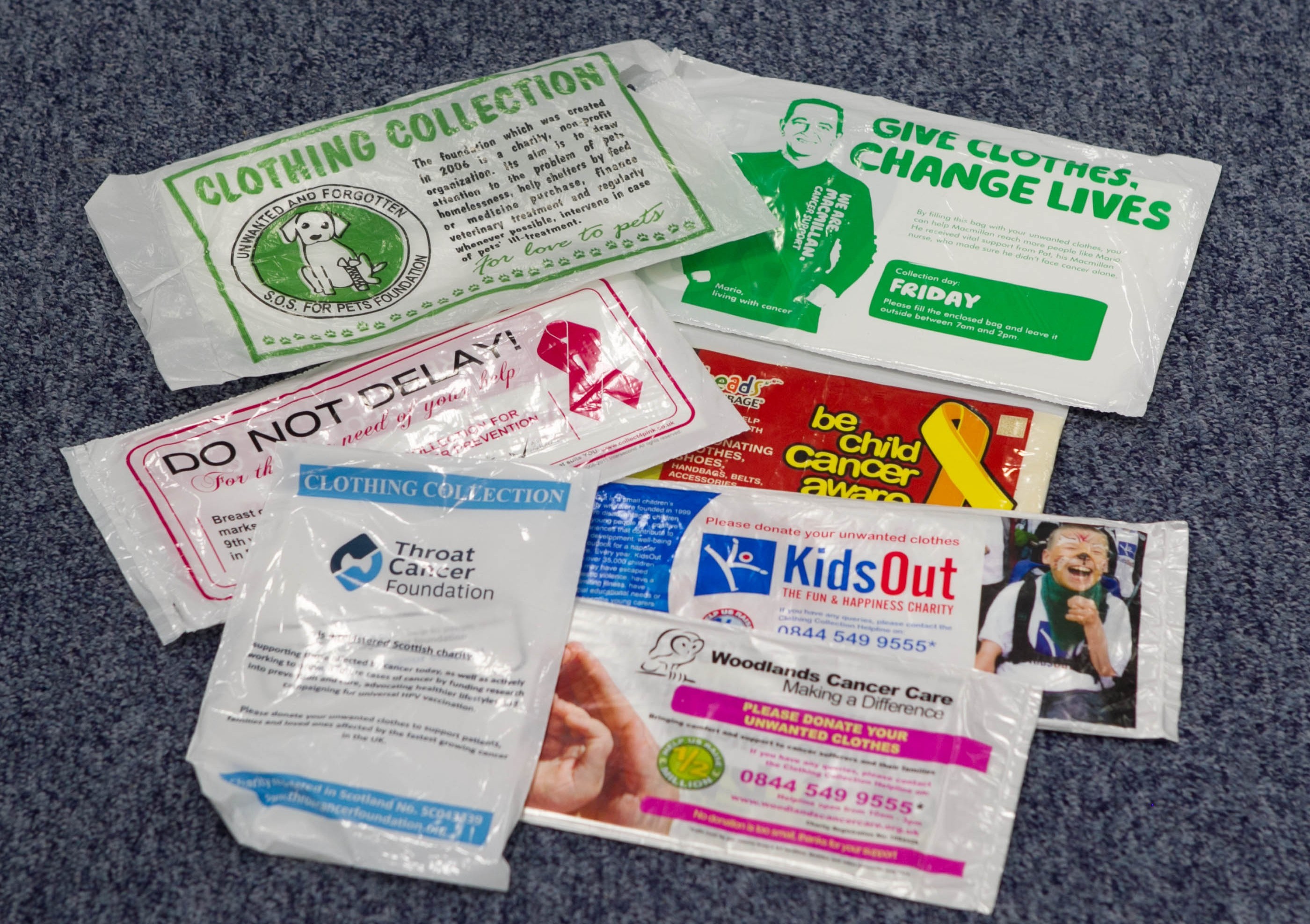 A Sunday Post probe into the lucrative door-to-door bag collections market has unearthed a range of evidence that suggests it is being routinely abused by shadowy foreign businessmen.
We found:
Some of the firms stuffing bags through letter boxes urging you to donate clothes are breaking the law.
The majority are operated by eastern Europeans who are not members of the industry watchdog.
Many of the charities they claim to raise money for have no connection to Scotland.
Large quantities of the second-hand clothes they pick up are flogged overseas for profit.
Many rag traders reap at least £300 a tonne from collections – but donate as little as £50 from that figure to charity.
In many areas plastic clothes bags emblazoned with charity logos and emotive messages drop through letter boxes on an almost daily basis.
People are encouraged to fill them with unwanted clothes.
Typically the collections are carried out by private textile traders who pocket a proportion of the cash raised and give the rest to the good cause mentioned on the bag.
Our reporters collected hundreds over the course of a year – and then looked into their origins.
The findings were stark.
Perhaps the most damning was that in many cases not a single penny, or only a tiny fraction, of the value of the clothes donated ends up in the hands of good causes while evidence has also emerged of links to organised crime networks.
Critics last night called for a major clampdown on the industry and said it was essential "rules are tightened" to squeeze out rogue operators.
Charities expert David Craig, author of the The Great Charity Scandal, said: "The number of businesses operating charity clothing pick-ups shows you just how bloated the industry has become.
"People are being duped here. This is yet another example of charities being used to make someone money."
Of the bags we looked at, fewer than half of the charities mentioned were registered in Scotland with the Office of Scottish Charity Regulators.
For example, Coping with Cancer (North East), Against Breast Cancer and Woodlands Cancer Care do little or no charitable work north of the Border. But textile firms operating on their behalf have bombarded Scottish households with plastic bags.
Even worse, some bags featured organisations not registered as charities at all.
Lithuanian-based Do Not Delay, which claims to raise money for breast cancer sufferers in the former Soviet country, and Polish body SOS For Pets Foundation, have no connections to this country.
It's not known how much, if any, of the money raised by these groups actually goes to the needy.
The charity watchdog in Scotland said there were no rules to prevent English-only charities making clothing collections in Scotland.
But a spokesman said it could take action against bogus organisations.
He added: "We do have powers to act where collectors claim to be charities when they aren't in the register."
By law, door-to-door textile collection companies must obtain a licence from the local authority they're operating in and register with the environmental watchdog. At least three charities in today's expose have failed to log details with SEPA.
Despite the threat of action, and action actually being taken against them, many continue to operate.
For example, one was taken to court in 2013 for operating without a licence while another had its licence revoked for unscrupulous practices.
A third company came under fire the same year for using the Save the Children logo on its bags even though it had no links to the charity.
The annual value of the worldwide second-hand clothes market is estimated at £2.8 billion.
Good-quality textiles sell at around £300 per tonne – down from more than £650 three years ago.
It's difficult to work out exactly how much the door-to-door collection firms we looked at earn because none published full annual accounts.
But in each case, only a fraction of the income is handed to good causes.
Some firms donate just £50 per tonne while others hand over a set amount – meaning it could be far less.
This chimes with research which shows that in some cases just 5% of the profits from collections run by commercial companies ends up in the hands of good causes.
Our investigation also found only a handful of the firms operating in Scotland are registered with the Textile Recycling Association – the UK-wide industry body for clothing collectors.
Director Alan Wheeler said clothing collection work was increasingly being carried out by shadowy firms operating without scrutiny.
"We have concerns about some of the businesses," he admitted. "Some of them aren't upholding basic legal requirements.
"We have found that there are a significant number that do not hold the appropriate waste licences."
According to the latest available figures, the UK exported more than £380m, or 351,000 tonnes, worth of discarded fashion overseas in 2013.
That works out as 70% of all reused clothing going abroad.
Dr Andrew Brooks, a lecturer at King's College London who has researched the journey of second-hand clothes, said: "Families will be amazed at how many of their cast-offs are traded abroad for profit.
"If you assume they are going to be sold in charity shops think again – the majority of your clothes are destined for all over the world."
Andrew Hind, of the Fundraising Standards Board, the self-regulatory body, said: "Across all forms of charity fundraising, it is critical that charities make it clear which organisation will benefit from any donation and how much is going to that organisation.
"Only by doing so can charities ensure the public are able to make informed choices about their giving."
---
---
The law for collections
By law, door-to-door textile collection companies must be licensed by councils.
They are also required to carry details of the charity they are acting on behalf of on the bags they distribute.
A formal contract must also be signed.
In Scotland, clothes collection from homes on behalf of charities is considered transporting "controlled waste".
The industry is highly regulated to ensure second-hand textiles do not end up in landfill and firms must register with Scotland's environmental watchdog, SEPA.
All of the textile firms we looked at could be traced, but three – the Mega Company, Clothing Collection Team Ltd and Clothing Collection Assistance Ltd – could not, risking prosecution.
The global rag trade
The value of second-hand clothes has soared, with record prices set in 2013.
In 2007 rag dealers were paying around £150 per tonne for hand-me-downs.
But by 2013 it had reached £650, according to trade publication letsrecycle.com.
It's now come down to around £300 per tonne.
The UK is the second biggest exporter of second-hand clothes in the world, behind the US.
Have your say
How often do you donate clothes to charity? Have you been taken advantage of?
Phone Gordon Blackstock on 0141 567 2762 (Tuesday to Saturday) or email gblackstock@sundaypost.com
---
READ MORE
Councils cut ties with scandal-hit Scotia Aid charity