Animal welfare campaigners say the discovery of a golden eagle's satellite tag, dumped in a river and wrapped in heavy lead sheeting, is "unequivocal proof" the bird has been illegally killed.
The tag, which had been on a young eagle which disappeared in May 2016, was found by a father and son in the River Braan near Dunkeld, Perthshire, a few miles from the last known location of the bird.
The eagle's tag – which had until then been working as expected – stopped transmitting at a Perthshire grouse moor.
Police Scotland are carrying out forensic analysis on the device after it was found in May.
The Scottish Gamekeepers Association has said the bird being killed is "just one of many possible interpretations" of what could have happened.
But Ian Thomson, RSPB Scotland's head of investigations, said: "As is the case in virtually every raptor persecution investigation, nobody seemed to know anything and, as is the case with every suspicious satellite tagged raptor disappearance on a grouse moor, spurious alternative theories as to what may have happened to the bird and tag were suggested.
"However, now we know the truth.
"This young eagle was killed illegally. The tag was clearly removed from the bird, its antenna was cut off, and the tag was then wrapped in a piece of lead sheeting, presumably because the perpetrator thought this would stop it transmitting.
"The package was then cast into the river, never to be seen again. Or so they thought.
"This discovery gives unequivocal proof not only of what is happening to these birds, but also the lengths to which the criminals involved in the killing of our raptors will go to dispose of evidence and evade justice.
"It is not unreasonable to conclude that the vast majority of other birds of prey and their tags that have disappeared on Scotland's grouse moors have suffered similar fates."
Duncan Orr-Ewing, a member of the Central Scotland Raptor Study Group and RSPB Scotland's head of species and land management, said the number of satellites tags on birds of prey which appear to have "stopped suddenly on a grouse moor is an issue of increasing public concern".
He added: "It has long been suspected that tags are routinely destroyed by wildlife criminals in a deliberate attempt to conceal evidence.
"There is no other reasonable explanation as to why this tag has ended up in the river where it was found, wrapped in metal, and with the harness and antenna cut. "
He called on the Scottish Government to act, saying: "More disappearances of tagged birds this year, as well as shooting and poisoning cases, destroy any pretence that the grouse shooting industry is able to self-regulate, even during a national pandemic.
"It is abundantly clear that the only way to stop this culturally ingrained and organised criminality against Scotland's protected raptors is through robust, and immediate, regulation."
The Scottish Gamekeepers Association said: "If RSPB's interpretation of this is what has actually happened, which they do not have proof of, then of course we would share that concern.
"However it is one of many possible interpretations and until any forensic process is concluded, it would be unwise of us to comment further or add to speculation on who may have covered up a tag or what their interests were in doing so.
"To state that this is what happens to every missing satellite tag in Scotland is without evidential basis whatsoever.
"We will await to see what the police can uncover from the evidence. We hope they find the truth of what has happened, for everyone's sake."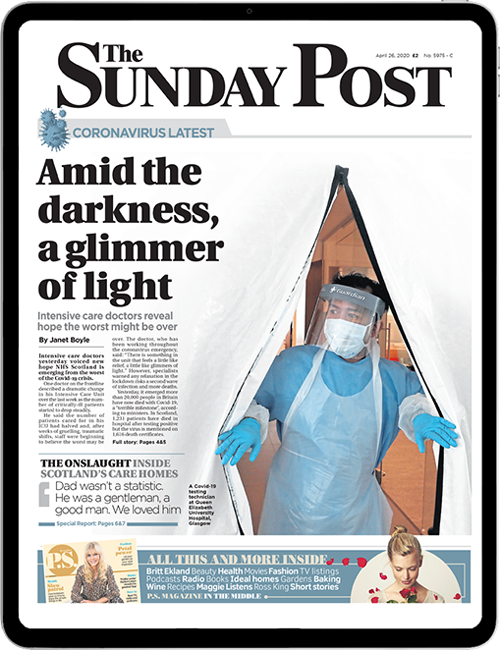 Enjoy the convenience of having The Sunday Post delivered as a digital ePaper straight to your smartphone, tablet or computer.
Subscribe for only £5.49 a month and enjoy all the benefits of the printed paper as a digital replica.
Subscribe