Nicola Sturgeon has called on the Prime Minister to convene an emergency meeting this weekend to discuss what further steps are needed to combat the rising number of coronavirus cases.
The First Minister said she has been in touch with Boris Johnson to see if a Cobra meeting involving the devolved administrations could take place.
It comes as she warned further national restrictions could be needed – telling Scots "hard but necessary" decisions may have to be taken in the next few days.
She said this way she hopes to avoid a second national lockdown.
"Ideally we we will be able to have a joined-up approach across the UK," she said, but added she could not remember the last time she had spoken to Mr Johnson.
Ms Sturgeon said at the Scottish Government's coronavirus briefing on Friday: "Discussions across the four nations of the UK will, I hope, take place in the coming days.
"I have this morning asked the Prime Minister to convene a Cobra meeting over this weekend."
She said most of the discussions between the four governments in the UK recently have involved Cabinet Office minister Michael Gove rather than the Prime Minister.
Ms Sturgeon said these talks could also do with "sometimes being bit more meaningful, in terms of us actually discussing what we are going to do as opposed to hearing what the UK Government is going to do".
She said: "I think it would be very helpful to have a PM-led, four nations Cobra-type discussion over this weekend because, this might sound like quite a dramatic thing to say given what we've all been through in the last six months, but the moment we are in right now is probably the most critical point of decision since the one we faced in late March.
"That's why I think that discussion, at that level, with that urgency, is really appropriate this weekend."
The First Minister of Wales, Mark Drakeford, also shares that view, Ms Sturgeon said.
With cases of Covid-19 rising again – a further 203 positive cases were reported in Scotland in the last 24 hours – the First Minister warned the virus "could get out of our grip again", saying there was now the of "exponential growth".
Ms Sturgeon said: "If we want to avoid another full-scale lockdown – which all of us do – doing nothing almost certainly isn't an option.
"We have national restrictions in place already, the six-two rule is a national restriction – do we need to have more national restrictions?"
Her comments came as she confirmed another coronavirus death in Scotland, taking the total of people who have died within 28 days of testing positive for the disease to 2,502.
Meanwhile, 23,776 people have now tested positive for the virus.
"We need to act to interrupt that exponential growth," the First Minister said.
"No-one wants to see another full-scale lockdown. And above all we want to keep schools and childcare open because we know how important that is to the education and to the broader wellbeing of children and young people.
"We are seeing increasing numbers of places both here in Scotland and across the rest of the UK that are under local and regional restrictions."
She added: "The bottom line here is that this virus is on the rise again.
"Our case numbers are not yet rising as fast as they were back in March but they are rising again and they are rising quite rapidly.
"If we take early action the hope is we can avoid more severe restrictions in the future, that is what is about, it is partly about preventing something much tougher later down the line."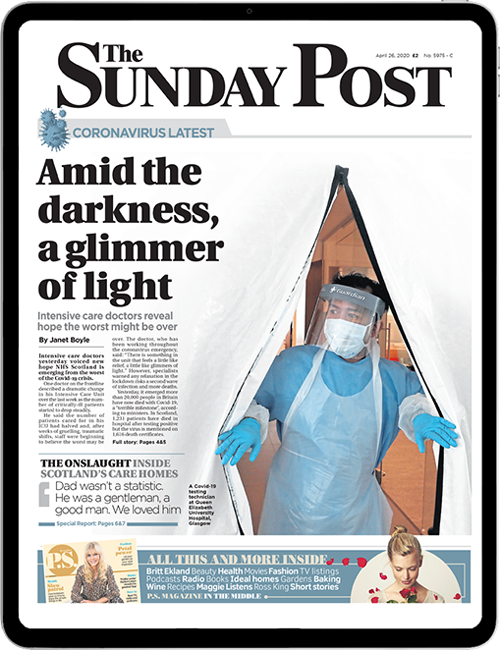 Enjoy the convenience of having The Sunday Post delivered as a digital ePaper straight to your smartphone, tablet or computer.
Subscribe for only £5.49 a month and enjoy all the benefits of the printed paper as a digital replica.
Subscribe