The Scottish Government has taken steps to adapt to climate change but progress has been slow, a new report from the Climate Change Committee (CCC) has said.
In a more than 200-page report released on Tuesday, the body – the UK's independent adviser on global warming – found just one of 33 outcomes were making "good progress", while four were found to be making insufficient progress, 16 outcomes were mixed and 12 lacked sufficient data for a judgment to be made.
The report comes just weeks after Storm Babet caused serious flooding in Scotland, forcing dozens of people out of their homes in Brechin, Angus.
The only outcome which showed good progress was the preparedness of communities for "climate shocks".
The report said: "All local authorities in Scotland have carried out some adaptation action and there is increasing prevalence of partnership and community-led projects.
"Adaptation Scotland has facilitated a positive place-based programme and there is increased support and funding for community-led action."
But in the health sector, the report found there had been "insufficient progress" in protecting population health from the impacts of climate change and "limited" policies and plans are in place.
Data tracking deaths and morbidity caused by weather are not "regularly recorded", the report found, adding there is "no long-term plan" for managing extreme weather, although it added there is a commitment from Public Health Scotland to develop an "adverse weather and health plan".
However, the CCC did praise the work of the Scottish Government, particularly National Planning Framework, new building standards, NHS Scotland's climate emergency and sustainability strategy, the draft Scottish Biodiversity Strategy and Transport Scotland's adaptation plan.
"These developments are welcome and, if implemented successfully, will make an important difference to Scotland's resilience to climate change," the report said.
Chris Stark, the chief executive of the CCC, said: "Significant flooding just last month demonstrated the impact of more extreme weather in Scotland.
"Yet, we find that progress on adapting to climate change remains too slow. While there have been some notable steps forward on policy, this isn't being matched in the delivery and implementation of adaptation measures in Scotland.
"Scotland's next national adaptation plan must embed resilience to climate change in new legislation and drive real improvements that prepare Scotland for the change in the climate."
Responding to the report, Net Zero Secretary Mairi McAllan said: "The committee's advice is well-timed; in January we will consult on our new adaptation plan and the committee's recommendations will play an important role in shaping our approach.
"Today we are also launching a public consultation on water, wastewater and drainage which directly responds to recommendations in this area.
"We know the climate emergency is not a distant threat – it is with us today. Storms have battered Scotland in recent months and 2023 is set to be the hottest year on record.
"The impacts of climate change are affecting families, communities and businesses across Scotland.
"That is why we are taking action to make Scotland more resilient in the face of a changing climate."
Ms McAllan went on to say the Scottish Government is working at "getting our homes ready for extreme weather" through changes to building regulations, as well as a near-£200 million investment in this parliamentary term for the managing of flood risks and support for farmers to cope with climate change.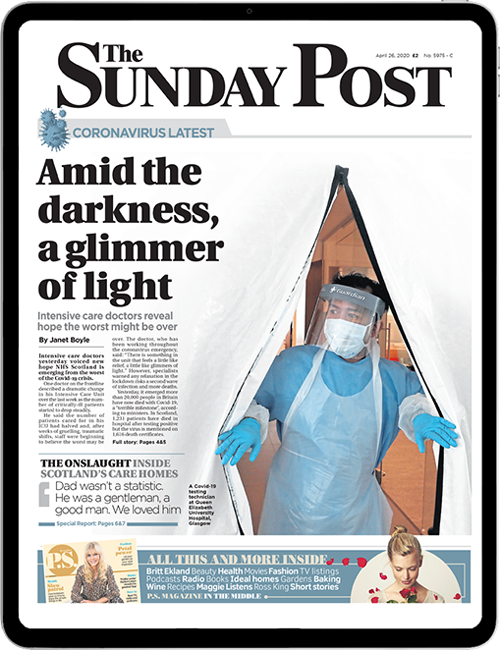 Enjoy the convenience of having The Sunday Post delivered as a digital ePaper straight to your smartphone, tablet or computer.
Subscribe for only £5.49 a month and enjoy all the benefits of the printed paper as a digital replica.
Subscribe