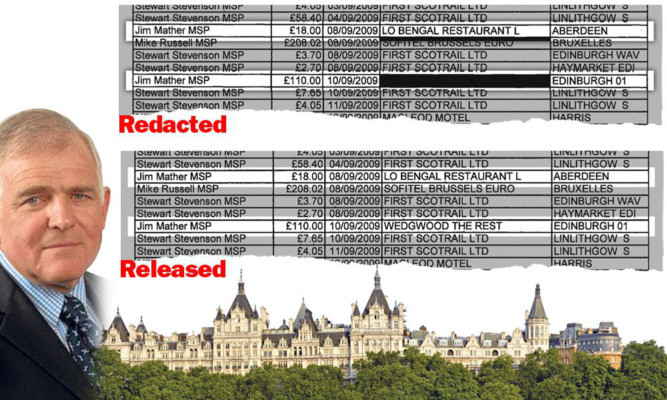 Alex Salmond and SNP ministers are at the centre of a new secrecy storm for trying to cover up details of five-star hotel stays and meals at swanky restaurants.
The Scottish Government fought an 18-month battle to stop The Sunday Post publishing the names of hotels regularly used by senior Government Ministers.
They claimed releasing the information would create "significant security risks".
But information tsar Rosemary Agnew has ruled the SNP administration failed to provide evidence to support this and ordered disclosure.
The details forced out of the Scottish Government show Cabinet and Junior Ministers have stayed at a string of posh hotels, including the five-star Balmoral in Edinburgh.
The dossier also includes bills for meals at upmarket Edinburgh restaurants which officials had kept secret in the original Freedom Of Information (FOI) response.
They were apparently happy to disclose the names of some low-cost eateries, not their more expensive ones.
In one startling example, they released details of an £18 meal at the Lo Bengal in Aberdeen claimed by former Enterprise Minister Jim Mather in 2009. But just three entries later they blacked out a £110 bill for a meal in Edinburgh's posh Wedgewood restaurant.
These revelations come in the wake of our expose earlier this year revealing how SNP Ministers regularly use five-star hotels when on overseas trade missions.
Scottish Labour's Business Manager, Paul Martin MSP said: "We have known for some time that this Government is willing to waste taxpayers' money on lavish expenses when hard-working families are struggling to make ends meet.
"They are also more than happy to then use taxpayers' money to cover up these expenses. They are simply trying to hide their extravagant tendencies."
The information released last week reveals the full extent of the luxury accommodation and swanky restaurant meals being charged to the public purse.
On September 15, 2008 the then Culture Minister Linda Fabiani enjoyed a £269 stay in London's four-star St Ermin's Hotel. The following day she stayed in the five-star Balmoral Hotel in Edinburgh at a cost of £210.
Other entries show Finance Secretary John Swinney and former Chief Whip Bruce Crawford staying at the five-star Royal Horseguards Hotel in London at up to £250 a night.
In the original response, officials included details of restaurant spending by SNP Ministers and stated the other lines blacked out were for hotels. However, the information released last week also included bills for meals at top Edinburgh restaurants. This included a £199 bill for Education Secretary Mike Russell in the city's Wedgewood restaurant.
Three-figure bills for the Ondine and Stac Polly restaurants were also released, though officials insist they were blacked out by mistake in the original response.
The breakdown also shows Education Secretary Mr Russell had a £500 stay at the four-star Cabarfeidh Hotel on the Isle of Lewis in 2009.
His four-night stay was around the summer cabinet event held on the island though records show every other minister who stayed at the hotel did so for one night. Officials told The Post Mr Russell's stay was longer as he had ministerial engagements in the Western Isles.
Lib Dem peer Lord Jeremy Purvis said: "There was no reason for the Government not to release this information when it was first requested by The Post. Ministers need to take a long hard look at themselves over this sorry episode."
The 18-month battle with the Scottish Government started in April last year when this newspaper used FOI laws to ask for all the bills for "travel and subsistence cards" used by the cabinet and junior minsters. Ministers failed to respond to the requests and an appeal was lodged with the Information Commissioner.
Some data was later released including details of how the First Minister's office spent more than £5,000 in just eight months with a London chauffeuring firm which has a fleet of high-end Mercedes, BMW and Jaguar cars.
The names of all overseas hotels were then released in July and showed top hotels in New York, Beijing and Tokyo and are among the regular haunts of Mr Salmond and his ministers.
The haul for Ministers included stays at 64 five-star, 100 four-star and 11 three-star hotels. This included a four-night stay at the five-star Atlantis Hotel in Dubai by Sports Minister Shona Robison at a cost of £1,436 when lobbying for a rugby sevens tournament to be held in Scotland.
The Sunday Post then asked the Commissioner to rule on the release of the UK hotel names. In the case of the First Minister she accepted evidence there could be a security threat if people knew which hotels he regularly uses.
However, in the case of SNP Ministers, Ms Agnew said: "Although ministers have made a strong argument about it being possible for locations to be predicted, they have not provided evidence to show why there is any likelihood beyond an unsupported claim, this will increase risk of endangerment by potentially leading to attacks on ministers.
"Ministers have not demonstrated their arguments about risk of endangerment should locations be disclosed are based on more than hypothetical supposition."
A Government spokeswoman said: "We endeavour to respond on time to FOI requests. Unfortunately, due to the extremely large volume of information requested, in this instance that was not possible.
"Our approach to avoiding compromising ministerial security was based on advice from Police Scotland and the Commissioner did accept some hotel information should not be released in a related appeal case."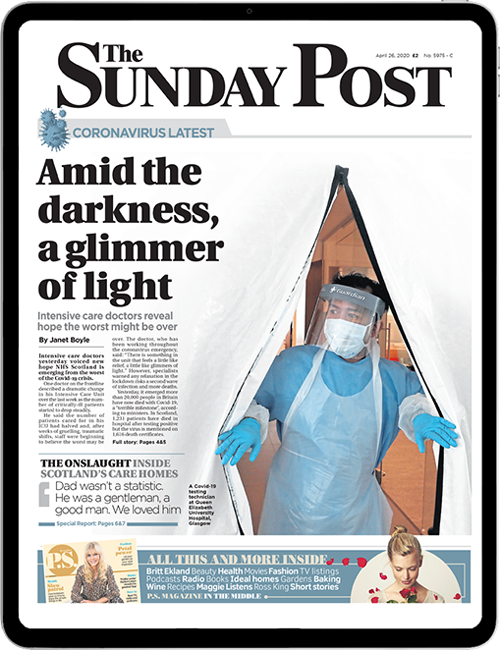 Enjoy the convenience of having The Sunday Post delivered as a digital ePaper straight to your smartphone, tablet or computer.
Subscribe for only £5.49 a month and enjoy all the benefits of the printed paper as a digital replica.
Subscribe