A second patient in Scotland diagnosed with Covid-19 has died, the Scottish Government has confirmed.
The patient being treated by NHS Greater Glasgow and Clyde had underlying health conditions, Scotland's chief medical officer Dr Catherine Calderwood said.
The death came as the number of positive cases in Scotland rose to 195, up from 171 on Monday.
Dr Calderwood said: "I am very saddened to report that an elderly patient with underlying health conditions, who has tested positive for coronavirus, has died.
"They were being treated by the NHS Greater Glasgow and Clyde Health Board.
"I offer my deepest condolences to their friends and family at this difficult time.
"No further information will be available to protect patient confidentiality."
The first death of a Covid-19 patient in Scotland, also an older person with underlying health conditions, occurred on Friday March 13 in the NHS Lothian health board area.
A total of 5,246 tests have now been carried out in Scotland, with 5,051 of these negative.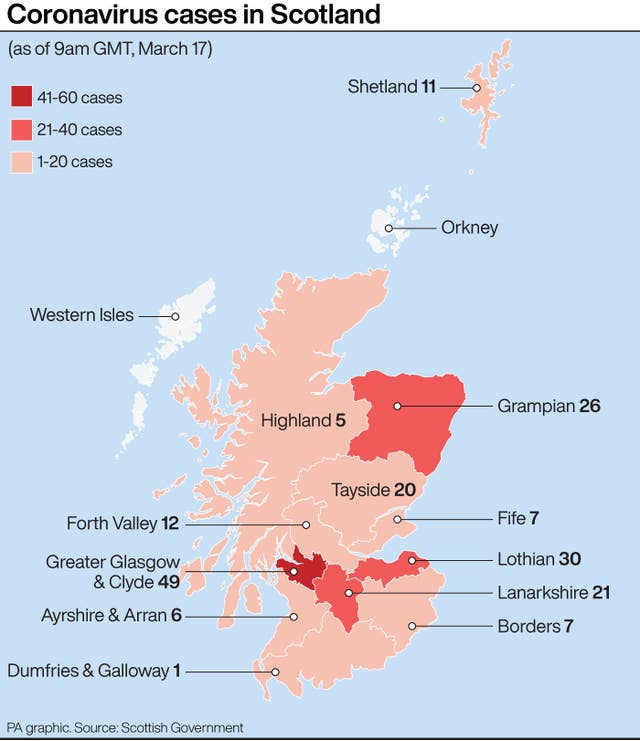 Earlier on Tuesday, Nicola Sturgeon said she was surprised by the speed at which coronavirus is spreading and warned the country is "on the cusp of a rapid acceleration".
The First Minister said she was being "frank and transparent" with people about the need to reduce non-essential contact with others, with the latest advice to avoid pubs, restaurants and public events.
Expressing "enormous sympathy" for businesses affected by the measures, Ms Sturgeon said "every penny" of extra funding from Westminster would go to helping businesses and public services cope with the pandemic.
During a statement at the Scottish Parliament, Ms Sturgeon said: "We face a shared national challenge and we will need a collective national endeavour to meet it. We all have a part to play.
"We must all show solidarity, compassion and kindness for each other, not simply in person, in our phone calls and text messages, our social media presence, even our waves across the street to each other. And also of course in our offers to help where we can.
"By doing that, by looking after ourselves, our loved ones and our communities, we can and we will get through this."
The latest advice is that people showing symptoms of Covid-19 – namely a persistent cough or a fever – should self-isolate for 14 days, along with every member of their household, in addition to urging people to "socially distance".
Holyrood itself is not closing but "only parliamentary service staff required to deliver key essential business onsite should attend work at Holyrood" with all others to work from home until further notice".
A number of local authorities have announced its libraries, museums and leisure centres would be shutting in line with measures from both governments.
They include the Western Isles, Stirling and Edinburgh with V&A Dundee also closing.
Glasgow Life, which operates the city's leisure centres, museums and libraries, said it is keeping the situation under review, as are Aberdeen City and South Lanarkshire Councils.
The Scottish Courts and Tribunals Service has also reviewed its operations to protect the health of all court users – meaning no new jury trials will be held from Tuesday.
A statement said: "From today, March 17, no new criminal jury trials will be commenced or new juries empanelled until further notice. This will be kept under review.
"Where jury trials have already commenced these will run to conclusion of the trial, if practical to do so.
"For jurors cited for trials after today, information will be available on jury telephone lines advising them not to attend.
"It is likely that further measures will be announced in the coming days."