Deputy First Minister John Swinney has reminded Scots of the importance of physical distancing after a Covid-19 outbreak at a call centre in Lanarkshire.
He made the plea after 19 coronavirus cases were linked to the Sitel premises at Eurocentral, where staff work on Track and Trace for NHS England.
A total of 14 employees who work there have so far tested positive for the disease, with a further five cases among family contacts.
Authorities are waiting on test results for more than 50 workers, Mr Swinney added, as he revealed some of the "absolutely razor-focused activity" that is taking place to try to stop the outbreak spreading further.
As well as closing the Sitel centre, Mr Swinney said authorities have been in touch with five other premises, including bars, cafes and shops.
Some of these have been closed temporarily and deep cleaned, he said, with employees told to self-isolate.
One employee at the Sitel site revealed staff did not always follow rules around physical distancing – requiring people to stay two metres apart from others.
Mr Swinney told BBC Radio Scotland's Good Morning Scotland programme: "It demonstrates there is a very serious situation in this facility where something has clearly gone badly wrong in the arrangements, the working arrangements in the Sitel facility resulting in such an outbreak."
Authorities are now putting in place "all of the Test and Protect arrangements to make sure we contain the outbreak as far as we possibly can do", he said.
A total of 360 members of Sitel staff have now been tested for Covid-19, with 14 employees testing positive out of the 307 workers whose results have been returned.
Mr Swinney added: "There are five other cases which have tested positive but they are family connections, so they are not Sitel employees."
He said an "extensive amount of testing" is now being carried out, adding: "Something has gone wrong at the Sitel facility and the teams from NHS Lanarkshire are exploring, they are looking in fine detail at where were people sitting, where did they move to, where did they take their breaks, who did they take their breaks with.
"It is intensely detailed work but they have to do that to understand what has been the source of the problem so that for Sitel they can identify the issues and if there are any wider issues we need to address."
He said the outbreak "reinforces the importance for absolutely everybody to understand the significance of the rules that are in place".
Ministers "do have a concern that people are becoming perhaps a little bit relaxed about physical distancing", Mr Swinney said.
"The compliance about wearing face coverings is really very strong and very high but on physical distancing I think people are becoming a little bit too relaxed and perhaps this is an appropriate opportunity to remind people of the central significance of making sure they observe those requirements."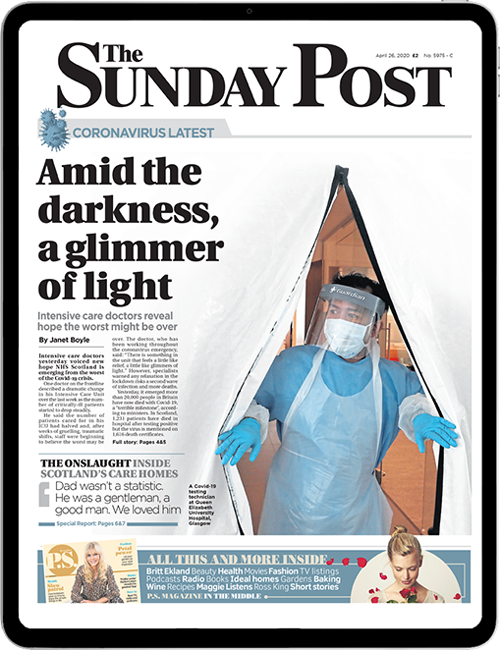 Enjoy the convenience of having The Sunday Post delivered as a digital ePaper straight to your smartphone, tablet or computer.
Subscribe for only £5.49 a month and enjoy all the benefits of the printed paper as a digital replica.
Subscribe