A £26 billion infrastructure investment target is set to be missed by Scottish ministers due to budget constraints, Scotland's public spending watchdog has warned.
The Scottish Government's infrastructure investment plan set out the spending priorities to address the transition to net zero and ensuring buildings were resilient and sustainable.
But Audit Scotland is now warning the challenges faced by the reducing capital budgets and higher costs and increasing maintenance requirements make the ambitions unlikely.
Scotland's Auditor General Stephen Boyle has warned ministers will be faced with the difficult decision of which projects to pause.
It comes as ministers anticipate a 7% real-terms reduction in the capital block grant it receives from the UK Government between 2023/24 and 2027/28.
Meanwhile, the cost increase between December 2022 and June 2023 for the infrastructure projects was expected to be at least £55 million.
Mr Boyle has urged Scottish ministers to balance the cost increases with the demand for replacement buildings, amid warnings parts of the prison estate – including HMP Barlinnie – are causing "significant concern".
The report also warns the Scottish Government will not be able to meet its plans to double spending on maintenance, however, with the NHS detailing its backlog at £1.1 billion, ministers will have to reassess its infrastructure priorities, particularly as it faces "significant costs" to tackle buildings which including reinforced autoclaved aerated concrete.
"The Scottish Government will need to understand and deal with backlog maintenance as well as investing in new infrastructure," the report said. "If it does not do this, it runs the risk of service interruptions and larger investments being needed in the future."
Mr Boyle said: "Scottish Government spending decisions on infrastructure will affect public services, and ministers need to be transparent about how they are made.
"Efficient use of the public estate in the future is key to reforming public services, but the Scottish Government needs better infrastructure data to inform its planning."
Murdo Fraser, business and economic growth spokesman for the Scottish Tories, said the report was a "damning indictment" of SNP finance mishandling.
He added: "Ministers continue to receive billions in funding from the UK Government, yet are falling woefully short of delivering the infrastructure investment required.
"Because the SNP-Green government have made Scotland the highest-taxed part of the UK, our economy is uncompetitive and not generating sufficient growth to fund these crucial projects. And failure to invest in infrastructure will further hold us back, creating a vicious circle."
Willie Rennie, economy spokesman for the Scottish Liberal Democrats, said: "The SNP have created a vicious cycle.
"By failing to grow the economy, ministers have left less money for investment in critical infrastructure, which in turn only worsens economic performance.
"We need to end a decade of depressed growth and poor productivity."
Deputy First Minister Shona Robison said: "The Scottish Government is firmly committed to infrastructure investment as a key factor in securing inclusive economic growth and delivering high-quality public services.
"The challenging economic conditions of the last few years resulting from Brexit and high inflation as well as the real-terms fall in the capital grant allocation from the UK Government have led to delays for some infrastructure projects.
"Looking ahead we are having to prioritise projects and programmes so the capital spending available is targeted. We have also started work on delivering a more efficient approach to the management of public sector property that will save public funds and enable organisations to step towards a net zero estate."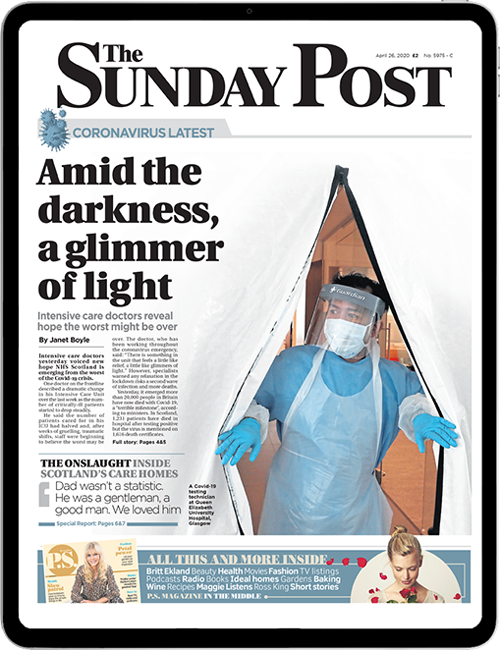 Enjoy the convenience of having The Sunday Post delivered as a digital ePaper straight to your smartphone, tablet or computer.
Subscribe for only £5.49 a month and enjoy all the benefits of the printed paper as a digital replica.
Subscribe