Leading representatives for specialist care in education have called on the Scottish Government to provide better teaching resources as the number of pupils with additional support needs (ASN) has reached a record high.
The latest Government figures show that in the last 10 years, the number of pupils who needed additional support in their education for issues such as mental health problems, learning disabilities, autism and dyslexia jumped by 104.8%.
This is an increase from 118,011 pupils with ASN in 2012 to 241,639 in 2021 – the highest on record.
It also means more than a third (34.2%) of pupils in Scotland now require additional support.
But in the last decade, the number of ASN teachers, who are publicly funded primary, secondary, special and centrally employed, has dropped by 16.1%.
Between 2012 and 2022, the figure decreased by 546 from 3,389 to 2,843, according to the latest Teachers Census.
It means while each ASN teacher was supporting 35 pupils in 2012, by 2022 this jumped to 85 pupils each.
In response to the figures, the Scottish Children's Services Coalition (SCSC), an alliance of leading providers of specialist care and education to vulnerable children and young people, raised concerns about the number of ASN teachers reaching a new low as pupils in need of them reaches a record high.
It has called for greater resourcing from both the Scottish Government and local authorities to ensure those with ASN, who are disproportionately from poorer areas, are getting the care and support they need.
SCSC has also raised concerns about the effectiveness of a presumption of mainstreaming, meaning all pupils are educated in a mainstream educational environment unless exceptional circumstances apply, without the necessary support.
A spokesperson for the SCSC said: "It is vital that those with ASN get the care and support they need. This is also key if we are to genuinely close the educational attainment gap as we know that those with ASN are disproportionately drawn from poorer neighbourhoods.
"With cuts in support, including in the number of specialist teachers, it is going to be extremely challenging to reduce the current inequalities faced by those with ASN.
"While we also support the presumption of mainstreaming, which means that all children and young people are educated in a mainstream educational environment unless exceptional circumstances apply, it is clearly difficult to see how this is functioning properly given the fall in specialist support and increase in the number of those with ASN.
"The Scottish Government and local authorities need to work together to provide the necessary resourcing to address the needs of those children and young people with ASN, who represent some of the most vulnerable individuals in our society."
Willie Rennie, Scottish Liberal Democrat MSP for North East Fife, blamed the SNP for the figures, saying 15 years of nationalist government has "stripped" teaching out of classrooms.
"Scottish Liberal Democrats would prioritise the building of top-class leadership in our schools, developing support networks and career opportunities for teachers and pupil support assistants and encouraging specialist ASN training," he said.
"Those are simple steps that the Government could take to reverse the battering that education has taken on their watch."
A Cosla spokesperson said: "Ahead of the Scottish Budget 2023/24, Cosla set out that councils across Scotland were facing £600m of cost pressures over the next year as a result of a number of factors including demand – and we've seen substantial increases in the number of children and young people with additional support needs.
"In November 2021, Angela Morgan's independent review of additional support, which was commissioned by Cosla and the Scottish Government, was published. Through the Additional Support for Learning Project Board, co-chaired by the Scottish Government and Cosla, we are working with partners across the education system to implement the Morgan Review's recommendations."
Education Secretary Shirley-Anne Somerville said: "Local authorities are responsible for identifying and meeting the additional support needs of their pupils.
"All teachers are responsible for the provision of support to pupils with additional support needs, rather than those teachers whose role is specifically related to additional support for learning.
"In 2022, the number of teachers in special schools increased by 93 to 2,097 and. In 2021, 1,036 extra pupil support assistants were recruited, exceeding our Programme for Government commitment.
"We will continue to provide councils with an additional £15 million each year to help them respond to the individual additional support needs of children and young people.
"This is in addition to £16 million each year to provide direct counselling support to children and young people, in recognition of the need for mental health and wellbeing support."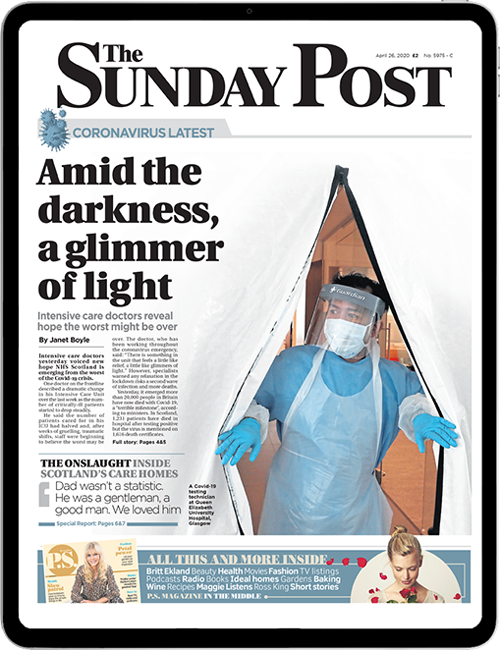 Enjoy the convenience of having The Sunday Post delivered as a digital ePaper straight to your smartphone, tablet or computer.
Subscribe for only £5.49 a month and enjoy all the benefits of the printed paper as a digital replica.
Subscribe