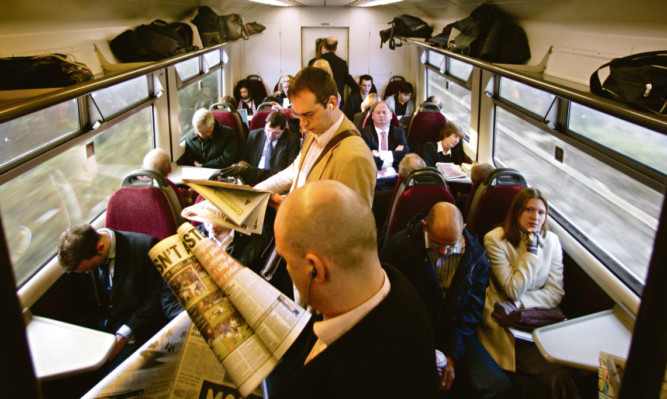 Thousands of train services running with too few seats despite fare hikes.
Thousands of train services are operating across Scotland each year without enough carriages, new figures have revealed.
More than 2,500 trains ran with too few seats or coaches for fed-up commuters last year, including hundreds of trips which ran at half their intended capacity. Figures obtained by The Sunday Post for every route in Scotland show that among the worst are the flagship Glasgow to Edinburgh service, Dunblane to Edinburgh and East Kilbride to Glasgow.
Operator First ScotRail has been hit with fines worth more than £2 million since 2011 for running too few coaches in a practice known as "short-forming". But critics point out the operator has easily absorbed this through the bumper fare increases over the same period.
Scottish Labour's transport spokesman Mark Griffin, right, said: "The fines incurred by ScotRail for failing to put enough carriages on trains will ultimately be paid for by passengers through increases to fares and it's really not good enough.
"We've already heard about broken down trains and over-crowding in carriages during the Commonwealth Games which ScotRail should have been fully prepared for.
"Transport Minister Keith Brown needs to get a grip of this and concentrate more on ensuring train services meet the needs of travelling Scots rather than on his party's fixation with independence."
The Sunday Post has obtained details of every Scottish train journey which ran without the planned number of carriages or used rolling stock which did not have the required number of seats, between 2011 and 2014.
The total number of short-formed trains for 2011/12 was 2,441, the following year it was 2,332 and by last year the tally topped 2,570.
Edinburgh Waverley to Glasgow Queen Street had the highest haul with 1,540 services on this route running without enough carriages over the last three years.
However, just behind was Dunblane to Stirling with 1,474 problem journeys.
This route has fewer services than the Glasgow to Edinburgh service but has just as many problems.
A further breakdown shows passengers on the four-carriage 7.20am service from Dunblane to the capital were forced to squeeze into three coaches on 95 mornings over the last three years and into just two coaches on a further 28 dates.
Transport Scotland pointed out that over the same three-year period, more than 2.6 million trains did run with the planned number of carriages and seats.
Robert Samson, a manager at the pressure group Passenger Focus, said: "It can be very frustrating for the passengers that do have to use a short-formed service, particularly because they can be very overcrowded."
The latest passenger survey by the group shows that only 65% of ScotRail customers are satisfied with the availability of seating on its services.
Between 2011 and 2014, there were 933 occasions when three-coach trains were operated on routes across the country when there should have been six carriages. This happened 128 times on the Edinburgh to Glasgow Queen Street route over this period.
Nearly a third of the short-forming came when trains had the planned number of carriages but the rolling stock used did not have enough seats. The vast majority of the overcrowding problems occur in the central belt where the demand is greatest.
Separate figures for the sleeper service show that it ran with too few coaches on a total of 181 occasions between 2012/13 and 2013/14.
Figures released by Transport Scotland show First ScotRail has been fined £2.1m for short-forming in the last three years, though the annual haul has dropped from £839,000 in 2011/12 to £574,190 last year.
A Transport Scotland spokesman said: "The ScotRail operator is subject to charges where train capacities are reduced to help ensure a full and adequate service throughout the network and has been part of the franchise agreement since 2004.
"We recognise that on some occasions it may be necessary for the operator to move carriages at short notice for maintenance.
"Last year less than 0.3% of services contained less capacity than planned."
It is understood the majority of the problems relate to the rail network being disrupted, with issues such as a signal failure, which in turn knocks ScotRail's programme out of sync.
A ScotRail spokesman said: "We are going in the right direction with penalties down 31% in the last two years despite having added hundreds of new services across Scotland.
"We understand and share passengers' frustration when forced to run shorter trains than normal, and can assure you this takes place only when other options have been exhausted.
"There are real signs of improvement, with 99.7% of services having the number of seats as planned."
We are packed in like sardines
IT takes around half an hour to wind your way from the new town of East Kilbride to Glasgow by rail and regular users are more than accustomed to standing at peak times. A total of 345 trips on this commuter route have not had enough seats or carriages over the last three years and it has been worse than ever with the Commonwealth Games restrictions around Glasgow forcing people out of their cars. The 7.24am East Kilbride to Glasgow Central service has to be one of Scotland's most overcrowded. Every morning in recent weeks, stressed passengers have been crammed in to carriages like sardines.
On one service a woman had a panic attack as a result of overcrowding. Another trip on the Giffnock-to-Central stage of the journey was so overcrowded open revolt seemed to be just seconds away. As more people squeezed on at each stop, the journey became uncomfortable. Open windows did little to quell the heat and the frayed nerves of people who pay £6 for the privilege.
One commuter, who works in the PR industry, said: "It's shocking. They seem to have reduced the length of the train somehow to coincide with the Games. There are no additional services there are still only two an hour and the result is cramped chaos. We're a captive market as it's currently very difficult to get into town in a car. They think we're mugs."
Pointless parking
Expanding car parks at railway stations does little to persuade drivers to change their commuting habits, a new Transport Scotland study has found.
The research found the cost of building new parking spaces is unlikely to be offset by an increase in train fare revenues over the period of a rail franchise.
The survey of rail users suggested that an increase in the cost of parking at a station by £1 would result in a 4.9% reduction in rail demand, or a 3% reduction if there was ample free local parking.
The transport agency has now concluded there is no "one size fits all" solution to car parking at Scotland's stations but made a series of recommendations for rail operators and councils who usually build the facilities.
Among the recommendations is a partial or full refund when a car park user purchases a train ticket for their onward journey.