Nicola Sturgeon has said she is "deeply sorry" her Government's flagship free childcare plans are being put on hold for a year because of coronavirus.
The First Minister said the delay in implementing the provision of 1,140 hours of free early years care is both "inevitable" and "regrettable".
She was speaking after ministers confirmed the policy – which would benefit some two-year-olds as well as all children aged three and four – will not be introduced in the 2020-21 school year.
The Scottish Government had already delayed the planned implementation date of August 2020 due to the pandemic.
In a letter to councils, children's minister Maree Todd said it would "not be feasible to reinstate a universal 1,140 duty in the academic year 20/21, or while the coronavirus public health measures, which significantly impact on ELC (early learning and childcare) capacity, remain in place".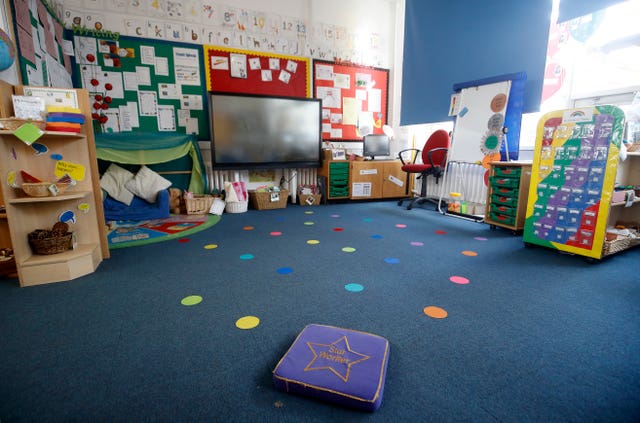 Ms Sturgeon had originally announced plans to virtually double the amount of free early years learning youngsters receive, from the current provision of 600 hours, back in 2017.
Speaking at her daily coronavirus briefing on Wednesday, she said: "The expansion of childcare is one of the commitments of my Government in this term of Parliament that mattered most to me because it is so transformational in terms of the opportunities and the attainment of young people later in education.
"It also is a massive financial benefit to parents, so I deeply regret that it has to be slightly delayed because it was on track to be delivered – a massive policy, so that was no mean feat in itself.
"But I hope people will understand it is just inevitable."
She vowed ministers will "as quickly as possible get it back on track and deliver it as quickly as possible", and stressed: "I remain just as committed today as I was pre-Covid-19 to fulfilling this commitment in full so that children and parents get the fullest benefit from it as quickly as possible."
In letter sent to local authority education directors, Ms Todd said a revised date for implementing the policy will be jointly agreed by the Government and councils.
The letter, from Ms Todd and children and young people's spokesman at Cosla Stephen McCabe, said an "initial assessment of readiness" is to be carried out in December 2020.
This will consider the "progress in recovery" from the pandemic, as well as the operational and financial implications of making the change.
Ms Todd and Mr McCabe both stress in the letter they "remain absolutely committed to the benefits of the expansion, and the return to 1,140 as soon as it is reasonable to do so".
Scottish Tory education spokesman Jamie Greene said: "Parents are going to be furious that the funded expansion of childcare has been shelved for a year and another almighty backlash awaits the SNP.
"Parents understood why there was a delay to the additional hours, but an indefinite postponement of over a year is truly unacceptable and will devastate our economy and the nursery sector.
"The SNP Government isn't even going to assess the situation until December this year – nine months after the policy was put on hold in March.
"This staggering delay proves beyond doubt that the SNP was never ready or able to deliver this policy on time."
Scottish Liberal Democrat leader said the move shows a "disappointing lack of drive and ambition from the Scottish Government".
He added: "At a time when we are trying to get people back to work the expanded hours would provide extra support and boost to the economy alongside the boost to early learning."
Scottish Greens parliamentary co-leader Alison Johnstone said: "Many families have planned their lives around the expectation that their child would be attending nursery from August, and the consequences of this now not happening will be stark.
"If the First Minister is serious about building the fairer, greener Scotland that the Scottish Government often talks of, she must ensure that free childcare is available for every child in Scotland as soon as possible.
"Without it, many parents, particularly women and single parents, will continue to be excluded from the workforce."