Nicola Sturgeon says she does not think assisted dying would be seen as an opportunity for "cost-saving", but acknowledged she has not yet finalised her views on the issue.
The First Minister was responding to an article from the Moderator of the general assembly of the Church of Scotland, who opposed changing the current law.
Writing in The Scotsman, the Rt Rev Dr Iain Greenshields said he was "very concerned" about any change in this area.
Lib Dem MSP Liam McArthur plans to introduce a Member's Bill which would legalise assisted dying for people who are terminally ill.
It will be the third time an attempt has been made at Holyrood for such legislation to be passed.
Dr Greenshields said the Church's opposition was based on a point of faith, and he was worried assisted dying would lead to society taking a more "utilitarian" approach to older people and those with disabilities.
He wrote: "Given the pressure on healthcare resources, we are also very concerned that assisted dying could be seen as providing an opportunity for cost-saving."
Ms Sturgeon was asked about his comments at a press conference on Monday.
She said her views on the matter had changed over time and are not yet finalised.
But the First Minister said: "I don't believe it would ever be something that would be seen as a cost-saving."
The First Minister continued: "I have always been worried about, and not previously been adequately assured in my own mind (of), the ability to have sufficient safeguards that – even if only in a very small number of cases – would guard against potential abuse of a system like that.
"So that's always been my difficulty."
She said testimony by those who had terminal illnesses, as well as their close family members, had influenced her view on the issue.
The First Minister said: "I will consider very, very carefully all of these issues before I come to a final view – which I haven't yet arrived at."
Discussing his Bill, Mr McArthur said later: "Let me be very clear that my only motivation in bringing forward proposals for a new assisted dying law is to give dying people who are suffering unbearably the peace of mind that they do not need to suffer against their will.
"At the moment, dying people in Scotland are not able to choose the death that's right for them.
"In bringing forward legislative proposals, MSPs are required to produce robust financial information that detail the costs of setting up a new system but also provide evidence of potential savings.
"However, this is not the reason why I am bringing forward this legislation. This Bill is solely about ensuring dignity and choice for those at the end.
"The evidence shows that where the right to an assisted death exists, palliative care spending goes up not down – this is because there is a greater focus on end-of-life care and treatment.
"My Bill proposals include that two doctors would outline alternative treatment and care options to someone seeking an assisted death."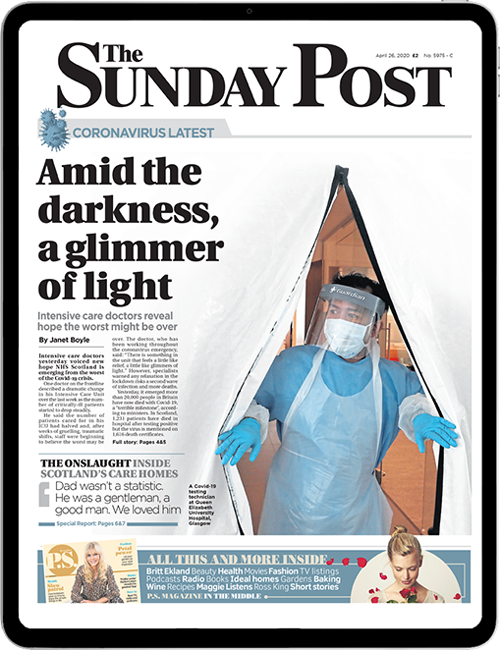 Enjoy the convenience of having The Sunday Post delivered as a digital ePaper straight to your smartphone, tablet or computer.
Subscribe for only £5.49 a month and enjoy all the benefits of the printed paper as a digital replica.
Subscribe