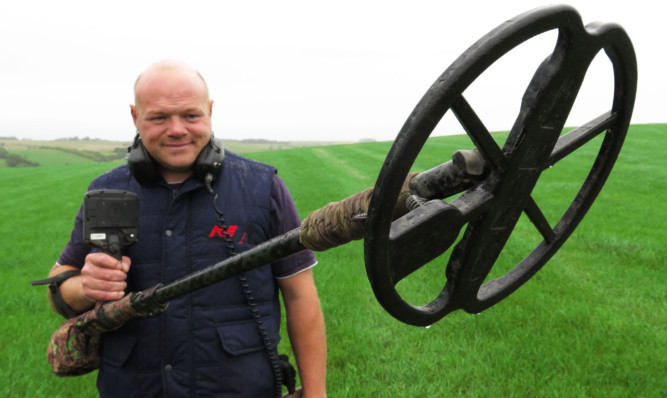 Derek McLennan, 47, has unearthed a life-changing fortune after finding an incredible haul of Viking artefacts … just months after finding hundreds of rare medieval coins.
Although the final value of the finds is still to be established, it's understood the total could be up to a million pounds.
Archaeologists have called the latest discovery, in a Dumfries and Galloway field last month, one of the most significant Viking hoards ever discovered in the country.
The Ayrshire dad who only started the hobby three years ago says he is still in shock at this find, which is more than 1000 years old.
He said: "When I realised what I'd found I couldn't even speak. I was in complete shock."
Stuart Campbell is head of the Treasure Trove Unit, the official body in charge of ancient finds. Derek's pay-out is likely to be the biggest the unit has ever made and Stuart described it as "a hugely significant find that will interest scholars from all over the world".
History buff Derek only made the discovery after dragging himself from his sick bed, because he didn't want to let down two friends who'd taken time off their work to go on a hunt with him.
"We started at 10am and just over an hour later, I made the discovery," explained Derek, who insists he's more excited about the historical significance than the money he'll receive for striking gold.
"The detector made a signal I should never have heard because the find was so deep. I started to dig but I thought it would just be a cast-iron pipe.
"When I put my hand in the hole I felt what I thought was a heavy silver spoon, but when I rubbed it with my thumb and saw the criss-cross design I realised it was Viking.
"I knew it was something very significant and I had to contact the Treasure Trove Unit so they could get archaeologists here as soon as possible. I ran to the car for my phone, but I hardly had any battery left, so I called my partner Sharon to get her to phone the unit. I was so emotional I was incoherent Sharon thought I'd crashed the car. Eventually I calmed down a little and explained what I'd found."
Archaeologists from Historic Scotland arrived within a few hours and began a meticulous excavation. Incredibly, this is the third important discovery Derek has dug up in the past 12 months.
Derek made headlines earlier in the year when it was revealed he and a fellow detectorist had found a haul of 322 medieval coins in a field at Twynholm near Kirkcudbright.
It was described as a once-in-a-lifetime find and is the largest medieval coin hoard found by detectorists in Scotland. Amazingly, Derek reveals his group, called the Ayrshire Division, has since found an even bigger coin hoard, which is also being examined by Treasure Trove, but both pale into insignificance compared to the Viking collection.
Stuart smiled: "When the receptionist put through the call and told us someone believed they'd made a Viking discovery, I was very surprised when I realised it was Derek again."
Derek, who has been commended by Stuart for always asking the landowners' permission before starting a hunt, says he has a deal in place "to split money received on an equitable basis", so the unknown landowner is also set to be quids in once the Viking hoard is formally valued.
The hoard is the largest and most significant Viking find in Scotland since 1891 and the material dates from the mid-ninth to mid-10th centuries.
Nothing similar has been found in Scotland before. Among the items discovered are silver and gold jewellery and ingots, a unique enamelled cross and glass beads, as well as a decorated continental silver vessel that has yet to be emptied of its contents.
The vessel, engraved with animals and one of only three known in Britain, is a Carolingian (West European) import. The stamp-decorated bracelets come from Ireland and the glass beads are of a type found in Scandinavia.
Other exceptional items include a unique golden bird pin, likely to be Anglo-Saxon.
Stuart Campbell said: "It's a very unusual mix of objects. Is it the wealth of one person or is it family wealth developed over hundreds of years?"
Two years ago, friends Reg Mead and Richard Miles found 70,000 coins in Jersey. The huge haul of Celtic money was the biggest ever found in Europe and weighed three-quarters of a ton. Early reports suggested it could be worth £10 million.
Diver Mike DeMar used a metal detector to find an intact golden chalice in the waters of the Florida Straits in 2008. The 20-year-old discovered it in a 17th Century Spanish shipwreck and was estimated to be worth $1m.
Five years ago, Terry Herbert discovered the largest hoard of Anglo-Saxon treasure ever found, in farmer Fred Johnson's field in Staffordshire. The 3,900 artefacts were said to value £3.3m.
In 1992 in Suffolk, farmer Peter Whatling asked his friend Eric Lawes, who owned a metal detector, to help him find a misplaced hammer. While searching, Lawes discovered gold jewellery, silver spoons and gold and silver coins. The collection became known as the Hoxne Hoard, the largest collection of Roman gold and silver ever found in Britain, and is worth about £2.66m.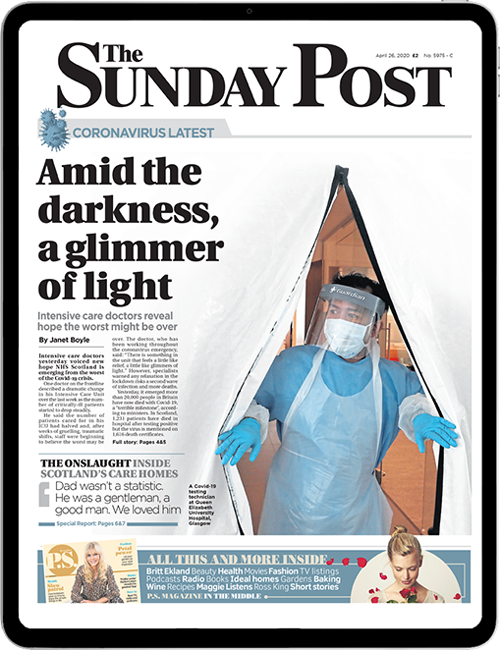 Enjoy the convenience of having The Sunday Post delivered as a digital ePaper straight to your smartphone, tablet or computer.
Subscribe for only £5.49 a month and enjoy all the benefits of the printed paper as a digital replica.
Subscribe