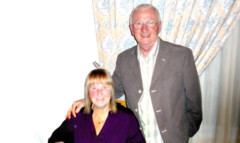 A woman who died in agony hours after being sent home from A&E would have survived if doctors had admitted her.
A damning report into the case of Jean Graham has revealed she had an 80% chance of surviving, had the proper medical help been made available.
The Sunday Post exclusively revealed in May that Ms Graham who had a blood clot on her bowel was sent home twice in one weekend by Glasgow Royal Infirmary staff. Reduced staff cover at weekends has been cited as a major cause of concern.
Her husband George Andrews welcomed the latest report into the shocking case. It was compiled by a leading surgeon and concluded Jean would have survived if she had been cared for properly.
Mr Andrews said: "The fact Jean would have had such a high percentage of survival is shocking and has frankly been very hard to take. I'm stunned. I tried so hard to convince the staff she was seriously ill and needed to be cared for.
"There's no doubt the NHS have let me down and I want to be sure nobody else has to suffer the same pain that I have. To this point nobody has dropped a pay grade, and nobody has been held responsible. That can't be right."
The fresh report was compiled by consultant vascular surgeon Roderick Chalmers, of Edinburgh Royal Infirmary, and is the second independent consideration to slam Jean's care. In our previous story, we told that a leading consultant in emergency medicine concluded the 77-year-old's treatment in A&E had been "negligent". That report found sending her home on the second night she had gone to hospital was "outwith normal and usual practices".
In the latest review of what happened, Mr Chalmers believes Jean should have been admitted on the second visit. He goes on to say: "Were it not for this negligent act, and her condition has been diagnosed on that day, the balance of probability is that she would have survived."
Retired engineer George, of Carntyne, Glasgow, said: "I will continue to fight for answers to what happened. This is not an exercise in money. I can't allow what happened to Jean to be swept under the carpet and forgotten about."
George's solicitor Cameron Fyfe, of Drummond Miller, confirmed he would now be seeking damages from NHS Greater Glasgow and Clyde. He said: "We now have a report from a second expert confirming that Jean would probably have survived had she been admitted to hospital. We are now proceeding with a claim against the health board."
A recent study suggested patients were 40% more likely to die if they were admitted to hospital at the weekend.
The report by London's Queen Mary University revealed patients with medical emergencies had far higher death rates if they were sent to hospital at the weekend rather than during the week.
Experts blamed a shortage of senior doctors and life-saving services at weekends.
Last night a spokeswoman for NHS Greater Glasgow and Clyde said:"It would inappropriate for us to comment on a report that has not been shared with us but would welcome to the opportunity to do so if Mr Andrews shares it with us."