New measures for hospitality venues may have gone further if the Scottish Government had access to greater fiscal powers, the First Minister has said.
On Tuesday, Nicola Sturgeon revealed updated restrictions to be put in place to stem a recent spike in coronavirus cases.
A 10pm curfew will be enforced on bars and restaurants but Ms Sturgeon suggested this could have been stricter if the Scottish Government had been able to continue the furlough scheme.
It adds to a long-running disagreement between Holyrood and Westminster, with the Scottish Government repeatedly calling for the powers to borrow more money or shift underspends in capital funding over into day-to-day spending.
Each time Finance Secretary Kate Forbes, Economy Secretary Fiona Hyslop or Ms Sturgeon have called on an increase in powers, the UK Government has turned down the request.
The First Minister said: "Now, people sometimes ask me why we don't just close pubs again altogether – and I can understand that.
"The answer – to be frank – is that we are seeking to find a balance between action to suppress the virus and the protection of people's jobs and livelihoods.
"If the Scottish Government had greater powers to borrow money or the ability to extend the job retention scheme, for example, it is possible that we would reach a different balance of judgment on some of these issues."
The furlough scheme, which has supported more than 900,000 jobs in Scotland since the beginning of the pandemic, is due to come to an end next month.
Scottish ministers have repeatedly called for an extension due to continuing restrictions being put in place as a result of the pandemic.
The First Minister's ban on meeting within houses from Wednesday differed from the Prime Minister's approach, as he stopped short of bringing this into force.
Instead, he stuck with the "rule of six" – so six people from two households can continue to meet indoors.
Speaking in Holyrood, Ms Sturgeon told MSPs the Scottish Government's advisers said the changes to hospitality are not enough on their own to stop the spread of Covid-19.
She said: "They stress that we must act, not just quickly and decisively, but also on a scale significant enough to have an impact on the spread of the virus.
"And they advise that we must take account of the fact that household interaction is a key driver of transmission.
"To that end, we intend – as Northern Ireland did yesterday – to also introduce nationwide additional restrictions on household gatherings, similar to those already in place in the west of Scotland."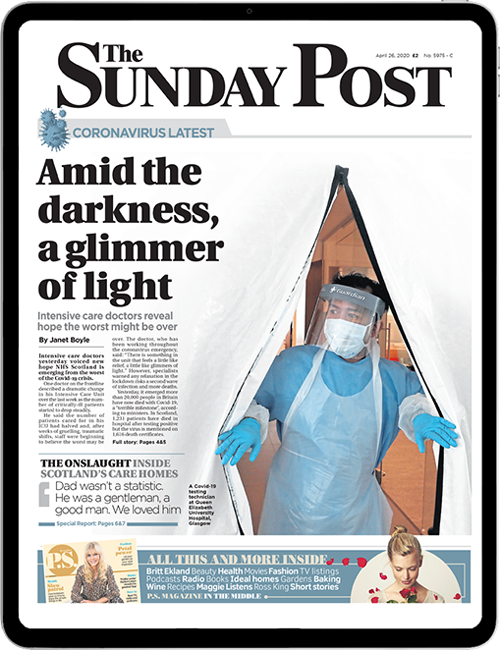 Enjoy the convenience of having The Sunday Post delivered as a digital ePaper straight to your smartphone, tablet or computer.
Subscribe for only £5.49 a month and enjoy all the benefits of the printed paper as a digital replica.
Subscribe