The Scottish homelessness system is failing to do enough to prevent people from being forced from their homes, a leading charity has said.
Crisis claims the number of people in need of homelessness assistance is at its highest since data collection began.
Research from the charity currently shows 8% of people in Scotland – around one in 12 – have experienced homelessness.
In a new report, "Home is the foundation: Perspectives on prevention from people with experience of homelessness", Crisis carried out first-hand interviews with people from around Scotland who have lost or are facing losing their home.
The findings warned people at risk of homelessness need support at an earlier stage rather than when the crisis hits. Some participants in the study said it was only when they were homeless that they received help.
Participants also said they found the homelessness system can be "extremely difficult" for people to navigate in an emergency, and that inflexibility in the system forces people into desperate choices, such as choosing between accepting the housing offered to them and maintaining their employment.
One participant, who preferred to remain anonymous, said: "They (a council) tried to move me to a town that was 58 miles away.
"I can't move that far, it's two hours' travel.
"They said: 'Well, it's homelessness, so some people just have to take what they're given' … you don't get a choice in the matter, if you want a roof over your head you take it."
Crisis said a wide-range of different factors can push people into homelessness, including unemployment, relationship breakdown and domestic abuse.
Because of the varying experiences that lead to homelessness, the charity said there needs to be more of a focus on bespoke support, better tailored to individuals' needs.
One of the proposals that the Scottish Government and Cosla have consulted on implementing is an extended prevention duty which would mean households are defined as threatened with homelessness if they are at risk of homelessness within the next six months, rather than the current two months.
The charity said it strongly supports this measure, but it urged ministers to ensure there is sufficient funding to make sure this works in practice.
Matt Downie, chief executive of Crisis, said: "We know Scotland has strong rights in place for people experiencing homelessness, but what this report shows is the need to move towards a system that prevents people from experiencing the trauma and indignity of homelessness in the first place.
"By getting support earlier, people stand a far higher chance of keeping their homes.
"These interviews show how wide the different causes of homelessness can be – from relationship breakdown, to financial difficulties, to domestic abuse. For new homelessness prevention measures to work, they will need to be flexible enough to meet the needs of everyone.
"But we need to act now. We can't just sit by and watch as people are forced from their homes, in situations where we know their homelessness could have been prevented."
A Scottish Government spokesperson said: "The Scottish Government is committed to introducing prevention of homelessness duties to build on the existing strong housing rights that already exist in Scotland. We are grateful to Crisis for this research, who have been supportive of our plans to introduce these duties.
"We have been working closely with stakeholders, including Crisis, to inform our approach and to ensure we get it right and this report underlines the importance of the voices of those with lived experience of homelessness in achieving this.
"The duties will be based on the principles of shared public responsibility and earlier intervention to prevent homelessness.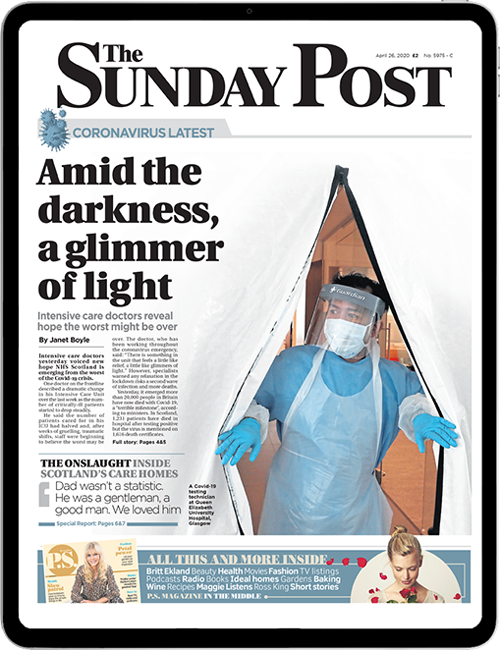 Enjoy the convenience of having The Sunday Post delivered as a digital ePaper straight to your smartphone, tablet or computer.
Subscribe for only £5.49 a month and enjoy all the benefits of the printed paper as a digital replica.
Subscribe