A lack of lived business experience among ministers is a "disadvantage" for the Scottish Government, a former minister has said as he called for a "reset" with the sector.
Ivan McKee held the business, trade, tourism and enterprise brief between 2021 and 2023, while his past ministerial jobs have included public finance and trade.
Shona Robison and Neil Gray were given Cabinet posts as Finance Secretary and Wellbeing Economy Secretary respectively in March following First Minister Humza Yousaf's appointment in the top job.
In a column in The Herald newspaper, Mr McKee offered his perspective on whether Scottish Government policy – and his successors – work for business.
Mr McKee held several senior posts in the manufacturing sector before entering politics.
He said the Government's economic strategy recognises the importance of tackling poverty with strong public services and a thriving economy.
However, Mr McKee said "a narrative has taken hold in recent years that the Scottish Government doesn't 'get' business".
Scottish Government policies such as the deposit return scheme (DRS) and proposed alcohol advertising bans have caused concern among business leaders.
Mr McKee noted there is "no shortage of Government engagement with business", but he added dialogue must be "meaningful", leading to businesses feeling like they are being listened to and not just "being used as a prop for a photocall".
The Airdrie and Shotts MSP went on to call for all economy and business ministers to have "lived experience" within the sectors to understand the problems facing firms.
"Having lived experience helps," he said.
"Sure, businesses don't expect politicians to be experts, but being able to have empathy beyond soundbites really helps.
"A government without any business experience in its ranks starts off at a disadvantage.
"Despite the hard work of many, the perception persists that Government needs to reset its relationship with business.
"I know the First Minister understands that. The problem is that once that narrative takes root, it is difficult to shake it off."
Scottish Conservative business spokesman Jamie Halcro Johnston urged ministers to "heed" the warnings of Mr McKee given his business experience.
He said: "But they are still not listening. Some of their worst blunders – the proposed alcohol advertising ban and the DRS shambles – were as a direct result of ignoring business warnings.
"The SNP should listen to Ivan McKee's scathing attack on his own party's policies, ditch their previous attitude and totally rethink their approach to business."
A Scottish Government spokeswoman said: "A thriving business sector is crucial to the three missions set out in the Scottish Government's policy prospectus – creating a fair, green and growing economy; improving equality by tackling poverty; and building stronger communities by delivering more efficient public services.
"The First Minister has made clear a new deal for business is one of his Government's key priorities.
"Urgent discussions have already begun on how to develop this new deal, exploring how Government can better support our businesses and communities using the policy levers at our disposal."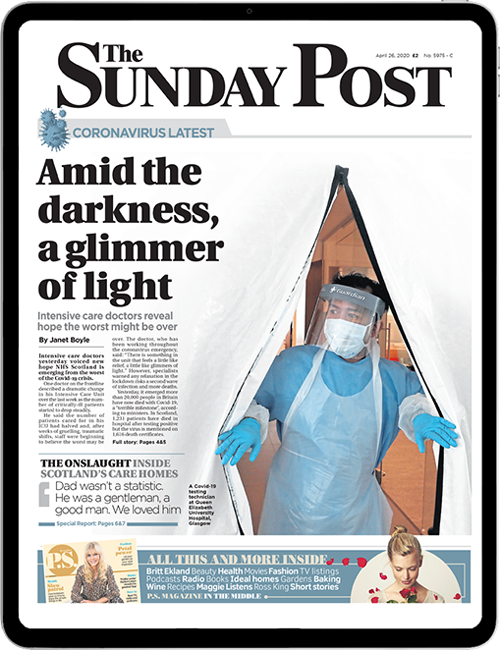 Enjoy the convenience of having The Sunday Post delivered as a digital ePaper straight to your smartphone, tablet or computer.
Subscribe for only £5.49 a month and enjoy all the benefits of the printed paper as a digital replica.
Subscribe