A ferry company's directors are to appear before a Holyrood inquiry into the procurement of two delayed and over-budget vessels.
Kevin Hobbs, the chief executive of Caledonian Marine Assets Limited (CMAL), and James Anderson, the firm's director of vessels, will answer questions from MSPs on Wednesday.
CMAL is a Scottish Government-owned firm that procures ferries for use by operator CalMac.
They will give evidence as part of an investigation by the Rural Economy and Connectivity Committee.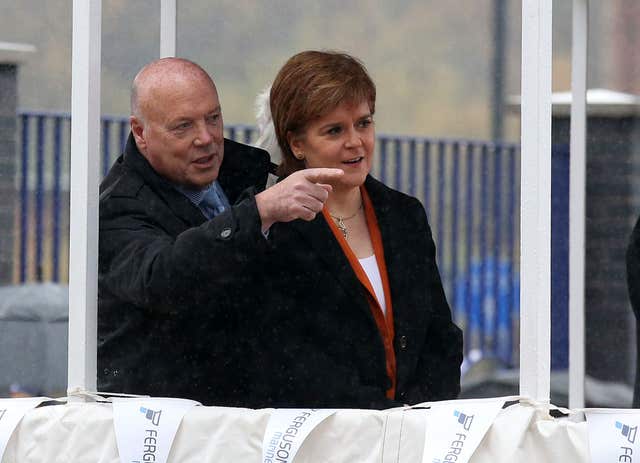 Former finance secretary Derek Mackay told Holyrood in December that ships 801 and 802 would be delayed and could more than double their initial price of £97 million.
Mr Mackay said mismanagement at Ferguson Marine, the Inverclyde shipyard chosen by CMAL for the work, was to blame for the problem.
The shipyard was bought over by Scottish ministers in August after it collapsed into administration.
Former Ferguson director Jim McColl blamed CMAL for the delay and overspend during his appearance at the inquiry.
Mr McColl, who is a member of the First Minister's council of economic advisers, said there were repeated changes made to the specification of the ships, as well as an announcement of a price by Nicola Sturgeon before the final deal had been agreed.
In a 41-page submission by CMAL, the procurement firm describes Mr McColl's assertion as "wholly false".
CMAL produced a dated schedule of payment sent from Ferguson Marine on August 28 2018, three days before the announcement by the First Minister.
The submission also claimed CMAL was open to mediation, rejecting the argument made by Mr McColl during his appearance, adding it was Ferguson Marine that could not come up with a suitable answer as to why it was deserving of more money.
The submission to the inquiry said: "The number of alleged design changes has been grossly overstated.
"In truth, the yard simply proved unable to fulfil the contract design parameters and commenced fabrication prematurely and at their own risk."
Calls have been made by opposition politicians for the First Minister to appear before the committee in the absence of Mr Mackay, who made the initial claims about Ferguson Marine in December and oversaw the purchase of the shipyard.
Mr Mackay has not been seen in the Scottish Parliament since his resignation over reports he sent 270 unsolicited messages sent to a 16-year-old boy.
Mr McColl called for a public inquiry to be set up, saying he would like "people to be under oath".
Representatives of Transport Scotland, CalMac, Ferguson Marine and a number of experts have given evidence to the inquiry since it started in January.