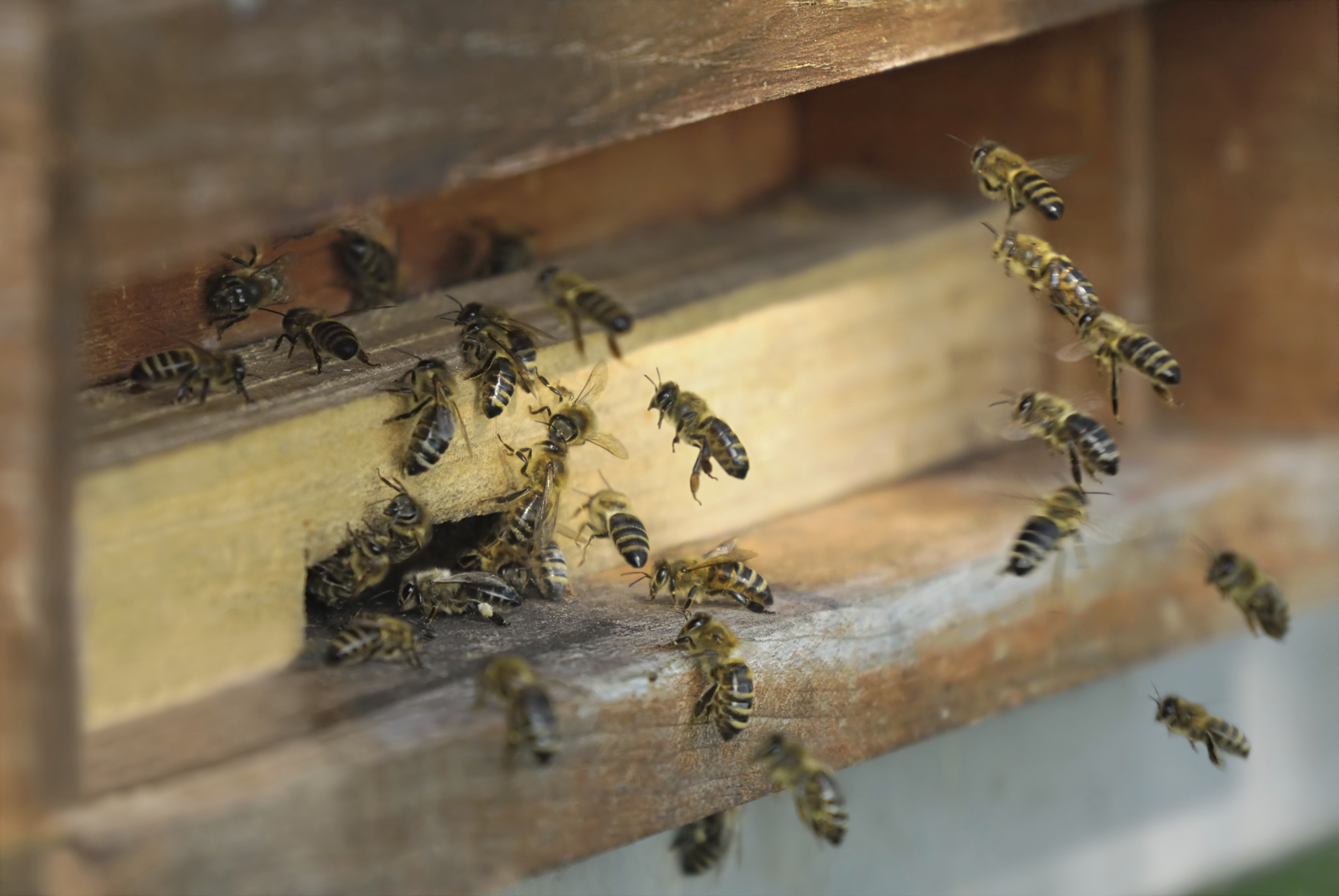 Experts believe the simple step could halt a decline in bee numbers and safeguard the multi-million-pound agriculture industry.
The call for farmers to grow wild plants with their crops has been prompted by a major study.
It found fields dotted with cornflower, red deadknettle and poppies had a quarter more visits from the pollinating insects.
Lead researcher Hannah Feltham, of Stirling University, said "inexpensive flower seed mixes" could "sustain pollinator populations over time".
For the experiment, six strawberry farms in central Scotland were planted with a mix of native flowers such as common knapweed, vipers bugloss, selfheal, field scabious and clovers.
The journal Ecology and Evolution reported that researchers found the frequency of bee visits was a quarter higher for crops growing with wild flower strips than those without.
And that should be sweet as honey for farmers, as it means they stand to make more money.
"If increased pollinator visits resulting from flower strips boosted the proportion of first-class fruit achieved even by just 1% then farmers would gain an extra £1,080 per hectare or almost £500 an acre," the report stated.
"By investing in relatively cheap flower strips farmers are likely contributing to the creation of a more sustainable pollination service."
It's easy to see why the fate of the humble bee is so tied to farming success.
Just 2% of bee species in Britain are responsible for 80% of the crop pollination.
Scotland has the highest bee farmer count per square mile in the UK.
Research has found that 85% of the UK's apple crop and 45% of the strawberry crop relies on bees to grow.
Strawberries are particularly reliant on insect pollinators to ensure a successful crop, and bee pollination has been found to improve shape, weight and shelf life of berries.
In Scotland, the value of soft fruit alone increased from £20 million to £74 million between 2001 and 2011, largely under polytunnels.
Most use bees bought in, but the wild population has a significant part to play.
Bees – who are the most industrious pollinators – are estimated to contribute over £650 million to the British economy by fertilising food crops.
A third of the food on our plate relies on insects to reproduce, from vegetables such as carrots and cucumbers, to the grains used to feed the animals we eat.
The Scottish Wildlife Trust has called for a ban on pesticides containing chemicals called neonicotinoids, which are threatening to wipe out endangered species.
Intensive farming has seen 25 types of native bees disappear north of the Border – half the total – since the 1950s.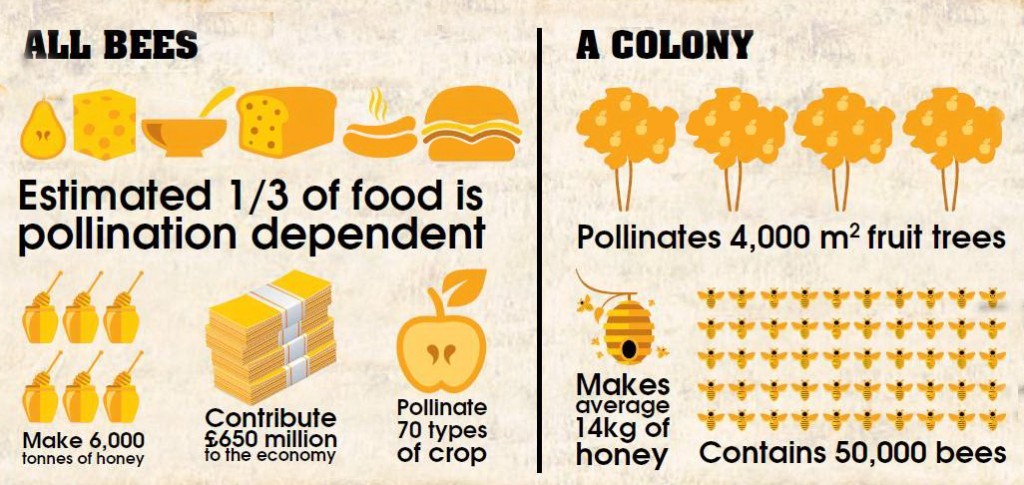 Farmers do their best to help bees
ALLAN BOWIE, president of the National Farmers Union Scotland, said farmers were aware of the vital part bees play and were keen to do what they can to increase numbers.
He said: "Bees are very, very important to farming so the more we can do to help them the better things will be. Farming and wildlife can go hand in hand.
"But it needs to fit in with farming's ability to produce crops."
Mr Bowie said farmers in Scotland already provided wild areas for pollinators as part of rules surrounding "greening payments" from the EU.
He said: "We have to have 5% of our land either fallow, a wildflower margin or a nitrogenous crop.
"Arable farmers and those with temporary grass are required to do the greening."
Even having a grass margin could help bee numbers, he said, but farmers he knew who had gone down the route of using wild flowers.
He said: "I have seen farmers growing wild flowers between rows of veg which helps pollination in that field.
"We've noticed there is a benefit if there is a wild flower margin. Sometimes there might be a row or a bed left without a crop."
Robo-bees could help future crops
ROBOTIC bees could be used to pollinate flowers of the future.
Scientists at Harvard University in America have developed mechanical insects in an effort to mitigate the impact of falling populations of bees worldwide.
These tiny "Robobees" would be used to provide an artificial solution to pollinating plants.
It's hoped that the buzzing bots will autonomously fly from flower to flower, spreading the pollen around.
The Harvard Microrobotics Lab, part of the Harvard School of Engineering and Applied Sciences, has been working on the Robobees since 2009.
It hopes that the miniature mechanoids will eventually behave just like real bees.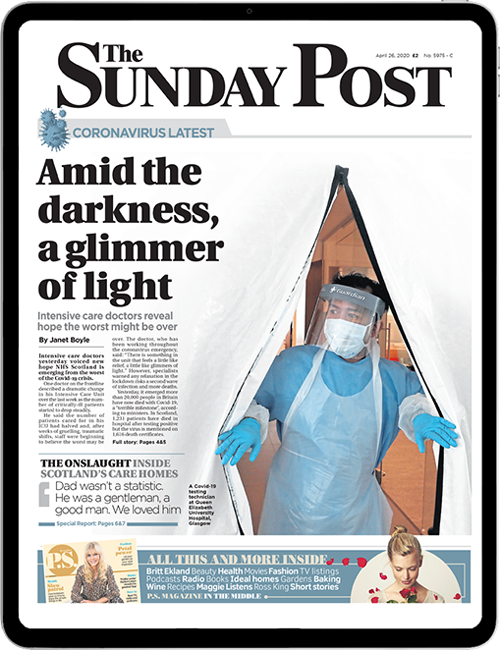 Enjoy the convenience of having The Sunday Post delivered as a digital ePaper straight to your smartphone, tablet or computer.
Subscribe for only £5.49 a month and enjoy all the benefits of the printed paper as a digital replica.
Subscribe