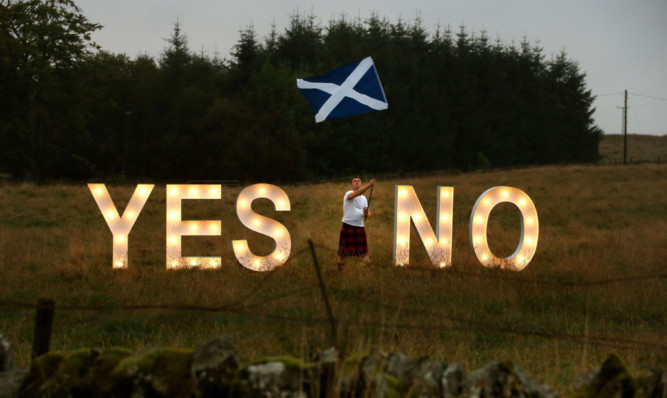 Scotland's pensioners are holding up a thin grey line against independence, a poll for The Sunday Post reveals.
The survey shows support for separation in every age category except the over-60s, where nearly 70% would vote No if the referendum was held again tomorrow.
Any prospect of another referendum in the SNP's 2016 Holyrood manifesto won't badly harm the SNP's election chances, according to the poll of 1,000 Scots.
Crucially, the majority of people would vote No again.
First Minister Nicola Sturgeon will spend this summer deciding whether the promise of a second independence referendum will be included in her party's manifesto for next year's Scottish Parliament elections.
The move, according to the poll by YouGov, will make around 15% of Scots less likely to vote SNP, but a further 11% said it would make them more likely to back the Nationalists.
Any comfort for SNP strategists is tempered by the fact that, once the undecided voters are stripped out, 47% would vote Yes and 53% would vote No in a new independence referendum.
Polling guru John Curtice estimated the polls would need to be at 60% in favour of independence before the SNP could be sure of winning another referendum.
Labour MSP Jackie Baillie said: "Nicola Sturgeon told us last year the referendum was a once-in-a-lifetime event.
"The SNP should stick to the promise they made to the Scottish people and confirm another referendum won't be in their 2016 manifesto."
The poll, conducted last week, asked people how they would vote in an independence referendum if it was held tomorrow.
A total of 44% said Yes, 49% said No, 2% said they would not vote and 5% were unsure.
The poll shows that 3% of those sampled had moved from a No to Yes since last September, compared with just 1% in the other direction.
The breakdown by ages, of those intending to vote, shows of those between 18 and 24 years old, 54% would vote Yes, and 37% would vote No.
For 25 to 39-year-olds it was 47% Yes and 43% No, while 50% of 40 to 59-year-olds were in favour of independence, compared with 44% against separation.
Of the 319 people over the age of 60 who took part in the poll, 31% backed Yes and 65% backed the Union. Once the don't knows are stripped out, it is 68% to 32% in favour of remaining part of the Union.
In addition, 70% of those respondents born outside of Scotland would vote No.
Scottish Conservative MSP for North East Scotland Alex Johnstone said: "It comes as no surprise Scots still reject independence.
"Last year, the people of Scotland rejected separation with a resounding No, and it's time the SNP listened to the people and stopped pushing for a second referendum."
The poll also asked, if the SNP includes a promise to hold another referendum in its manifesto for the 2016 Holyrood elections, would this make you more or less likely to vote for the party?
A total of 11% said it would make them more likely to back the Nationalists, 15% less likely and 7% did not know what impact it would have on their vote.
The remainder said it would make no difference with an exact split (34% each) between those who planned to vote for or against the SNP regardless of whether the pledge is in the manifesto.
With more than 100,000 SNP members to satisfy, Sturgeon is under pressure to include the promise of
a second referendum, despite having said last year's poll was a once-in-a-lifetime event.
However, party bosses won't want to commit to another referendum until it is clear from the polls they have a good chance of winning.
It has been widely tipped that Ms Sturgeon will choose a form of words for the SNP's manifesto which gives her the option of calling another referendum but stops short of committing them to one if they still command a majority after next year's election.
An SNP spokesman said: "In terms of an independence referendum, the people of Scotland are in charge.
"They would have to vote for a party manifesto in a Scottish Parliament election seeking a mandate for a second referendum before one could take place."Poll May 2015 | Create infographics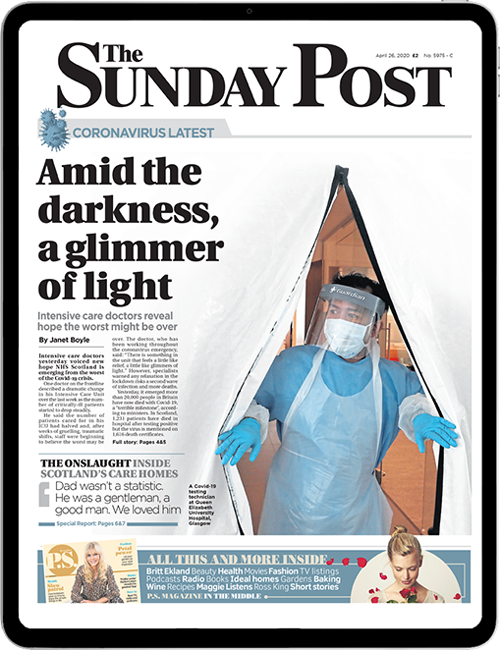 Enjoy the convenience of having The Sunday Post delivered as a digital ePaper straight to your smartphone, tablet or computer.
Subscribe for only £5.49 a month and enjoy all the benefits of the printed paper as a digital replica.
Subscribe