Exams in Scotland's schools this year have been cancelled as a result of the coronavirus outbreak, Education Secretary John Swinney has announced.
He said the "unprecedented" move was a sign of the "gravity" of the situation the country was facing.
Schools will close on from the end of Friday, with Mr Swinney explaining "scientific advice now highlights that closing schools will help to suppress the spread of coronavirus".
Scotland's chief examining officer said work has started "at pace" to develop an alternative "certification model".
Mr Swinney told MSPs at Holyrood: "In all of our history, Scotland has never cancelled the exams.
"Since 1888 they have been held every May or June, without fail.
"In the midst of two world wars the exams went ahead. It is a measure of the gravity of the challenge we now face that I must today announce the exams will not go ahead this year."
Despite the closures, the Education Secretary said for most pupils teaching would continue, in many cases through online learning, but there would be a focus on pupils in S4 to S6 who need to submit coursework.
Mr Swinney said on Thursday: "At the end of tomorrow, schools and nurseries should ordinarily close for children and young people.
"Teaching, learning and support will continue, albeit in different ways for different groups of children.
"Teachers and other staff who are well will continue to be working.
"Senior phase pupils with coursework for national qualifications to complete will be informed by their schools how to complete this."
Fiona Robertson, Scotland's chief examining officer and chief executive of the Scottish Qualifications Authority (SQA), said teachers will give estimated grades to pupils, based on "the available evidence gathered throughout the year" and previous scores.
Pupils are still expected to receive their results no later than August 4.
Announcing a free post-results service to review grades, Ms Robertson added: "I fully appreciate that this will be an uncertain time for learners who have worked hard throughout the year and will now, with their families, be worried about what this means for them.
"Everyone here at SQA will do their utmost, with the support of the education system, to ensure that their hard work is rightly and fairly recognised, and allows them to proceed to further learning or work."
General secretary of teaching union EIS Larry Flanagan described the decision as "inevitable".
He said: "The key issue now is to ensure that the efforts of pupils and young people are recognised appropriately, particularly for those who potentially are exiting formal education or who require certification as a passport to the next phase of study or employment.
"No young person should be disadvantaged as a result of the SQA diet being cancelled."
On the issue of teachers awarding grades, he added: "Making use of the evidence base which exists in schools is a sensible approach therefore to delivering accreditation to pupils, and is consistent with an ambition that teachers across the country share."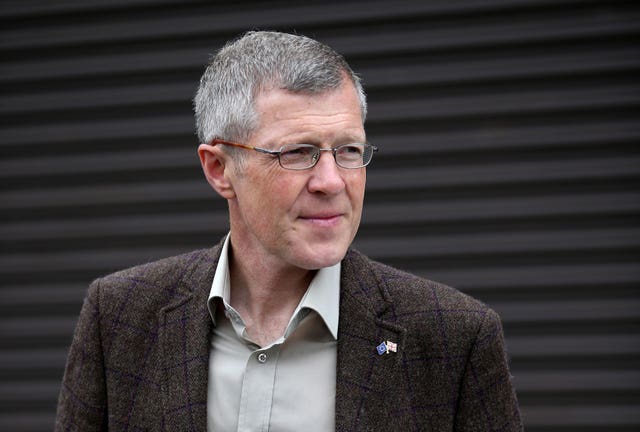 Scottish Conservatives education spokesman Jamie Greene said: "The decision to close schools and nurseries is one of the most difficult any Government can take and – while understandable and inevitable – it will have a lasting impact on the future lives of many young people.
"There is much goodwill and creativity in the teaching profession, and that flexible approach is now required of all of us in these tumultuous times."
Scottish Liberal Democrat leader Willie Rennie also backed the cancellation of exams.
He said: "This will be an anxious time for young people but I want them to know that this decision is in their best interests."
Scottish Greens education spokesman Ross Greer said: "Exams may be cancelled but qualifications are not.
"Young people will still be recognised for the work they have done and the knowledge and skills they have gained."
Alastair Sim, director of Universities Scotland, said: "Universities support the need to put pupil safety and well-being first and so we recognise the need for this decision in today's unprecedented circumstances.
"Universities will work very closely with the Scottish Qualifications Authority, schools, Government and others to make this work.
"We want to ensure that even in the extraordinary circumstances of the moment, learners are able to demonstrate their abilities and progress to higher education."