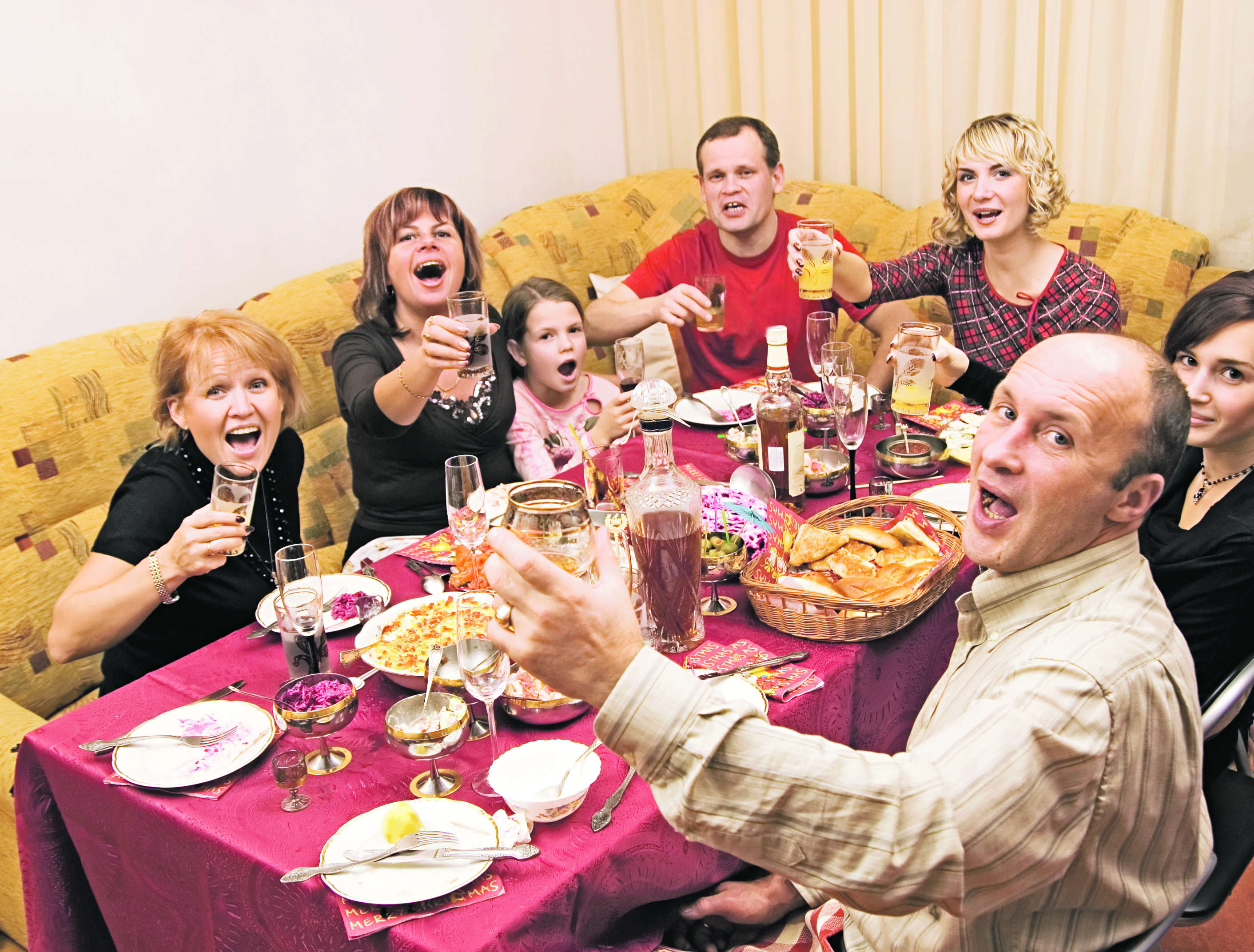 A Sunday Post investigation has revealed almost 500 men and women were collared by cops over the past five years after drinking themselves into a stupor in public while caring for kids aged 10 and under.
Mums, dads and other guardians have also been prosecuted for neglecting children while drunk at home.
In some cases the youngsters had to be taken into protective custody, while in others they were handed over to social workers.
Under the law, police can arrest an adult who is "clearly" unable to provide a reasonable level of care due to drinking.
Our findings are likely to reignite the debate over whether it's acceptable for parents to drink while looking after children.
Experts last night described the figures as concerning and warned they were likely to be the tip of the iceberg.
Dr Peter Rice, chair of Scottish Health Action on Alcohol Problems, said: "I welcome the fact the police are taking action on this offence.
"However, there has been a shift from people drinking in pubs to people drinking cheap supermarket alcohol at home.
"As a result, far more of these incidents could be happening behind closed doors."
Almost a third of children in Scotland are believed to be living with a binge-drinking parent while polls show half have seen their mum or dad drunk.
Those living in homes blighted by alcohol abuse are at greater risk of suffering neglect and domestic violence.
Studies have also shown that parental use of alcohol increases the likelihood that children will also drink.
Alison Douglas, chief executive of Alcohol Focus Scotland, said parents should be given more support to tackle problem drinking.
But she also warned: "Drinking too much has become so common and acceptable that it's easy to forget how it might be affecting our children.
"This can range from being too hungover to take them out on a Sunday morning, to more serious risks to their safety and well-being.
"Every family is different but children who live with someone who drinks too much say they feel scared, confused, stressed and angry when their parent is drinking.
"If we are serious about protecting all children and families from the damaging effects of alcohol we need to change the fact that alcohol is seen as a central part of everyday life.
"The best way to do this is to take action to regulate the price, availability and marketing of alcohol."
Figures from the Crown Office Procurator Fiscal Service (COPFS) show 474 people were charged for being drunk in public in charge of a child under 10 in the past five years.
There were 104 cases in 2010/11, 102 the following year, 91 in 2012/13, 94 in 2013/14 and 83 last year.
The legislation falls under the Civic Government (Scotland) Act 1982.
Those found guilty can face fines of up to £500.
Similarly, the Children and Young Persons (Scotland) Act 1937 allows an adult to be charged with neglecting their child in a manner likely to cause unnecessary suffering while "incapacitated through alcohol".
The COPFS could not provide details of how many people had been charged for this specific offence.
However, frontline social workers have admitted dealing with passed-out parents and children left dangerously unattended as a result of parents drinking too heavily.
Joanna Barrett, of children's charity NSPCC Scotland, said: "As a society we must find ways of detecting these problems at an early stage and act on the early warnings so children are not left physically and emotionally scarred by those whose ability to care has been distorted by alcohol."
Studies show thousands of Scots are drinking all of their recommended weekly limit of alcohol in a single day.
And while drink-related deaths may be falling, alcohol abuse still kills someone every eight hours in Scotland.
There were 1,152 alcohol-related deaths in Scotland in 2014, and 35,059 alcohol-related hospital stays.
In the past critics have called for alcoholic parents to have their kids taken from them in the same way as heroin addicts.
The Scottish Government wants to introduce a minimum price of 50p per unit of alcohol to tackle problem drinking.
How much is too much by The Sunday Post Doc
YOU don't need to be parent of the year to know you need to be careful when drinking alcohol around young children.
So it's worth being aware of what alcohol can do to your senses especially when there's a child to look after.
It affects people in different ways depending on gender, body weight, medication and tiredness.
So beware – this is a rough guide based on an average adult male.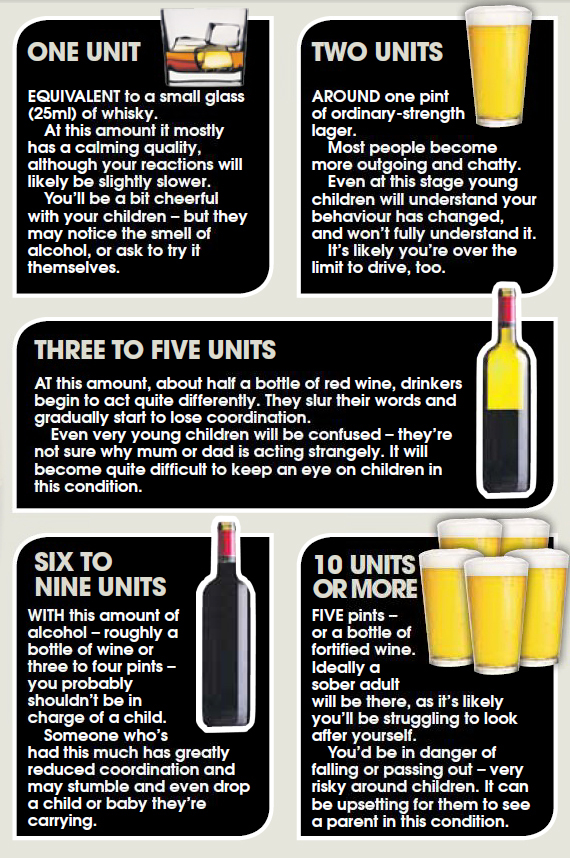 So drunk woman couldn't stand
SEVERAL people have been charged for neglecting children in their care while drunk.
Among them was Laura Brockley, 23, who was "highly intoxicated" when police found her in her Aberdeen flat in January 2015.
One of the children she was looking after, both were under the age of five, was struggling to walk because its nappy was so full.
Brockley admitted neglecting children in her care when she appeared in court nine months later.
In another case last year a woman admitted wilfully neglecting a two-year-old after police found the toddler soaked in booze and urine.
Melissa Jones, 24, was said to have been so drunk when officers arrived at her flat in Tillicoultry that she could barely keep herself steady.
While the police were present, she tried to pick the child up but dropped her and then fell on top of her.
In February 2012, former escort Nicola Brims, 36, admitted neglecting a toddler by getting drunk and leaving him surrounded by razor blades, drugs and alcohol in her home in Dinning, Perthshire.
At Perth Sheriff Court she was warned the case echoed the tragedy of 15-month-old Declan Hainey.
The toddler's body was found in his mother Kimberley's filthy Paisley flat in March, 2010. While she was found guilty of his murder in 2011, the conviction was later quashed on appeal.
It's been reported that Hainey regularly went out drinking for days at a time.
In My View: Dr Peter Rice, Chairman of Scottish Health Action on Alcohol Problems
CHILDREN need adults to be reliable and consistent figures.
Parents must be able to respond to their child in a predictable way.
If someone is intoxicated to the point where their behaviour changes then that can be alarming to a child.
It might upset them. The effects might be more long-term.
There could even be a significant effect on the child's ability to control their own emotions.
There's also the immediate safety of the child.
If parents want to do the right thing then not getting drunk in front of their children is one of the most important things they should do.
People should avoid intoxication to the point it alters their behaviour and reactions.
Most people know the advice given on sensible drinking such as knowing the measures in your drink, eating food if you are drinking and having a soft drink or water between each drink.
However, people need to actually heed this advice.
The problem is that people often aren't good judges of themselves.
Listen to what others in your life are saying. For example, if your wife says: 'You overdid it in front of the kids last night' then listen to her.
Most importantly, if you are worried about your drinking then talk to a professional about it.
That could be your GP or a local alcohol support group.
The health and well-being of you and your children could depend on it.
---
READ MORE
Man brought himself back from the brink of alcoholism
Alcohol advice: Rest of UK follows Scotland's lead to warn against ANY drinking during pregnancy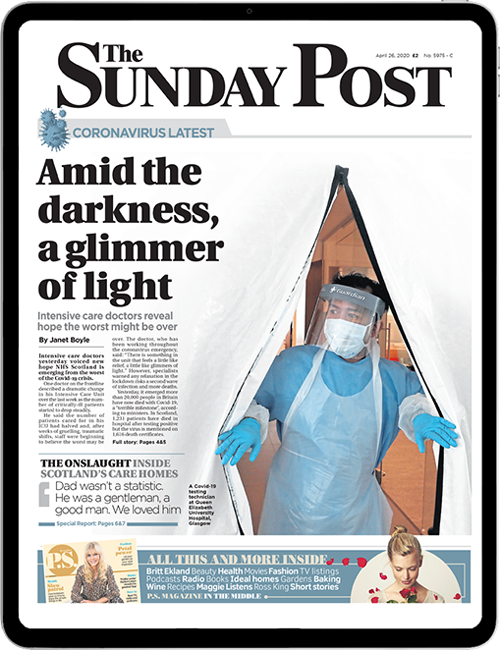 Enjoy the convenience of having The Sunday Post delivered as a digital ePaper straight to your smartphone, tablet or computer.
Subscribe for only £5.49 a month and enjoy all the benefits of the printed paper as a digital replica.
Subscribe