Health Secretary Jeane Freeman has accused the Conservatives and Labour of using the delayed opening of a flagship children's hospital for political gain.
The Royal Hospital for Sick Children and Young People in Edinburgh is due to open this autumn after concerns were raised over ventilation issues just days before patients were due to be moved in last summer.
Following his resignation, ex-NHS Lothian chairman Brian Houston accused the Health Secretary of lying about the circumstances behind the delay.
Speaking to the Edinburgh Evening News, he also claimed he was told to resign or he would be fired from his post, something Ms Freeman denies.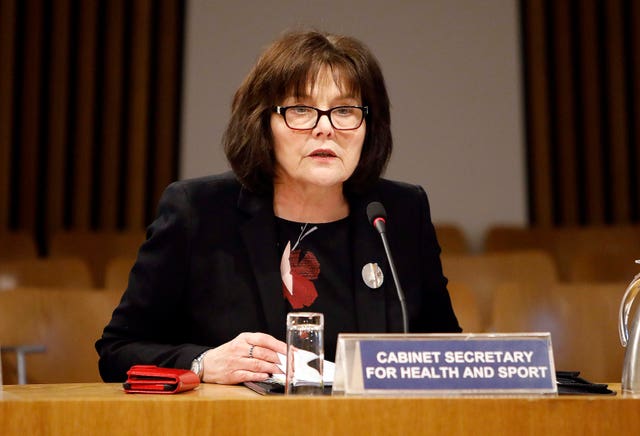 After Scottish Tory health spokesman Miles Briggs raised Mr Houston's comments at Holyrood on Tuesday, Ms Freeman said: "My short response is that I fundamentally disagree with Mr Houston's reported assertions and accusations."
In her reply to a question in the chamber from Scottish Labour health spokeswoman Monica Lennon about publishing email exchanges and minutes of meetings she shared with NHS Lothian officials, Ms Freeman said: "I do not know what more Ms Lennon wants to pursue in this matter, but let me say clearly – the people who are keeping this alive are on (the Labour and Conservative) benches.
"No-one else from NHS Lothian, from the staff involved in those two hospitals, has raised any concern with me whatsoever in this regard.
"I believe that we have acted properly, that I have acted properly, I have set out very clearly how those accusations by Mr Houston are wrong.
"If we are genuinely focused on the right health service for Scotland and on addressing the challenge of coronavirus, then this matter should be ended by members of the opposition who simply want political capital from it."
Under questioning from Ms Lennon's Labour colleague Neil Findlay, Ms Freeman agreed to publish correspondence between herself and NHS Lothian.
The Health Secretary also denied there was a "dysfunctional relationship" between her and NHS Lothian when asked by Mr Briggs.
Ms Freeman said: "I do not accept that there is a dysfunctional relationship in any respect.
"What I do accept, is that it's my job to challenge boards, to support them, to ensure that we get the best performance for the investment."
Ms Freeman ordered an inquiry to be held in the problems at the Edinburgh children's hospital, as well as issues surrounding infections at the Queen Elizabeth University Hospital campus in Glasgow.