Opposition politicians have hit out at the standard of health care provided by the Scottish Government after new figures suggested average life expectancy for both men and women has dropped for the third year in a row.
Provisional data released by the National Records of Scotland (NRS) shows male and female life expectancy had fallen from 77.1 and 81.1 years respectively in the period 2017-2019 to just 76.5 and 80.7 years in 2020-2022.
The same data suggested average life expectancy for both sexes now stands at roughly the same values they did a decade ago and that people born in Glasgow have the lowest life expectancy out of all the 32 local authority areas.
The Scottish Conservatives calculated the drop in overall average life expectancy over the last year alone is the equivalent of men losing three weeks of their life and women losing five-and-a-half weeks.
The party's health spokesperson Dr Sandesh Gulhane said: "These deeply concerning statistics have (First Minister) Humza Yousaf's fingerprints all over them.
"His overwhelming failures during his time as health secretary means life expectancy has fallen for the third year in a row in Scotland.
"While deaths from the Covid pandemic must be taken into account in relation to life expectancy across the UK, SNP ministers cannot hide behind that excuse given life expectancy had already started falling in Scotland before the virus struck.
"This comes against a backdrop of the SNP continuing to preside over the record drug deaths rate in Europe, the highest level of alcohol deaths since 2008 and horrendous cancer waiting times.
"Life expectancy remains lower in Scotland – where the SNP have mismanaged our health service for the last 16 years – than in the rest of the UK.
"It should be a real source of shame for SNP ministers that the tragic reality for Scots – especially those living in Glasgow – is that their lives will be shorter than their UK counterparts.
He called on the First Minister and health secretary Michael Matheson to set out their plan to "halt this alarming decline in the nation's health".
Scottish Labour health spokesperson Jackie Baillie said: "These damning figures lay bare the fact that SNP and Tory incompetence is costing lives.
"Scots are stuck in a twin crisis with the cost of living and chaos in our NHS, and it is having a devastating impact on the nation's health. After 16 years of the SNP and 13 years of the Tories in government, both parties are failing Scots in the areas where it matters most.
"(Health Secretary) Michael Matheson must act now and take immediate action to ensure that these worrying figures do not become an even more worrying trend."
Scottish Liberal Democrat health spokesperson Alex Cole-Hamilton MSP said of the figures: "This is a truly sorry reflection of our nation's health.
"The Scottish Government have made the situation no easier in their mishandling of public health emergencies. That can be seen in decisions to send Covid positive patients into care homes during the pandemic, or a failure to get to grips with Scotland's mental health crisis or choosing to slash drug and alcohol services when deaths were already rising.
"As we look ahead to a difficult winter, ministers must be absolutely focused on supporting and protecting the wellbeing of the people they are here to serve."
A Scottish Government spokesperson said: "It remains an unwelcome reality that communities experience health, quality of life and even life expectancy differently across society and the Scottish Government continues to take action to reduce such inequalities in health.
"We work closely with Public Health Scotland and National Records of Scotland to analyse a broad range of data and better understand causes of death and any implications for public health. We are targeting our actions to areas and communities most in need in order to ensure equity in our approach.
"In Glasgow, the Scottish Government is investing £500 million through the City Region Deal and regional partners have secured £300,000 Health Foundation funding as part of their work to align economic development and improved health outcomes.
"This will include development of a Capital Investment Health Inequalities and Impact Assessment Tool which will ensure that the health inequality impacts of the people who live and work in the region are considered throughout the life of the project.
"Meanwhile, as winter approaches, we encourage all those who are eligible for the flu and Covid vaccinations to take up their appointment offers. Vaccination remains the best way to protect yourselves, your loved ones, and the NHS from both viruses."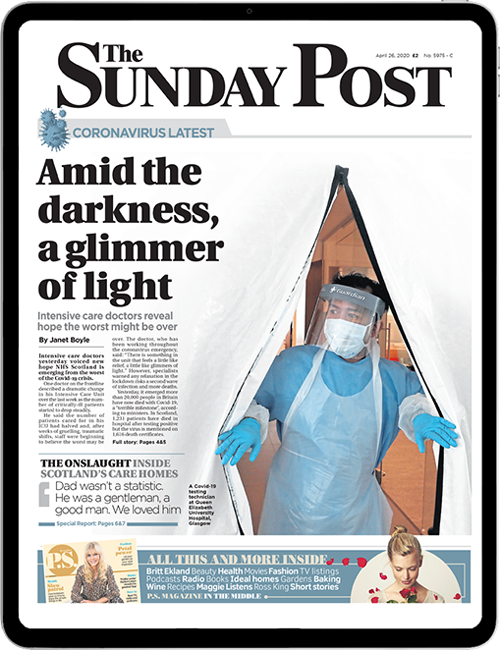 Enjoy the convenience of having The Sunday Post delivered as a digital ePaper straight to your smartphone, tablet or computer.
Subscribe for only £5.49 a month and enjoy all the benefits of the printed paper as a digital replica.
Subscribe