A Glasgow councillor has come out in support of Jackie Baillie in the Scottish Labour deputy leadership race – despite having nominated her rival.
Marie Garrity, chair of the Labour group at Glasgow City Council, initially backed Matt Kerr for the job but changed her vote after the councillor walked out of the city's budget debate on Thursday.
In a speech in the city chambers before he left, Mr Kerr said he and other council colleagues were not elected to be the administrators of cuts and accused the Scottish Government of bullying local councils.
Ms Garrity announced her decision at an event for the Dumbarton MSP on Friday.
She told the crowd: "A fellow trade unionist, my colleague and friend Matt Kerr informed me that he was putting himself forward for the deputy leadership. I nominated him.
"Yesterday at full council, my colleague walked out, before standing with the Labour group to vote down the SNP's budget. Very disappointing.
"Leadership is not walking out on your colleagues or trying to throw them under a bus."
Ms Garrity added: "Sadly, our party is in decline – let's be honest here. But we don't need grandstanding.
"What we need is leadership determined to bring our party together at a time when it is at its most divided.
"I firmly believe Jackie will do that."
Mr Kerr told Thursday's council meeting: "We've heard from other colleagues and comrades about the democratic deficit that's been caused.
"People out there are understandably becoming alienated from the political process.
"Because they see, and actually they've heard repeatedly today, talk of the word administration.
"We didn't stand for election to be administrators and we certainly didn't stand for election to be administrators of cuts that we know – all of us know – are doing serious damage to our communities."
He added: "I cannot in any good conscience vote for anything that has been proposed here today.
"It's because, quite simply, I've had enough and I think this city has had enough.
"We owe it to the people of this city to put up a fight."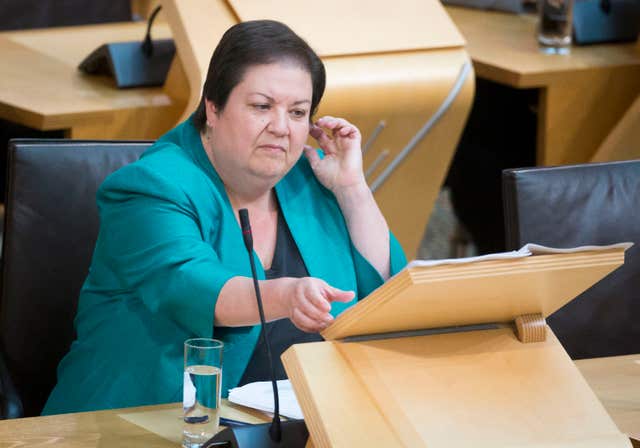 Ms Baillie said she was "pleased" at the decision by Ms Garrity to come out in support of her, adding: "Councillors have a really rough job to do. No-one likes implementing cuts.
"I would much rather that Labour councillors were taking decisions in support of their constituents, protecting them from the worst of the cuts that are likely to come.
"I am not in favour of councillors walking out and abdicating responsibility.
"I think that's what happened yesterday, Matt walked out and left the rest of the Labour group behind.
"The rest of the Labour group stayed to argue and protect the interests of their constituents, and I think that's critically important."