The soaring cost of living is taking at least as bad a toll on people's mental health as the Covid-19 pandemic, a charity has warned, as a poll revealed Scots are suffering worse sleep as they worry about their finances.
A survey of more than 1,000 people north of the border by the Mental Health Foundation (MHF) found concerns about personal finances saw almost one in four people meeting with friends less often than the previous month, and one in three adults having poorer sleep than the month before.
Shari McDaid, head of evidence and impact at MHF, said the "negative impact of the cost-of-living crisis on public mental health could be on par or worse than the Covid-19 pandemic", and she warned the country faces a "public health emergency".
She added: "The unaffordable costs of basic living essentials are causing more and more people to fall into poverty or experience financial stress, and we are seeing red flag behaviours."
The poll, released on Tuesday as MHF published a report listing a number of recommendations for both of Scotland's governments to implement to tackle the mental health impacts of climbing prices, also revealed one in six people now take part in a hobby less often and one in seven exercise less often.
Ms McDaid said: "While they may seem like little things, not getting good quality sleep, not being able to spend time with friends and family, and not exercising are all detrimental to our mental health.
"We need these things to have good mental health and wellbeing but if you're worried about being able to afford your energy bills or you can't afford the transport to visit your friends and family, these healthy behaviours are difficult to maintain."
The charity has made the warning after it commissioned an Opinium poll of 1,044 adults in Scotland in November.
The charity said income supports announced to date do not go far enough to meet the needs of people on low incomes who, it said, continue to go without essentials.
It said the report, Mental health and the cost-of-living crisis: Another pandemic in the making?, emphasises the priority should be to ensure financial support schemes are available to those who need it.
In its list of recommendations, the charity said all Government departments should assess the mental health impact of decisions that address the rising cost of living, that frontline workers are trained to respond to mental health effects of financial stress, and procedures should be in place to provide a compassionate response to customers experiencing financial strain.
The charity had previously reported in November that 40% of Scottish adults felt anxious, 33% felt stressed, and 14% felt hopeless about their financial circumstances.
Mental wellbeing minister Kevin Stewart said: "The rising cost of living is on everyone's mind right now and is having an impact on most people's personal finances. There is no doubt that money worries can also have an impact on our mental health and wellbeing.
"We have developed a dedicated cost of living website, offering practical advice on bills, benefits, energy use etc, as well as mental wellbeing advice for those experiencing money worries. We are working closely with money advice and mental health organisations to develop further support.
"Anyone worried about affording essentials like food or fuel should contact their local authority where they will be put in contact with local advice and support, including the Scottish Welfare Fund as a source of occasional assistance."
The UK Government has been approached for comment.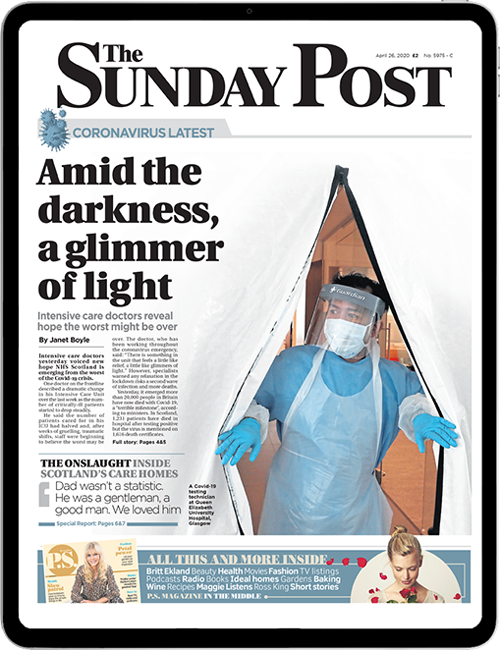 Enjoy the convenience of having The Sunday Post delivered as a digital ePaper straight to your smartphone, tablet or computer.
Subscribe for only £5.49 a month and enjoy all the benefits of the printed paper as a digital replica.
Subscribe