A key cancer waiting-time target was missed again in the first three months of this year, NHS figures indicate.
According to official figures 84.7% of patients referred to hospital between January and March began cancer treatment within 62 days.
That was up from the 83.7% achieved in the last three months of 2019 and better than the 81.4% recorded in the first three months of 2019, but is still below the Scottish Government's 95% target.
Meanwhile, the figures showed almost a quarter of women referred for treatment after cervical screening waited longer than the 62-day target.
The Scottish Government paused smear tests and other cancer screening programmes on March 30 as part of efforts to tackle coronavirus, with cervical cancer screening only just resuming.
Prior to that, the proportion of women treated within two months had fallen.
In the first three months of this year, 77.8% of patients referred after screening started receiving treatment within 62 days – down from 86.4% in the period October to December 2019.
Across Scotland, just two health boards met the target of treating 95% of patients referred with an urgent suspicion of cancer within the target time – NHS Lanarkshire (96.9%) and NHS Borders (95.2%).
Almost three out of ten patients at NHS Orkney waited longer than two months for treatment, with 71.4% starting to receive help within the target time.
There were only two types of cancer where more than 95% of patients started being treated within 62 days – breast cancer (96.6%) and ovarian cancer (97%).
In contrast, this standard was only achieved for 62.7% of patients with urological cancers.
Another cancer waiting-time target was met in the period January to March 2020 – with 96.1% of patients starting treatment within 31 days of a decision being taken on how to treat their disease.
Health Secretary Jeane Freeman said: "These are particularly difficult times and we understand that patients undergoing treatment for cancer will feel especially anxious.
"It is positive that the 31-day standard continued to be met and we progressed towards meeting 62-day standard across Scotland in the period leading up to lockdown despite the extra pressures on our NHS.
"I want to thank all the hospital staff who, through their hard work and dedication, made this possible.
"It should be noted that this data pre-dates the Covid-19 outbreak and does not take into account the impact that Covid-19 has had on the 31 and 62-day standards when NHS boards prepared their mobilisation plans in response."
She said the "majority of cancer treatments have continued" during the coronavirus crisis but added some patients' treatment plans had been changed to "minimise their individual risk".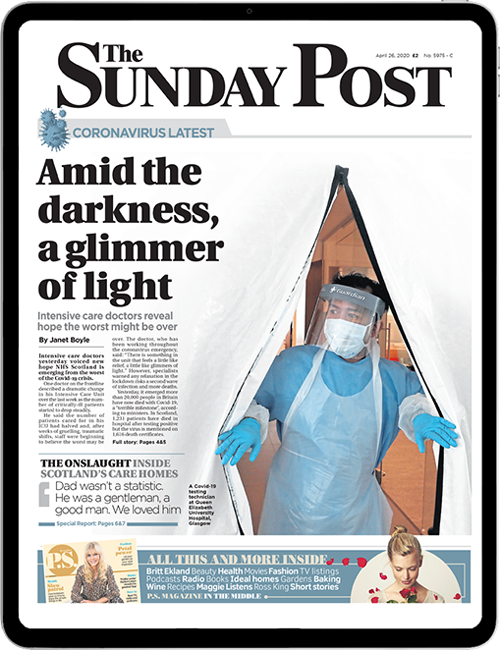 Enjoy the convenience of having The Sunday Post delivered as a digital ePaper straight to your smartphone, tablet or computer.
Subscribe for only £5.49 a month and enjoy all the benefits of the printed paper as a digital replica.
Subscribe