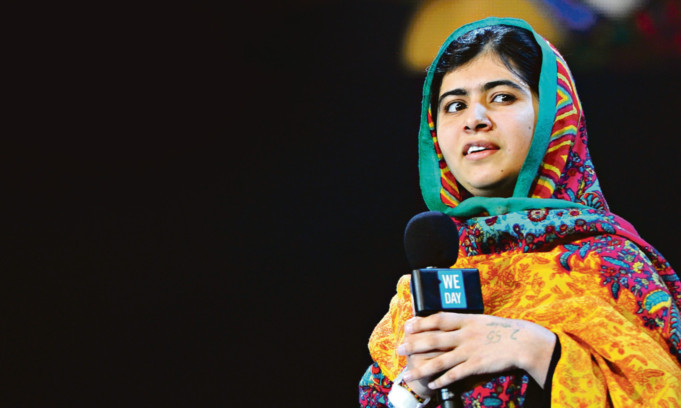 A bodyguard will protect a celebrated teenage Taliban target when she appears at a top book festival, at a cost of £4,000.
The elite close protection officer will shadow Pakistani schoolgirl Malala Yousafzai at Edinburgh's prestigious literary showcase in August.
Malala, 16, was shot in the head by Taliban fanatics in 2012 for blogging about life under their regime in Pakistan's Swat Valley.
She survived the murder attempt, propelling her fight for education rights for girls into the global spotlight.
But today The Sunday Post can reveal the teenager will be shadowed by the highly trained guard when at Edinburgh Book Festival, to read to hundreds of schoolkids.
An insider said: "It's going to be a very strategic operation as there are real concerns she could be the target of an attack even someone throwing acid at her.
"The bodyguard is rumoured to cost nearly £4000. It's a big hit for the festival's budget but it is thought it's worth it to ensure such a high-profile figure attends and speaks to people of her own age."
Tickets for Meet Malala are not on sale to the general public, with school groups only allowed in the audience as the 16-year-old talks about her book, I Am Malala.
But the schoolkids won't have the chance to mingle with the activist as safety fears prevent Malala doing any meet-and-greet or signing copies of her book.
A spokeswoman for the festival said: "We've had a number of authors in the past who have required additional security, people like Salman Rushdie and Gordon Brown, so it's not entirely unusual for us to do this."
Private security expert Simon Atkinson, managing director at Glasgow-based Athena Intelligence, speculated on what form the operation would take.
He said: "On arriving, she'll be picked up from a VIP area at the airport and from then on her movements will be closely monitored and controlled, with advanced teams covertly assessing every aspect of each venue on her itinerary for potential threats."
For such a service, Mr Atkinson said a £4,000 price-tag is good value.
Asked what his company would charge, he said: "Man power could be around £5,000. Accommodation and cars another £3,000, so you're looking at as much as £8,000."
In October 2012, Malala was shot by a Taliban gunman on her school bus.
One bullet hit the left side of her forehead, travelled down the length of her face and plunged into her shoulder.