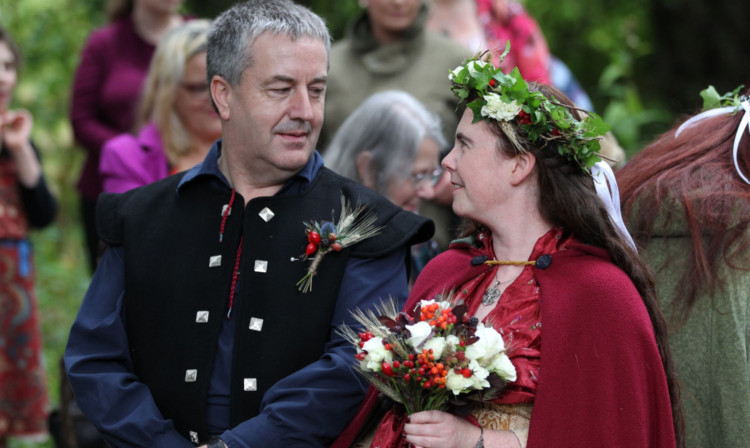 Married life started with hags, harps and hands tied together.
When a bride and groom tie the knot, you don't expect them to be literally lashed together.
But that's what happened at a wedding I attended last Saturday. It's one way of stopping one or other party doing a bunk, I suppose. And when the couple leap back and forth over a broom, you know you're not at a regular marriage.
No, this was a pagan bash in the small Perthshire town of Birnam. The happy couple, Louise Park and Graeme Golding, were wed beneath an ancient oak in Birnam Wood.
Legend has it as the last remnant of the forest that played such a significant role in Shakespeare's Macbeth. Louise and Graeme are "hedge witches".
That's not me being rude but rather a description of the branch of Paganism they follow and a badge they wear with pride. Louise tells me the phrase is the origin of the term "hag". I can see why folk prefer "hedge witch".
Their wedding is known as a "Handfasting" and is as legally binding as any other religious or civil ceremony. Guests, perhaps 60 in all, walked in a procession to the aged oak and formed a ring around it. As a harpist played, they circled the tree.
Louise, in a medieval-style dress, and Graeme, in kilt and ghillie shirt, stood still at its base. With a broom, officiating celebrant Ceci Alderton swept the circle clear of "negative energy" before calling on the spirits of nature and ancestors to witness the service. The couple's rings were passed around to be blessed by everyone. The parents were included as vows were swapped, each mother asked if they accepted their offspring's partner into their family.
After exchanging rings and vows, Louise and Graeme's hands were bound together in an ancient tradition going back thousands of years, and the origin of the phrase "tying the knot". Another age-old tradition leaping the broom saw them officially begin married life. It symbolises crossing the threshold to a new, domesticated life and the sweeping away of an old existence.
Finally, the union was sealed with a toast. A quaich and drinking horn full of mead were passed among guests. Now we're talking! The brew was a bit sickly sweet but tasted potent. A great way to praise your gods.
Then there was another toast. And another. This paganism lark was getting better by the minute. Eventually, in procession, everyone left the grove, passing under a tunnel of honour formed by broomsticks.
Among the crowd were all walks of life, teachers, healthcare workers, council staff, retired people and students. By no means were all Pagan, which was reflected in their dress. Perhaps 50% wore smart suits, kilts, or frocks, as you'd see at any wedding. Others, men with long hair and flowing beards, wore smocks. Women dressed in simple, woven woollen dresses.
What united them was a respect for Louise and Graeme's beliefs.
It's a particularly proud day for Louise. A mainstay of the Scottish Pagan Federation, she was the driving force that led to a change in the law around a decade ago, making such weddings possible.
I met with her, Graeme and son William Luan, 2, for a chat shortly before their big day.
"Paganism," she told me, "is a broad term covering all sorts of belief systems and religions. There's wicca or witchcraft if you like druidism, shamanism and others. We're united by three basic principles.
"The first recognises we're all part of nature that we should love and revere it.
"The second concerns ethics. It's summed up in 'Do what you will so long as it harms none'.
"Third is the recognition of the Divine. This can be one god or many the important aspect is that it transcends gender."
Although the family now live in Perth, Louise, a midwife, grew up in the shadow of the Cairngorms. The 39-year-old said: "Living somewhere so dramatic, where I saw the beauty of nature every day, encouraged an interest in Paganism from my teens.
"As I learned more it just made sense."
Graeme, a local authority woodland officer, also has a rural background, growing up in Yorkshire. As a child, his interest in wild plants and animals was nurtured by an old woman he now knows was a "hedge witch".
Graeme, 50, said: "A hedge witch is probably the nearest thing to the witches we all remember from folk tales the wise women of the village who knew about plants and herbs and how to make natural remedies."
When asked about her beliefs, Louise chuckled and got a bit evasive. She said: "It's hard to explain. I feel closer to different aspects of nature at different times. We mark the equinoxes and solstices with small ceremonies.
"Occasionally, for the bigger events we'll meet with other Pagans. A typical ritual will involve a fire, at which we'll make offerings. Some jump over it, a ritual cleansing.
"Often, we just have a wee fire in the garden. The neighbours probably think we're mad!"
Back at the nuptials and the evening pans out much like any other wedding. There's food, speeches, a cake and later a disco which, just like any other wedding, involves some very bad "dad" dancing.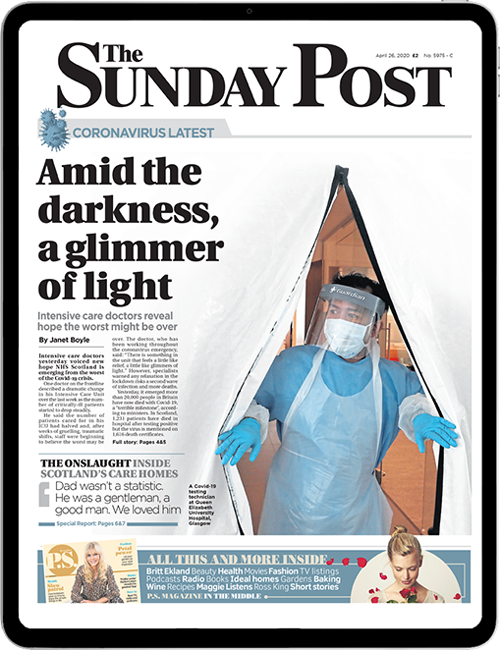 Enjoy the convenience of having The Sunday Post delivered as a digital ePaper straight to your smartphone, tablet or computer.
Subscribe for only £5.49 a month and enjoy all the benefits of the printed paper as a digital replica.
Subscribe