---
Arise, Sir Kenny – football hero Dalglish receives knighthood
Liverpool royalty Sir Kenny Dalglish said he was "humbled" to receive a knighthood for an outstanding football career and supporting the club's fans in their darkest hour.
Known as King Kenny on Merseyside, the former player and manager said it was his duty to "turn supporter" and help Liverpool families in the aftermath of the Hillsborough football tragedy in 1989.
Sir Kenny was dubbed a knight by the Prince of Wales during a Buckingham Palace investiture ceremony for services to football, charity and the city of Liverpool.
Speaking after the ceremony, Sir Kenny said about the Hillsborough families: "They were fantastically supportive of the football club and at that instance it was important for us to turn supporter.
"They needed a bit of help, we wanted to help them, and I'm sure they would have done the same for us – I think that's what life is all about."
Sir Kenny was the Scottish international striker who became a star of English football when he filled the gap left by the departing Liverpool hero Kevin Keegan at Anfield after a trophy-laden spell at Celtic.
He went on to become a Kop legend, winning three European Cups and six league titles with the club.
As a manager he performed the rare feat of winning top-flight league championship titles with two different clubs, Liverpool and Blackburn Rovers.
Speaking about becoming a Sir, he said: "You feel humble. When you start off in your life, what do you want? You just want to play football.
"And when you play football, what do you want to do? You want to try and be successful, be a professional footballer, try and win something."
Asked about highlights from his career, Sir Kenny replied: "When you look back every night you've had a game and you've won is a magical night, the only ones that aren't magical are the ones that you've lost.
"I've been very fortunate with the people I've worked with in football, both as a player and a manager, they've been fantastic people.
"And the two football clubs I've played for Celtic and Liverpool – the two most successful clubs of the era I was playing in – I've been fortunate as well, you always need a bit of luck to get a bit of success."
The former striker and his wife Marina were Liverpool's public face as a whole city mourned following Hillsborough, where 96 people died in the 1989 FA Cup semi-final between Liverpool and Nottingham Forest.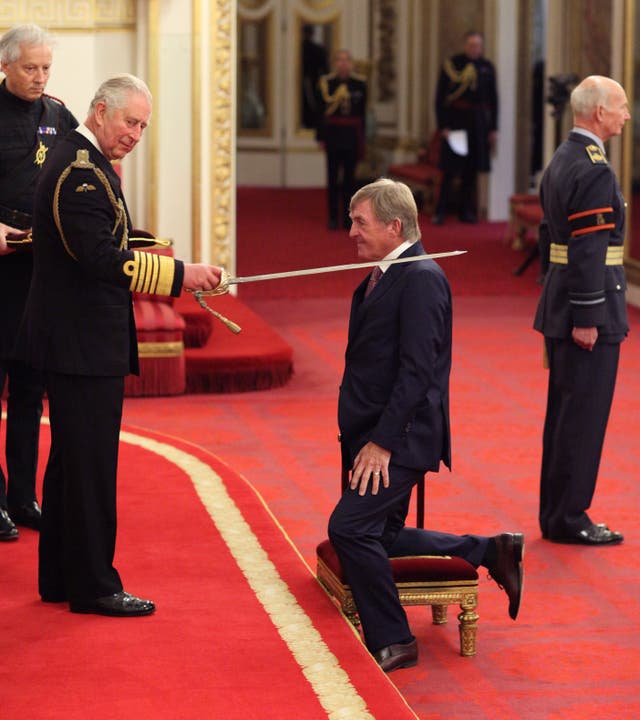 Sir Kenny was Liverpool manager at the time, and with his wife provided support and comfort for grieving families and on one day alone attended four funerals.
He said: "The way we were brought up throughout our lives was always to try and help someone if you possibly could."
Lady Dalglish said she was "proud" of her husband's achievement, and paid tribute to the Hillsborough families: "I think when you look back it was an honour and a privilege for us share that time with them. We still know lots of them and we still keep in touch."
Sir Kenny and his wife were joined at the palace by their four grown-up children – Kelly, Lynsey, Lauren and Paul – and the former Liverpool boss joked he would not insist on being called Sir, "Kenny" was fine.
The knighthood also recognised the work of the Marina Dalglish Appeal, set-up by the Dalglish family in 2005 after Lady Dalglish was successfully treated for breast cancer.
Sir Kenny added: "The charity made a contribution to this as well, my wife and I have a charity, we do a lot for cancer patients in the North West.
"I just hope that everybody that's been involved in my life can glean a little bit of satisfaction for themselves as well, because there are an awful lot of people who have made a huge contribution to my life."