Former SNP Westminster leader Angus Robertson has dismissed "malicious gossip" about Nicola Sturgeon's position.
In a piece for the Edinburgh Evening News, the former MP for Moray said he was running to support the leadership of the First Minister, not as a prospective candidate to replace her.
He also said when Ms Sturgeon does move on from her role he will support "younger talents in the Scottish Parliament".
He said: "Whenever Nicola Sturgeon decides to move on to new challenges many years down the line, hopefully after securing independence, I am sure there will be a range of younger talents in the Scottish Parliament that I can support for their leadership skills and potential.
"For the avoidance of doubt, my aim is to become the SNP MSP for Edinburgh Central to help and support Nicola Sturgeon and the SNP over the crucial years ahead, where we need to decisively win the independence argument and the recognition and understanding of EU capitals.
"The only way that we will succeed is with discipline, team work and focus on the prize."
Mr Robertson praised the SNP leader for her popularity, describing her as "the country's most respected political leader".
He dismissed rumours about her position as "malicious gossip".
Ms Sturgeon told BBC's Andrew Marr Show on Sunday that she believed she was still the best person for the job and planned to carry on the role until at least the 2021 Holyrood election.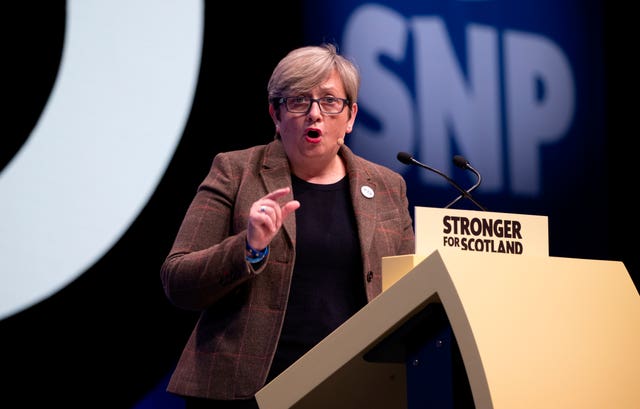 Last week, the former Westminster leader announced plans to seek the nomination for Edinburgh Central in next year's Holyrood election, with MP Joanna Cherry making clear her plans to do the same on Saturday.
Mr Robertson repeatedly said the constituency needs a "full-time MSP", a reference to Ms Cherry's plans to sit both in Holyrood and Westminster if she was to win the constituency.
He also said victory in Edinburgh Central, a seat currently held by former Scottish Conservative leader Ruth Davidson, should not be taken for granted.
"No former or current Westminster MP should think they can just turn up at Holyrood without any direct experience of the institution and walk into any job apart from serving their constituents and being a good MSP," he said.
"I certainly don't."