The Covid-19 pandemic has exacerbated problems associated with alcohol harms, according to a new report.
The Men and Alcohol study by Scottish Health Action on Alcohol Problems (SHAAP) and the Institute of Alcohol Studies (IAS), launched on Wednesday, found the coronavirus crisis has made issues such as social isolation, mental health challenges and deprivation worse.
It said it seems "probable" the country is heading towards a period of economic downturn and further austerity.
The report warned this may lead to higher unemployment, precarious work, higher levels of deprivation and cuts to services, "all of which may contribute to greater alcohol harms".
It said harm related to alcohol remains a significant issue for men, for whom drinking is closely connected to their identity.
The study found both the mental and physical impacts of alcohol-related harm are an issue, with men less likely to seek help for mental health problems than women.
It said for those already in challenging circumstances, lockdown restrictions may exacerbate difficulties.
The report said: "There may be people who suffer from worsened mental health and who are pushed to use alcohol as a coping mechanism for depression, anxiety and loneliness.
"Lockdown has also compounded difficulties for those experiencing domestic abuse, another issue exacerbated by alcohol use.
"In light of the Covid-19 pandemic, in the short-term policymakers will be focused on easing the restrictions and then on restarting the economy.
"A weakened economy, recession and ongoing austerity will impact those in poverty the hardest, those who are already at greatest risk of alcohol harms."
The study makes a number of policy recommendations, including calls to strengthen restrictions on alcohol availability and to enforce bans on alcohol advertising, sponsorship and promotion.
It also highlights the importance of investing in alcohol treatment and recovery services, and calls for all services to be joined-up.
Lindsay Paterson, interim director of SHAAP, said: "In Scotland, the alcohol-specific death rate for men was 2.2 times higher than women in 2018 and rates of alcohol-related stays in hospital were 2.5 times higher.
"These figures underscore the importance of understanding how alcohol use impacts on men's mental and physical health in particular ways if we are to tackle and reduce alcohol-related harms.
"It is difficult at the moment to know what the long-term impacts of Covid-19 will be on people's drinking behaviour and how these may intersect with issues of gender and/or marginalisation when it comes to people accessing alcohol treatment and recovery services.
"In all eventualities, this report highlights how we must not lose ground in the gains we've made in regulating alcohol in Scotland, as well as the crucial importance of investing in alcohol treatment and recovery services, in addition to improving youth services and opportunities for skills and learning development."
Dr Katherine Severi, chief executive of IAS, said: "This report sheds important light on the particular impact that alcohol consumption can have on men's mental and physical health, as well as how drinking alcohol affects and relates to male identity in the UK.
"These are important areas to understand if we are to reduce alcohol-related harm."
A Scottish Government spokeswoman said: "We recognise this important report and note that many of its recommendations reflect work programmes already under way in Scottish Government strategies on tackling alcohol use.
"Specifically, our Alcohol Framework which focuses on the key areas of affordability, availability and attractiveness of alcohol in order to reduce alcohol harms and our treatment strategy Rights, Respect and Recovery which sets out a range of measures aimed at improving access to effective and high quality alcohol treatment and recovery services.
"We have established an expert panel to identify the specific improvements needed to specialist services and are involved in the development of Alcohol Treatment Guidelines (UK).
"Choosing to cut back on how much you drink may help reduce related health risks and any associated complications linked to Covid-19.
"Keeping track of our drinking is even more important than usual during these times – the UK chief medical officers recommend we don't drink more than 14 units of alcohol a week, spread over at least three days."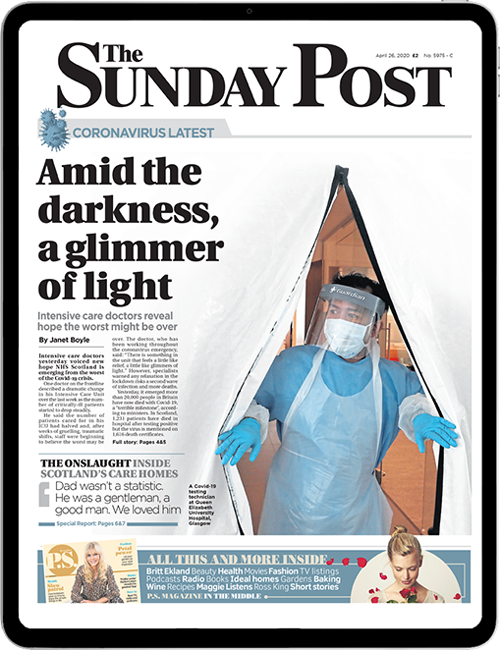 Enjoy the convenience of having The Sunday Post delivered as a digital ePaper straight to your smartphone, tablet or computer.
Subscribe for only £5.49 a month and enjoy all the benefits of the printed paper as a digital replica.
Subscribe