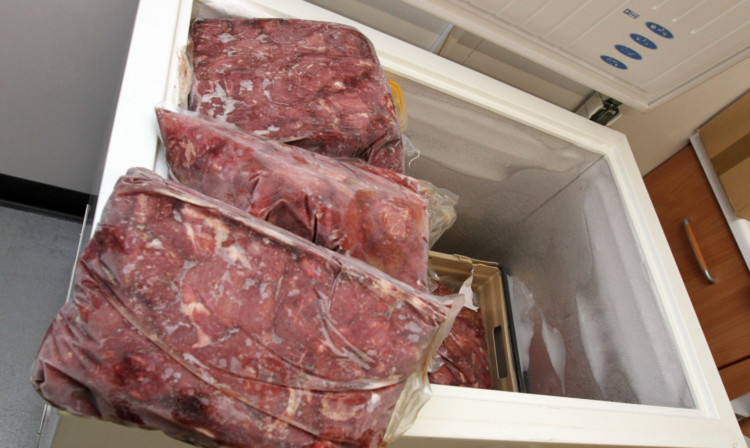 Fake food is still being sold across the UK more than a year after the horsemeat scandal shocked the nation.
Watchdogs have told The Sunday Post they continue to uncover hundreds of incidences of customers being duped. Their damning dossier of food fraud includes takeaway lamb curries made from beef, fish suppers using cheaper-than-advertised fillets and dishes filled with a cocktail of cheaper meats.
Council inspectors have also seized huge hauls of meat from illegal slaughterhouses before they made it on to the nation's dinner plates. They have even discovered fake chocolate, watered-down booze and cheaper products re-labelled to pass them off as top market brands.
Derek Oliver, of the Food Standards Agency in Scotland, warned that, despite the horsemeat scandal in January last year, the problem of fake food was still disturbingly rife.
He said: "Food fraud is any food that's deliberately placed on the market for financial gain with the intention to deceive the consumer. This can range from people deliberately selling out-of-date food right up to incidents being managed by serious organised criminals."
Since the beginning of 2013, the FSA has recorded 89 incidents of food fraud across Scotland and the north of England. Figures obtained by The Sunday Post also show councils have discovered more than 300 items of food that had been adulterated, substituted or mislabelled in the last two years, including more than 100 incidences in 2013/14.
The fake food found included fish dishes made almost entirely from pork, lamb kebabs and curries made from a cocktail of other meats and fish suppers made with budget fish instead of the expensive varieties advertised. North Ayrshire and Inverclyde councils found sausages which should only have contained beef or chicken had pork in them.
The findings will be especially upsetting to families of the Muslim and Jewish faiths, who do not eat pork for religious reasons.
Edinburgh City Council found bottles of watered-down whisky and prosecuted one person after they removed and replaced date codes on items. A publican in Dundee lost his licence after he sold customers cheap gin out of the bottle of a more expensive brand while Fife Council's team made a seizure of counterfeit chocolate bars.
Last year, Glasgow City Council seized a tonne of lamb from two butcher's shops in the city after they found it came from an unapproved meat plant in Lancashire. In 2012/13, they also found 30 ham pizzas that had been substituted with beef or chicken.
Microbiologist Hugh Pennington, an independent food safety expert, said the sale of fake food could have disastrous consequences.
He said: "There have been instances in the past of fake alcohol containing chemicals such as methanol which can cause blindness, paralysis and death. The people deliberately substituting food are crooks. They don't care about the law so you can bet they won't care about making sure the food they sell is safe.
"Sooner or later there will be an outbreak of food poisoning as a result of food fraud. The danger is that these types of outbreaks can kill people."
Those found guilty of food fraud can face fines of up to £20,000 or a two-year prison sentence. Food standards officers use intelligence to carry out checks on establishments that are thought to be buying meat from dodgy suppliers.
Mr Oliver, who also works as food and safety co-ordinator at Falkirk Council, showed us a store room filled with seized goods, including a huge haul of meat seized by officers. The meat had not been distributed in accordance with hygiene laws and question marks were raised over its traceability. It has since been condemned by a sheriff and is due to be tested to find out which species of animal the meat came from.
Liz Moran, of the Association of Public Analysts the body of scientists appointed by councils to carry out tests for food and environmental safety officers said criminals constantly change the food they are faking to avoid detection.
She said: "Food fraud is widespread. Often those behind it will move on to something else once it's been uncovered."
Dodgy cargo is seized
Food safety inspectors are targeting the country's ports, such as Grangemouth near Falkirk. Located in Scotland's industrial heartland, it is the country's largest container port, handling nine million tonnes of cargo every year.
It is not allowed to receive products of animal origin that have not already been through a border inspection post. Despite this, authorities have seized several rogue shipments. These often include undeclared products of animal origin, such as canned, dried and ground fish.
Dodgy importers try to sneak these goods through without sending them to border inspection points or designated points of entry as it cuts down on transport costs, increasing their profits. Shipments have also been seized because they contained food colourings and additives banned in the European Union. Derek Oliver added: "If people are putting these products in these containers to avert the proper checks then they are doing that for financial gain."
Horsemeat ready meal shocker
The horsemeat scandal brought the food industry into sharp focus last year. It started when inspectors found traces of horse in frozen beefburgers that had been made in Ireland and the UK. In response to the crisis supermarkets across Europe recalled beef ready meals.
Food retailers in the UK were told by the Food Standards Agency to examine processed beef products. More than 2,500 tests were conducted but the results showed that no products other than those already identified contained more than 1% horsemeat.
The 29 positive results were in seven products that had previously been identified and withdrawn. These included some Findus lasagne as well as some Aldi lasagne and spaghetti bolognese. Some products tested were found to contain up to 100% horsemeat.
The scandal highlighted the complexity of the food industry's supply chains across Europe. Many believe the fraud was carried out for financial gain as horsemeat is cheaper than other meats in some countries. However, to date no-one has been prosecuted in relation to the horsemeat scandal.
Crime gangs behind the food fraud
Organised criminal gangs abroad are behind much of the fake food smuggling. Thinking nothing of the consequences, they flood the country with bogus products that could harm children and allergy sufferers.
Huw Watkins worked for years to combat human trafficking before being appointed to help investigate gangs, including the mafia, who are peddling bogus food and drink across Europe. He said counterfeit or adulterated goods seized in Britain in recent months included a 40ft lorry containing 17,156 litres of fake vodka and 22 tons of rice falsely labelled as the high-quality basmati variety. Other cases include goat's milk diluted with cow's milk, with potentially disastrous consequences for allergy sufferers, and the discovery of Rhodamine B, an industrial dye, in children's sweets. Trading standards officers also found ground-nut powder used as a replacement for almond flour. The nut powder could trigger a potentially fatal reaction in those with peanut allergies. Mr Watkins described the situation as "terrifying".