Waiting times at Scotland's accident and emergency departments have improved sharply, according to the latest figures, but less than two-thirds were seen within four hours.
Statistics published by Public Health Scotland on Tuesday show 64% of A&E patients were seen within four hours in the week to January 15 – an increase from 57.2% in the previous seven days.
The Scottish Government aims to have 95% of patients seen and subsequently admitted or discharged within four hours.
Alongside the improvement in waiting times, attendances have seen a sustained drop.
The number of patients at A&E fell from a peak of 26,532 in the week to December 16 to 20,580 in the most recent figures – the lowest in more than a year.
The number waiting four hours fell from 9,821 in the previous week to 7,419 in the week to January 15, while the number waiting more than eight hours dropped from 4,403 to 3,012.
Some 1,501 people waited longer than 12 hours at A&E, according to the figures, a drop from 2,261 the previous week.
Health Secretary Humza Yousaf said the Scottish Government is "doing everything" to help the NHS through the winter.
He added: "I am encouraged to see improvements in performance this week with large decreases in the number of patients waiting over eight and 12 hours for treatment.
"Both eight and 12-hour waits have gone down by around 40% since the recent peak over the holiday period.
"This is welcome and I am cautiously optimistic this is a signal we are nearing the end of this period of extreme pressure.
"Delayed discharge continues to have a major impact on waits.
"As part of our nationwide approach, patients who no longer need to be in hospital will be urgently reassessed and those clinically safe to be discharged will be safely moved home or to an interim placement in a care home – freeing up beds for those most in need."
But Scottish Conservative health spokesman Sandesh Gulhane said the "modest improvement" – which he attributed to the work of NHS staff – was "almost certainly down to a fall in attendance rates".
Dr Gulhane added: "Due to Humza Yousaf's overwhelming failures, many patients are clearly choosing not to overwhelm A&E services further, which could potentially put their lives at risk.
"Also, if they are choosing to go to their GPs instead, it will merely transfer pressure from one overstretched part of the NHS to another.
"No amount of spinning by Humza Yousaf can ignore the fact that these figures are still miles short of being anywhere near good enough.
"He has lost the trust of frontline staff and patients and must be sacked by Nicola Sturgeon immediately."
Scottish Labour health spokeswoman Jackie Baillie said thousands waiting longer than four hours should not become the norm in the NHS.
"We cannot afford to be complacent about the state of our A&E," she said.
"The SNP will tell us that these figures represent an improvement, but we should never allow them to let thousands of people waiting too long to be normalised.
"Patient and staff wellbeing is still in danger, lives are being lost and staff are still under extreme pressure."
Scottish Liberal Democrat leader Alex Cole-Hamilton said long waits seem to be the "new normal" for the Scottish Government, adding: "Patients and staff are being taken for granted by this uncaring Government.
"If Humza Yousaf is not able to change tack and start offering the support staff and patients need, then he will have to go."
The Royal College of Nursing (RCN) Scotland, which is currently locked in negotiations with the Scottish Government over pay, said their members have said "enough is enough", with director Colin Poolman adding: "Without investment in staff, providing more facilities – whether it's more beds in hospitals or care homes – won't tackle this problem.
"We need effective workforce planning that is based on population need, implementation of Scotland's safe staffing legislation and fair pay that truly reflects the essential role that nursing staff play 24 hours a day seven days a week."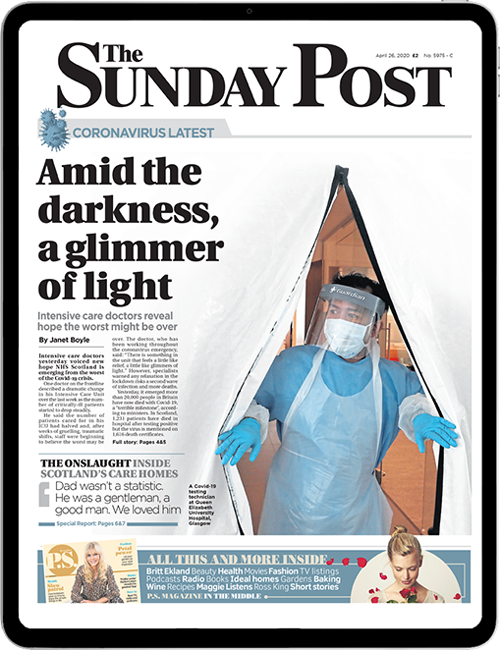 Enjoy the convenience of having The Sunday Post delivered as a digital ePaper straight to your smartphone, tablet or computer.
Subscribe for only £5.49 a month and enjoy all the benefits of the printed paper as a digital replica.
Subscribe