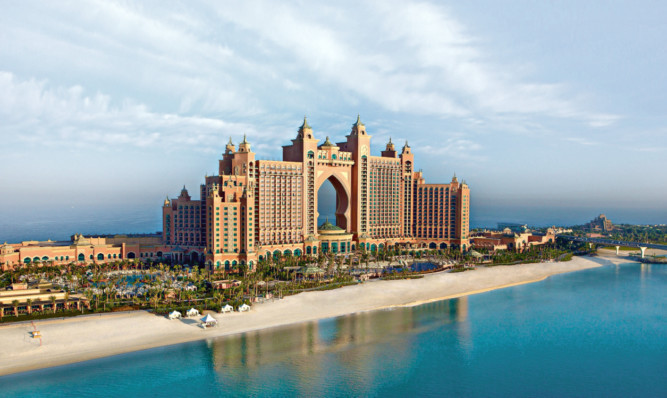 Sunday Post reveals the true cost of ministers' five-star hotel accommodation.
Alex Salmond and his SNP ministers were last night blasted for "living the high life" in five-star luxury hotels at the taxpayer's expense.
A Sunday Post probe has revealed the First Minister has stayed in top-of-the range accommodation on nearly every overseas trip he has taken since 2008. Mr Salmond's cabinet colleagues and junior ministers have also enjoyed the use of five-star hotels on more than a third of Scottish Government trade missions.
The list of international hotels used by SNP ministers was originally blocked by the Scottish Government for "security reasons". But after a 15-month battle to expose the truth we can finally reveal the full extent of the luxury acommodation being charged to the public purse.
Top hotels in New York, Beijing and Tokyo and are among the regular haunts of Mr Salmond and his ministers, often at the cost of hundreds of pounds per night.
In 2009, just after the UK went into recession, Sports Minister Shona Robison had a four-night stay at the five-star Atlantis Hotel in Dubai at a cost of £1,436 when lobbying for a rugby sevens tournament to be held in Scotland.
It is best known for playing host to Kylie and Dannii Minogue in the judges' houses round of the X Factor. Two years later, Education Secretary Mike Russell racked up an £1,800 bill at the five-star Taj Hotel in Delhi during a trade and training mission.
The breakdown also reveals Mr Salmond's controversial stay at Chicago's five-star Peninsula Hotel for the 2012 Ryder Cup saw him rack up an £800 bill beyond the £3000 spent on four nights in a "grand deluxe suite" with his wife. Nearly £80,000 was lavished on overseas hotels and subsistence for Mr Salmond and his ministers between 2007 and last year.
Lib Dem MSP Tavish Scott last night hit out at the SNP administration for "warning of pressure on budgets at home and simultaneously living the high life when they are abroad".
He added: "People will have legitimate questions over why they are being asked to pay an extra few hundred pounds per night to ensure ministers get a chocolate on their pillow when travelling.
"We know that the First Minister is happy for the taxpayer to pick up the bill for everything from five-star hotels to extra pairs of tartan trews when he travels outside of Scotland. Now we know that other ministers have followed his lead."
Figures released under Freedom Of Information laws show £58,640 was spent on "travel and subsistence card" bills for Mr Salmond's office between December 2008 and December last year.
Details of much of the spending was blocked for "security reasons" but the tally does include £21,379 at hotels around the world, all of which were five-star, bar one four-star hotel in California and a 3.5-star hotel in Norway. The biggest hotel spend was for the Peninsula in Chicago during the 2012 Ryder Cup where the total bill came to £3,756.
It has been previously reported the bill for the suite on this trip, which caused a storm of controversy over its cost and extravagance, was just under £3,000. This means a further £756 was racked up in "subsistence" costs during the stay at the hotel popular with Hollywood celebrities including Justin Bieber and Brad Pitt.
Other five-star hotels enjoyed by Mr Salmond include the China World Hotel in Beijing where during a trip in December, 2011, the total bill came to £2,174, and the Grand Hyatt in Hong Kong, which cost the taxpayer just over £1,000.
During a visit to the luxurious Yas Hotel in Abu Dhabi, which boasts two rooftop pools, in 2011, Mr Salmond left a Saltire flag for Scots motor racing legend Sir Jackie Stewart who he discovered was staying in the same accommodation the following week for the city's Grand Prix.
A Scottish Government spokesman said the travel and subsistence costs released to the Post were "generally for accommodation but also include occasional transactions for business costs and incidentals".
Figures for all other SNP ministers show that between July 2007 and March last year they had a total of 183 overseas hotel stays at a cost of £56,652. The haul included stays at 64 five-star hotels, 100 four-star hotels and just 11 three-star hotels.
Included in the list of five-star accommodation is the Oberoi Grand in India's Calcutta where SNP minister Mike Russell has stayed twice, once in 2009 and again in 2011, at a total cost of nearly £1,500.
Mr Russell, who was previously Culture Minister, has had just under £10,000 spent on "travel and subsistence" cards for his Scottish Government trips abroad since 2009. However, the highest tally though is Richard Lochhead, Rural Affairs and Environment Secretary, who has racked up spending of £13,409. This is predominantly for trips to Brussels where the SNP minister is involved in issue such as fisheries talks.
Earlier this month it was revealed the SNP administration had spent almost £219,000 on overseas trips for ministers and officials in the past three years. The tally included £720 in July last year for minister for external affairs Humza Yousaf when he attended the Latvian Dance Festival.
Scottish Conservative MSP Alex Johnstone said: "The First Minister has a reputation for living it up at the public's expense and now we know his ministers have been happy to follow suit. People will be rightly appalled that their hard-earned taxes are being used to put Alex Salmond and his SNP ministers up in five-star luxury in some of the best hotels in the world."
This newspaper has previously reported spending on these credit-card style cards,including £5,000 spent just eight months with a London chauffeuring firm.
Mr Johnstone added: "It's no wonder the Scottish Government has spent the past 14 months trying to keep secret how many trips they have enjoyed to luxury hotels and how much this has cost the public purse. It's a disgrace the information has had to be dragged out of them."
A Scottish Government spokeswoman said: "Decisions on accommodation used by Scottish ministers during overseas visits are made based on obtaining best value for money and practicality in allowing proximity to engagements."
It was a simple enough question. How are you spending our money?
But last April's Freedom Of Information request by The Sunday Post sparked a depressingly familiar pattern of ignored emails, faux apologies, appeals to the Information Commissioner and partial answers dragged out of ministers.
The fact that Alex Salmond and his SNP ministers do a good job selling Scotland around the globe, securing jobs and investment, is not in doubt here. But as we have the right to know what MPs claim on expenses, we are also entitled to know how the Scottish Government spends the money entrusted to it by the people it serves.
Officials initially claimed disclosing the names of the hotels "could lead to significant security risks for the Cabinet". Now such fears have been waved away, but only for overseas hotels.
The Scottish Government has also released full details of the transactions, such as meals and taxi rides, on "travel and subsistence cards" for SNP ministers but continue to block the full release of similar information for the First Minister, again for "security reasons". So it is fine for the public to know where Environment Secretary Richard Lochhead buys lunch when working overseas but publishing the same details for Mr Salmond would put him in some sort of mortal danger?
It's farcical and the Scottish Government's approach does itself no favours with an increasingly untrusting electorate.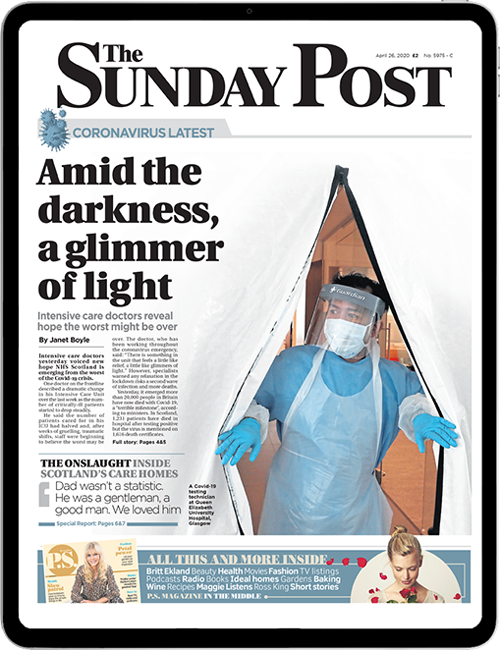 Enjoy the convenience of having The Sunday Post delivered as a digital ePaper straight to your smartphone, tablet or computer.
Subscribe for only £5.49 a month and enjoy all the benefits of the printed paper as a digital replica.
Subscribe