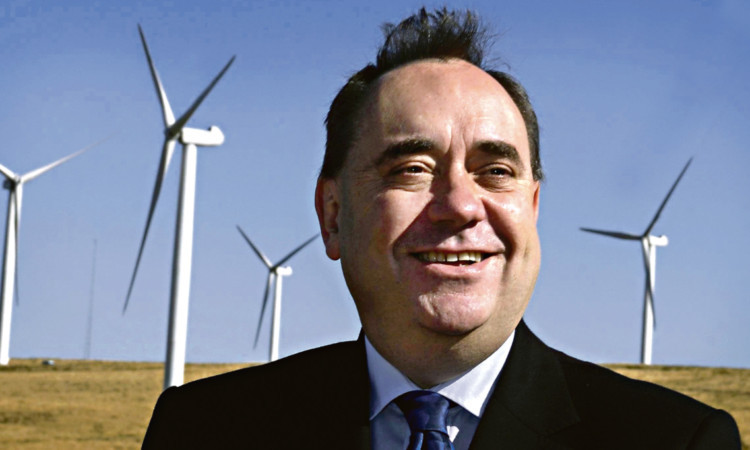 SPECIAL INVESTIGATION: We reveal the true cost of the Scottish Government's turbine obsession.
The true cost of First Minister Alex Salmond's obsession with wind farms can today be revealed by a special Sunday Post investigation.
New figures show operators in Scotland have been awarded a £1.8 billion in Government subsidies to build turbines since the SNP took office in 2007.
A further £80 million has been spent paying energy giants to switch them off again in a bid to stop them producing too much electricity.
It means a staggering £800,000 a day has been paid out of the public purse, with the costs recouped by being added to fuel bills, leaving the average household £69 worse off per year.
Now there is concern at the size of the subsidies being siphoned off for renewable energy at a time when almost one million people in Scotland are living in fuel poverty.
Murdo Fraser MSP, convener of the Scottish Parliament's Economy, Energy and Tourism Committee, accused the Scottish Government of having "an obsession" with turbines.
He said: "My view is we should have a balanced energy portfolio, and wind should be in that mix. Yet what we are seeing is wind farms being developed at a breakneck speed at the expense of all other sources.
"And with such generous subsidies being lavished upon operators, landowners and farmers, it's little wonder they all want to get in on the act.
"But the fact is wind is an expensive form of energy that we are all paying for in electricity bills, with a direct link to the fact 40% of people are living in fuel poverty."
Promotion of green energy, particularly onshore and offshore wind farms, has been one of the SNP's key policies since 2007. The Scottish Government's target is to generate the equivalent of 100% of electricity consumption, and 11% of heat demand, from renewables by 2020.
In recent years ministers have invested heavily in the sector, insisting Scotland has a quarter of all of Europe's wind energy potential.
But wind power is becoming increasingly unpopular among the general public, with giant turbines now scattered across the countryside.
There are 219 operational wind farms in Scotland, with at least 2,400 turbines. Moray has the most sites at 20, but Orkney has the most turbines, with 600 across the archipelago, although the majority are owned by farmers and other individuals. Scotland's largest wind farm, Whitelee, on Eaglesham moor outside Glasgow, alone has 215 giant turbines up to 110 metres high.
Most wind farms in Scotland were approved or built after the SNP took office.
We can reveal £1.8 billion has been paid to operators since May 2007 in the form of a subsidy known as the Renewable Obligation. Introduced by the UK Labour Government to encourage investment in renewables, the money is recouped via a supplement added to all domestic and commercial electricity bills.
According to the Renewable Energy Foundation the levy adds almost £69 to the average household's cost of living, with £33 of that in electricity charges alone.
The annual subsidy in Scotland stands at £434 million, with experts speculating that figure could top £1 billion by the end of the decade.
More than £2 million in public money has been spent by Scottish Enterprise on infrastructure for six projects since 2007, with a further £6.34 million allocated to a forthcoming offshore wind turbine testing site in Ayrshire.
Our investigation has also established that the National Grid has paid out almost £80 million to wind farm operators in Scotland since 2010 to shut down their turbines and keep them idle.
Known as constraint payments, and again added to household bills, the cash is paid when the grid is unable to cope with the extra power produced during high winds or periods of low demand.
Linda Holt, of campaign group Scotland Against Spin, said: "We need an investigation into the costs and so-called benefits of wind farms.
"What we have is the sales talk from operators about how great they are, how green they are and how efficient they are. But is that really the case?
"We don't have a sensible energy policy in Scotland and there seems to be unlimited ambition for wind farms here at a time when the National Grid already cannot cope, and other countries across Europe are pulling back from turbine construction."
Dr John Constable, director of the Renewable Energy Foundation, said he was "concerned" at the growing number of payouts.
He said: "Some wind farms in Scotland have been asking for constraint payments well in excess of lost income, which has meant they are able to earn more from not generating than from selling electricity.
"This is a sector that really needs to grow up."
Management at the National Grid insist they are working with the renewable sector to keep constraint payments as low as possible.
A spokesman added: "All energy sources have a role as part of a balanced energy mix.
"We have a number of tools to balance the system, including constraint payments to generators when more electricity is being generated than can be accommodated on the transmission system."
The construction of new wind farms shows no sign of slowing down with a number of major projects having been given the go-ahead, many of them controversial.
In East Ayrshire, one power firm wants to build 50 turbines, each 150 metres high, in the South Kyle Forest, while another has plans for 19 130m tall turbines in nearby Dalmellington.
Officials at the Scottish Government yesterday defended their renewable energy policy and said wind farms have been pivotal in securing almost 12,000 jobs.
A spokesman said: "Scotland already provides over a third of the UK's renewable electricity generation, and with a tightening gap between electricity capacity and demand, the rest of the UK will continue to rely on Scotland's renewable energy resources to keep the lights on, meet its targets and maintain energy security."
Joss Blamire, senior policy manager at Scottish Renewables, said onshore wind met 40% of electricity needs in 2012 and contributed £1.3 billion to Scotland's economy.
He added: "These figures speak for themselves. Onshore wind is delivering in Scotland, both in terms of employment and investment, as well as playing a crucial role in reaching Scotland's ambitious 2020 climate change targets."
But prominent anti-wind farm campaigner Lyndsay Ward yesterday insisted people in Scotland had become "collateral damage" in the quest to build turbines.
She said: "It's clear that people are suffering as a direct result of wind farms.
"They can't sleep at night because of the noise, they can't sell their homes when they are too close to turbines and their views of the countryside have been destroyed.
"Yet the Government continues to allow these giant monstrosities to be built near our homes. People in Scotland are now just collateral damage. Our communities are under siege."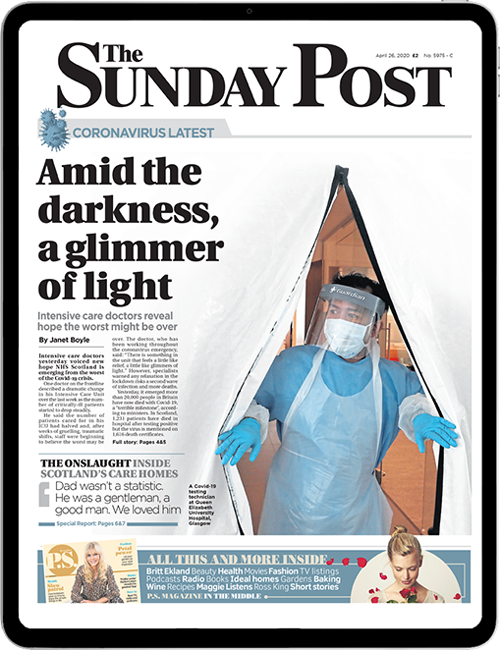 Enjoy the convenience of having The Sunday Post delivered as a digital ePaper straight to your smartphone, tablet or computer.
Subscribe for only £5.49 a month and enjoy all the benefits of the printed paper as a digital replica.
Subscribe