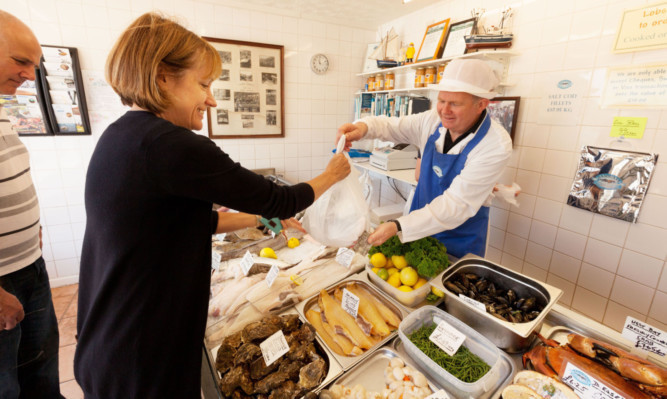 The woes of Britain's supermarket giants could be the salvation of the nation's high streets.
This week, Tesco posted the biggest-ever loss by a UK retailer. Once the shopper's darling, it reported a pre-tax loss of £6.4 billion. The slump, from a profit the previous year, was largely as a result of writing off almost £5 billion in property values as shoppers deserted its massive stores.
Sainsbury's last week announced 800 job losses in a restructuring of its stores.
Top retail analyst Professor Leigh Sparks says the changing shopping patterns that have caused Tesco's financial cloud may have a silver lining.
"People have fallen out of love with some of the big stores," said Professor Sparks, head of Retail Studies at the University of Stirling. "They were often big out-of-town places people were forced to go to. The very big Tesco Extra's were planned on having a lot of non-food offerings and that market has really disappeared for them. So they are having to look at where people are going and how shopping fits in with their lives."
And that's a seismic shift in strategy that could help revitalise communities that have seen their fortunes slump as locals headed elsewhere to spend their hard-earned cash.
"Retailers are now trying to see where they can put their stores so they can fit in with people's lifestyles," said Professor Sparks. "And that's bringing life back to some areas. They are looking at travel patterns and seeing where people can pick up things on the way to and from work or on their way to leisure activities. The big weekly shop is also definitely not as popular as it used to be. People might be getting some things in bulk but are then using small, local stores more regularly to pick up things fresh. So the market has changed dramatically and we have become much more of a convenience-based community."
Sainsbury's and Morrisons are also shutting or mothballing some of their giant stores as they look to get back to old fashioned small-time shopping.
"As well as the real big chains, some of the independent retailers and franchise operations like Spar and Nisa are also doing good thing locally," added Professor Sparks.
"And there are community-based groups, like in Bruntsfield in Edinburgh, that are becoming a lot more common too.
"People are no longer just interested in the discount end of the market but also having that real community aspect."
PROF. SPARKS' STORES RUNDOWN
They still have 28% of the market but they over-expanded in the wrong shapes and wrong places. So I think there will be more retrenchment. But while the last quarter sales figures were still negative, they were the best for a long time. There will be a simpler offer and more staff dealing with customers.
They didn't expand as much as Tesco in terms of very large stores but they didn't get into small stores until quite late. They have about 15 or 16% of the market and are fighting in that space. Overall, they are in reasonable shape.
They have a similar share to Asda and, as well as rolling out small stores, are looking at how to use their big ones. Argos are going into some stores and there are rumours about Sports Direct following suit
They have new leadership looking to change what they do. They were very late into online and quite late into smaller stores. They have been very traditional in what they have done and are struggling a wee bit. The most vulnerable of the big four.
They have had a tough time lately, but are looking to play the local convenience card much more strongly. Scotmid are doing well, positioning themselves as community-based grocers with local bakeries, producers and more. Their new-style stores have gone down well. At the start of the month they announced net profits of £216 million and a 3.2% rise in sales at convenience stores.
Aldi and Lidl are growing rapidly and a higher percentage of Scottish consumers buy from them than customers elsewhere in the UK. When you have old stores that haven't been looked after properly, they are pretty awful. But when you get good ones they really are great.
In my view – by Ali Kirker
Stepping in to the Tesco store on Dundee's Kingsway, you're struck by how vast it is. It's just too darn big. Maybe that's fine if you want to do a huge stock-up, but navigating your way around it must take forever. Life's too short.
And it's all too easy to get sidetracked into the clothing and homeware sections.
No doubt Tesco cleverly designed their shop like that, but if you want to do a quick smash-and-grab shop on your way home from work or as you're heading out to the gym, going instead to a convenience shop like your local Co-op or Nisa is a no-brainer. You can totally understand the appeal.
People are still doing a weekly supermarket shop, although analysts say that is on the decline, with many also supplementing their 'big shop' with a midweek top-up or two, more often than not at convenience stores.
Going home from work, I avoid going to my local Morrisons or Sainsbury's. Instead I go to my local Co-op, where I can get parked outside and it's got everything I need for midweek bits and pieces. And don't forget the service, too. The staff here are always pleased to see you and enjoy their banter with the customers. What's not to love?
And although I might be paying a penny or two extra, it's a price I'm willing to pay and, so it seems, are plenty of others.
In Dundee's Albert Street, the local Co-op is doing brisk business when I pop in, even though it's only just after nine in the morning. There are quite a few young mums in with their kids. One, Catriona Macpherson, is there with 18-month-old daughter Holly. "I'd much rather come in here than traipse up to Tesco with Holly. It's got everything I need, the staff are really nice," she says.
At the counter, assistant Carol chats to all the customers, spoiling Holly and making her laugh. The privately-owned corner shop may be a rare sight these days, but it's almost as if the Co-op and its ilk are in its place.
The rise in competition for the 'big four' of Morrisons, Sainsbury's, Asda and Tesco from the smaller players like Co-op, Aldi and Lidl is only good news for us, the consumers. They're all fighting to get us through their doors which in turn means cheaper prices.
Despite Tesco announcing their record-breaking loss last week, though, I found plenty of loyalty on display. Bridget Sandiman, of Dundee, was typical. "I've been coming here for years and I'm not about to stop," she said.
For Bridget and the rest of us, we just have to wait and see if Tesco can overcome their difficulties.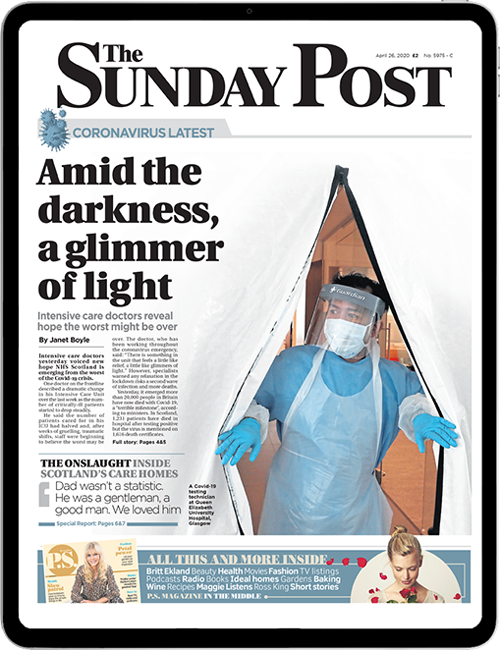 Enjoy the convenience of having The Sunday Post delivered as a digital ePaper straight to your smartphone, tablet or computer.
Subscribe for only £5.49 a month and enjoy all the benefits of the printed paper as a digital replica.
Subscribe