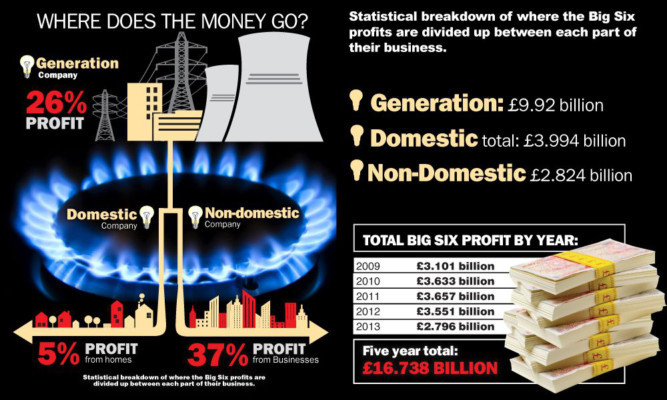 Consumers will never get a fair deal from the Big Six energy firms unless their stranglehold on the market is weakened, experts have warned.
A Sunday Post probe has uncovered the UK's major power providers have pocketed £9 million a day in profits over the past five years. Domestic bills have soared by more than 15% in that period.
But with the Big Six controlling every aspect of the market, from wholesale to retail, it's almost impossible for competition to challenge their iron grip and force a better deal for consumers.
Now, campaigners are demanding urgent reforms to open up the market.
"We need to reform this broken market so it is clear, fair and transparent," said shadow energy minister Tom Greatrex. "We also need a tough new regulator to stand up for the consumer and to simplify tariffs so people actually know why they pay what they pay."
Each of the Big Six power generators EDF, E.ON, SSE, Npower, Scottish Power and British Gas is made up of a complex web of companies.
They rake it in by selling wholesale supplies to themselves at large margins, then claiming to make small profits when they sell energy to consumers. Vertical integration is the technical term used to describe this type of supply chain.
New companies looking to enter the market and offer consumers a better deal face an uphill battle as they typically have to purchase power from the Big Six before selling it on. It means they're severely limited in how low they can drop their prices.
Energy regulator Ofgem is supposed to ensure the market is functioning properly and that the Big Six don't make excessive profits. However, earlier this year it referred the sector to the Competition and Markets Authority, after concluding competition was not working and the Big Six's prices and profits were too high. Its own figures show the average profit energy firms make from customers has more than doubled in the past year from £48 to £102. The rise is largely because they are failing to pass on falls in wholesale prices.
One of the main areas the CMA will be focusing on is vertical integration and alleged profiteering. The Big Six have made a total of £9.92bn from the generation of power and £3.99bn selling gas and electricity to domestic customers over the past five years.
Five of the suppliers say they aim for a 5% pre-tax margin for household supplies, while British Gas typically makes a 5% margin after tax. The firms insist these margins are fair and reasonable even though similar energy firms in Europe make just 2-3%.
But far bigger profits are being made in other areas of the business.
For example, the mark-up in Scottish Power's business-to-business arm which supplies power to other companies was 37% for gas in 2012. Meanwhile, EDF Energy enjoyed profit margins in its power stations of 25%.
Campaigners claim these huge mark-ups, which aren't publicised as much as retail income, show energy firms are being disingenuous in blaming bill rises on factors such as the cost of green levies to insulate houses and rising power generation costs. They are calling on the Government to intervene to keep bills down.
Energy Action Scotland's Norman Kerr said: "The easiest way to solve this problem is to introduce greater legislation. The Big Six need a return so supply can be secured and investment can go towards power plants. However, it is vital it's a fair and transparent return. That is where Ofgem and the Department of Energy and Climate change come in."
Trust in the energy sector is at an all time low as a result. Consumer organisation Which? believes reform is vital if this is to be overturned.
A spokesman said: "Energy prices consistently rank as the number one financial concern for consumers and nearly half are worried about the cost of heating their homes this winter. It's no wonder energy suppliers are among the least trusted industries. It's clear big reforms are needed to restore confidence and guarantee fair prices."
Despite the CMA investigation, Energy UK who represent the interests of the industry, believe significant efforts have been made to restore consumer confidence.
A spokeswoman said: "Energy companies have made big changes since the beginning of the year and surveys show customers are finding bills easier to understand. The complicated part of bills is set out in regulations. Energy UK is urging for some of these rules to be changed. A variety of different energy sources and different types of energy company is good for security of supply.
"The UK energy market is very competitive and consumers can shop around for deals which suit them best regardless of whether their supplier is small or is one of the bigger vertically integrated companies."
Over the past five years average household dual fuel bills have risen from £1,036 in 2009 to £1,265.
The Sunday Post has launched a survey to find out what you think about gas and electricity bills. Among other things, we want to know if you believe you're getting value for money, whether you trust your supplier and if the energy sector's customer services are up to scratch.
The survey is run in conjunction with DC Thomson's research panel Your View K. To let us know your views, simply go to completeasurvey.co.uk/yourviewk, sign up and select survey three.
By completing the survey you will be entered into a prize draw to win £150 and you will be under no obligation to take part in any further surveys.
Those already signed up will receive the survey by email.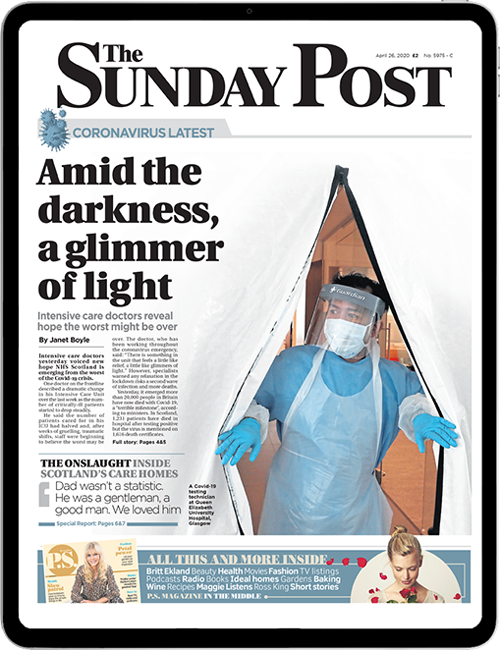 Enjoy the convenience of having The Sunday Post delivered as a digital ePaper straight to your smartphone, tablet or computer.
Subscribe for only £5.49 a month and enjoy all the benefits of the printed paper as a digital replica.
Subscribe