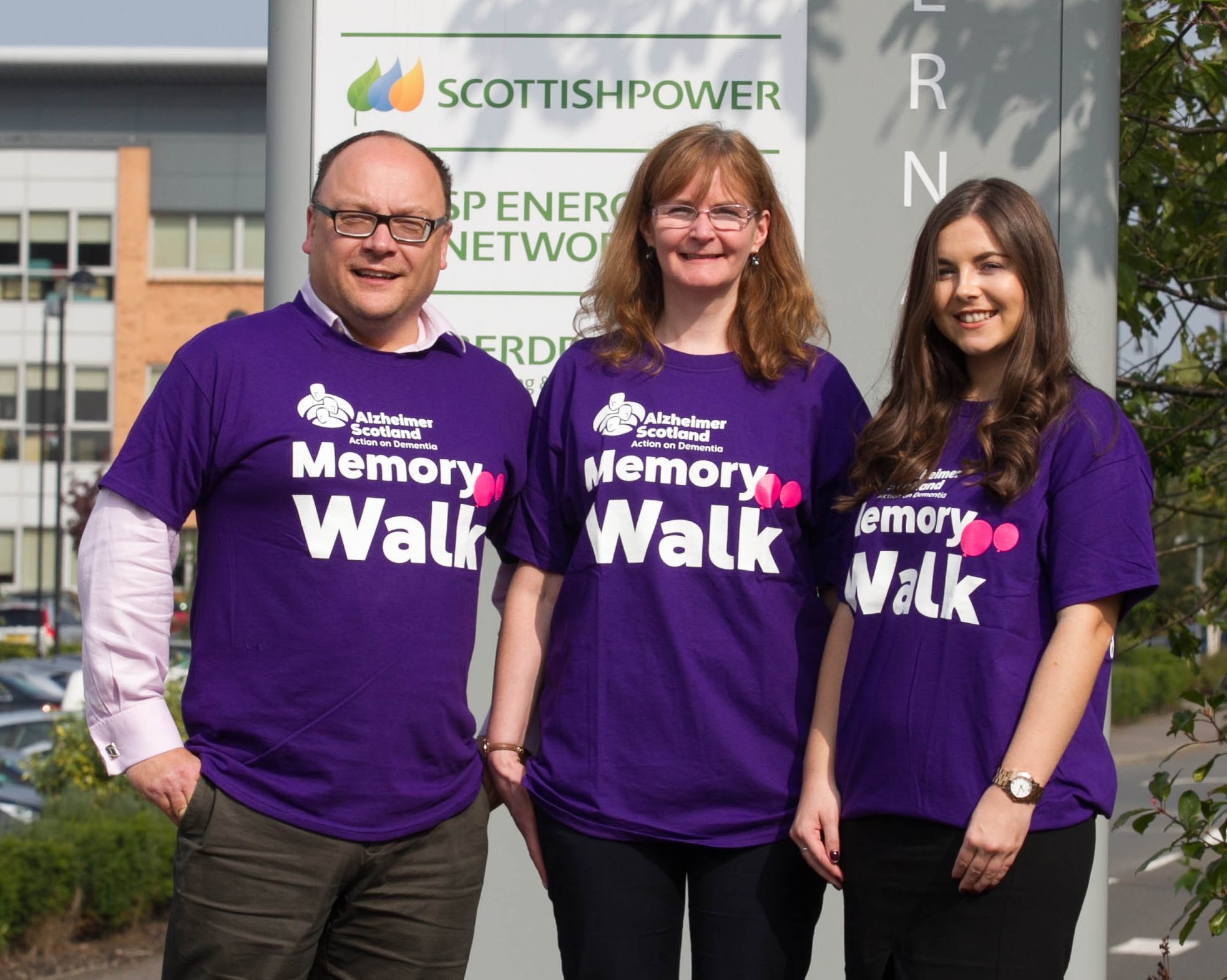 BEING involved in a Memory Walk means never having to deal with dementia alone.
The events bring people together to talk openly and help others living with the condition.
This afternoon, three work colleagues who have been affected by dementia will offer their support to others at the country's biggest Memory Walk in Kelvingrove Park, Glasgow.
Cathie Hill, Eric Brunger and Laura Hopton will join around 50 other co-workers from ScottishPower as volunteers at Memory Walks across the country.
Cathie lost her mum, Eileen, to vascular dementia four years ago.
She doesn't feel she coped well with Eileen's condition and was keen to become involved in the Memory Walk to give something back.
"It took our family a long time to realise she had it," recalled Cathie, a transition development manager.
"I got angry with her at first. She would stagger and I thought she'd been drinking, but she insisted she hadn't been.
"At times she would say something stupid and we would laugh and then she would start laughing as well. I realise now it must take a superhuman effort for people to keep it from family.
"It was hellish when we got that diagnosis. I vividly remember sitting with the consultant.
"My mum was beyond the point of comprehension, so it was all on me.
"I found it very, very difficult to support Mum. I was an emotional wreck."
Cathie had the support of her two brothers and neighbours, as well as social services, but eventually Eileen, from Barrhead in Renfrewshire, needed 24-hour care and went into a home.
She died when she was 72.
"I feel I could have done more for my mum and it makes me emotional," Cathie added.
"When I saw ScottishPower were getting involved in the Memory Walk it seemed like perfect timing."
Eric Brunger's dad, Norman, passed away two years ago from dementia, aged 87. "Now that I look back there were probably signs from when he was 80," Eric said.
"Maybe we're of a generation that doesn't ask for help too often, but I would encourage it.
"If the intervention is early enough, it can help people living with dementia."
Eric is part of a project team and is following in the footsteps of his dad, who worked with the energy company for 41 years. He added: "We went along to Alzheimer Scotland workshops in Glasgow and they gave us help and guidance.
"I'm looking forward to volunteering and trying to give other people support."
Laura Hopton is doing an internship in the energy company's marketing department and jumped at the chance of being involved after seeing how much dementia has affected her best friend's family.
The 23-year-old from Airdrie said: "Her gran has dementia and one of the reasons I wanted to get involved is because I feel I'm struggling to help or give my friend advice.
"I'm lucky I haven't been affected by it but I don't know how it feels, so I thought doing this might give my friend some comfort.
"She thinks it's a great idea."
The firm's employee involvement in Memory Walks comes after the ScottishPower Foundation donated £35,000 to Alzheimer Scotland to support its Dementia Friends campaign.
---
READ MORE
Memory Walks: How dementia dog changed family's life
Memory Walks: Local hero Clare is fighting to provide real care in her area