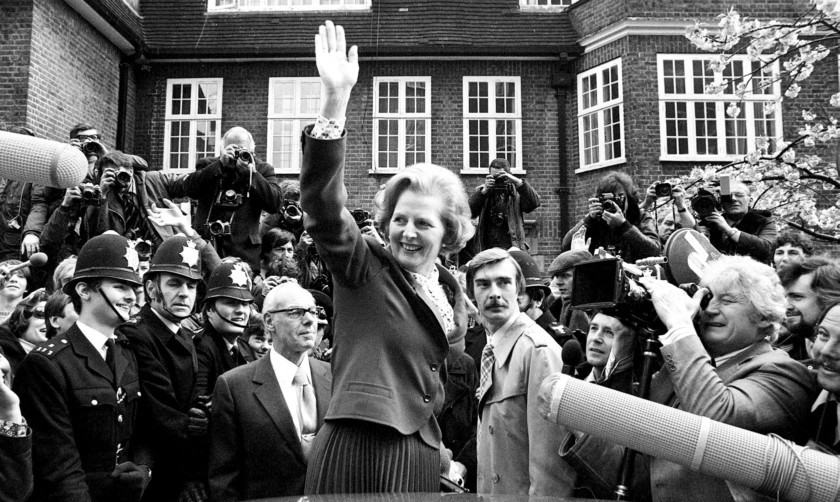 Whatever you think of her, Margaret Thatcher was a force of nature.
She was a dynamic game-changer. For better and for worse, she changed the face of Britain during her three terms as PM.
As the first ever female premier in the UK, she wasn't short of bravery or self-confidence.
To rise to the leadership of the snobby, male-dominated Conservative Party was itself a considerable feat, showing character and steely determination.
When she became Prime Minister in 1979, she took over a country which she felt was in decline.
She breezed into 10 Downing Street with a radical action plan. She was a breath of fresh air, one which threatened to blow away lazy and born-to-rule municipal socialism.
She wanted to reduce the role of the state, and to encourage private enterprise.
She was also determined to curb the power of the trade unions, so she sold off state-owned companies and cut down the number of subsidies.
As well as pushing up the unemployment figures, causing a great deal of misery, her policies helped destroy Britain's manufacturing base, turning our economy into a service one.
Her popularity ratings fell, but the Falklands War in 1982 saved her premiership.
In a Britain which felt displaced on the world stage, her resolute leadership made her a heroine.
She posed as a kind of Boadicea. She revelled in the term The Iron Lady and shamelessly uttered the cringe-making phrase, "The Lady's not for turning". It was no surprise when the Tories were re-elected in 1983.
Mrs Thatcher showed personal bravery at the time of the Brighton hotel bombing, when the IRA attempted to assassinate her. Her insistence on "business as usual" brought her a great deal of approval in the country, leading to her election for an unprecedented third term in 1987.
Her legacy is mixed. Her freeing-up of the financial sector created a boom, turning London into one of the world's great financial centres, but she also unleashed a culture of unfettered greed.
It became the fashion for financiers to flaunt their lavish lifestyles. The sheer arrogance of what was happening was truly repellent and fundamentally antisocial.
But "Maggie", as the press dubbed her, wasn't much concerned about society. In an interview in 1987 she said: "I think we've gone through a period when too many people have been given to understand, 'I have a problem, and it's the Government's job to cope with it' or 'I have a problem, I will go and get a grant to cope with it', 'I am homeless, the Government must house me' and so they are casting their problems on society, and what is society?
"There is no such thing! There are individual men and women and there are families and no government can do anything except through people and people look to themselves first."
No such thing as society? Thatcherism became associated with an unbridled individualism which was ultimately destructive.
She saved Britain but destroyed communities; the clinical operations were a success, but too many patients died in the process.
I find it strange that Margaret Thatcher talked about the importance of family values, while the policies which she pursued with such enthusiasm were actually destructive of family and community life, whether by unemployment, creating unrealistic aspirations, or supporting a culture which demanded that Britons worked the longest hours in Europe.
This was seen, particularly in her third term, when she instituted the hated poll tax.
She ignored the warnings, even from her advisers, that the unfairness of the regressive poll tax could bring her down. Like many people who think they can walk on water, she soon found she was drowning.
The breath of fresh air had turned fetid.
Eventually, the Tory "men in grey suits" knocked on her door, and her time in high office was over. The woman who out-queened the Queen couldn't cope with the humiliation. She had lost touch with the real world.
American psychotherapist Irvin Yalom once observed: "As we get older, we get more like ourselves". Mrs Thatcher became a caricature of herself.
While she did good and necessary things that deserve to be celebrated, the lady who was not for turning seemed unaware of the human wreckage that she was creating.
Well, we're certainly paying for it now.
Ron Ferguson is the former minister of St Magnus Cathedral, Kirkwall.